Chicago Fire Season 6 Episode 19 Review: Where I Want To Be

Elizabeth Harlow at . Updated at .
Is an omission the same as a lie? 
Some serious secrets came out on Chicago Fire Season 6 Episode 19...well, secrets from other characters.
It'd been so long since Severide's marriage it didn't even occur to me that Stella wouldn't know about it!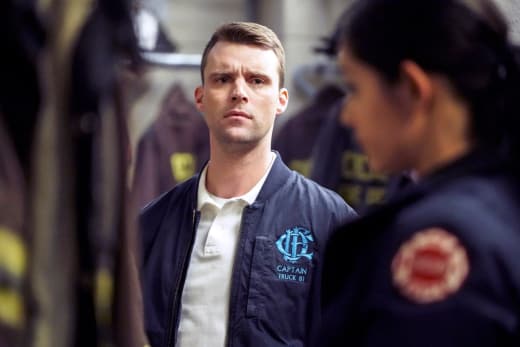 So if Stella never asked, and it never came up in conversation, is his Vegas marriage a warning flag for this relationship?  
I'm not entirely convinced. Obviously Kelly has some deep seated emotional repression. And he doesn't deal with his issues in healthy ways. 
But even if she didn't know about the specifics of a marriage, those facts can't be new to Stella. 
Related: Enjoy UNLIMITED access to thousands of Movies & TV Shows with Amazon Prime Video!
Not only did he pursue her while she was still married, but she witnessed the Anna related meltdown in Chicago Season 5. It's hard to believe he hasn't been teased for his man-whore ways in front of her. 
While her sense of shock and concern might be slightly misplace, moving out probably was the right move. 
Kelly: Wait, wait, wait, wait...Stella, if you're talking about Brittany, we were married for less than a month. It was...the easiest annulment ever. It's like it never even happened.
Stella: That's what concerns me.
Matt probably could have given her a more thorough insight to Kelly's character and history with relationships, but since when does TV have time for those kind explanations?
Given the time restraints, I think he did a pretty good job. I don't completely buy the extent of the parallels between Kelly and Gabby, but there are some similarities. 
And setting your own standards is always good advice. 
Gabby and Kelly both have these little corners of themselves where no one else is allowed. Not even us. Can't change them, but...You set your own standards.

Matt
The problematic aspect of that conversation is that it gives the impression that Gabby is always the problematic screw up in their relationship and Matt is the benevolently patient partner.
Obviously Gabby has some flaws to work on, but she's not alone in that. After all, the whole impetus for the fight this week was that Matt can be hot headed and act without thinking. 
I just hope that those too can hang on to their new found equilibrium for more than five minutes this time. It's getting a little tiresome having them constantly bicker and make up.
Related: 13 TV Marriages We Wish Were Ours
Normally I'd be glad for the levity of some Herrmann Family dysfunction. But the premise of the "joke" fell a little flat. 
I was on board for teasing Herrmann about his self supposed financial acumen. I was on board the ludicrousness of Lee Henry working at Molly's, and for the suggestion that he was sneaking vodka.
I was even on board for the shrill wife routine from Cindy. But pornography being the big offense from Lee Henry? Meh.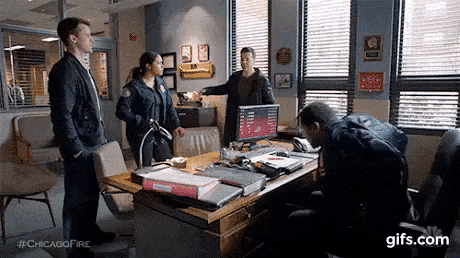 Sure the characters may be Catholic, but porn being the reason for a fifteen year old to get (and lose) an apartment seemed...silly. And unenlightened. 
And didn't Eugene Levy's role in American Pie teach us that parents trying to be accepting of their kid's burgeoning sexuality is funnier than them suppressing it? 
There just had to be funnier routes for that story to take -- off the top of my head, Lee Henry taking dad's advice about money too far and running a poker ring or something. Maybe he could have sold the expired Vitamin Waters, I don't know. 
At his age, only time I was on my best behavior was when I was up to no good. So, uh, I don't know, you may wanna just...recheck the vodka bottles, make sure they're still vodka.

Stella [about Lee Henry, to Herrmann]
While my fingers are crossed that Otis makes it back to Truck 81, I'm not holding my breath. Not that this is the real world, but accelerating your assessment date and ignoring doctors orders aren't the way to get your job back.
I am curious what his role will be if he's not driving the truck. He obviously has some administrative skills, but those jobs seem to be held by civilians at 51. 
There have to be roles in the CFD that aren't front line jobs. He could head to arson investigations, but that would take him out of the sphere of 51. 
Related: 17 Controversial Character Exits
Regardless of where he ends up, and even though I'm frustrated by how long this has been drawn out, I appreciated that Otis was given the chance to come to terms with the situation. 
Not just his injury, but with possibly being replaced. He may get razzed about his Legos and his comics and all, but he showed real maturity in his conversations with Cordova and Matt.
My favorite scene had to be him getting all those texts from his firehouse family though. I'm sure I wasn't the only one choked up.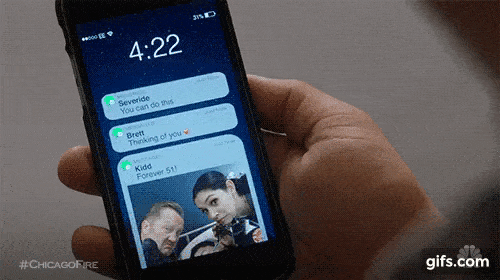 How do you think Otis' assessment will turn out? With Cordova gone for good, will Gabby and Matt finally be back on solid ground? How would you have handled Lee Henry's infraction (or Herrmann's genius idea)?
Let us know your thoughts in the comments section below!
Cordova: You know, I've been floating for two years. Worked with some solid smoke eaters. I've never seen a crew this much in sync.
Otis: I'm glad you get it. Not everybody does.
We'll find out the answers to a few lingering questions on Chicago Fire Season 6 Episode 20 ("The Strongest Among Us"). Joe is finally going to make a move on somebody, but who?
Will it be his prime rib ex (and current roomie) Sylvie? Or high school sweetheart cum rehab facility desk clerk Pilar? Or could it even be the culinarily challenged Amanda? 
A more pressing question is this: What is Bria doing back at 51? Are Matt and Gabby going to tackle parenthood again? 
Herrmann: Hey, shows how knuckleheaded these criminals are. They put all their eggs in one basket, they lose everything. Should have diversified.
Otis: That's their problem! They need you managing their portfolio, Herrmann.
These are all important questions, but nothing is going to top the mystery of who is trying to bribe Boden and Severide. The money comes after they rescue a young girl, so maybe it's more of a thank you than a bribe.
Or maybe they saw something they weren't supposed to. We'll all have to tune in to find out. 
Remember you can watch Chicago Fire online anytime! 
Elizabeth Harlow was a staff writer for TV Fanatic. She left the organization in October 2018.