Welcome, Matt, to the BAU.
After most of the season has passed, Matt Simmons finally got his spotlight episode on Criminal Minds Season 13 Episode 19.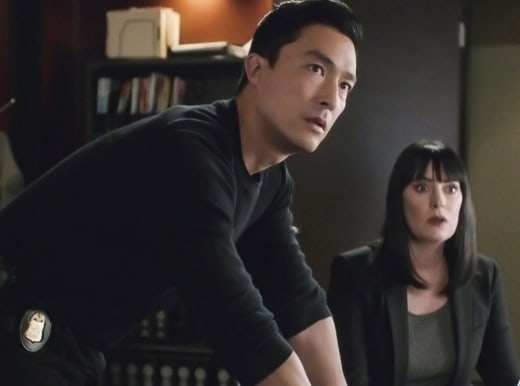 Simmons came over to the BAU as a refugee from the FBI's International Response Team,  featured on Criminal Minds: Beyond Borders, the better of Criminal Minds' two short-lived spinoffs. 
That series always felt to me akin to Law & Order: Los Angeles, full of darkness offset by a good deal of light. That must have been because of the colorful locations and the positivity projected by Gary Sinese's Unit Chief Jack Garrett.
Related: Criminal Minds Season 13 Episode 18 Review: The Dance of Love
Simmons was Beyond Borders' second-best character, a solid family man seemingly unfazed by all the ugliness he investigated.
He has fit right in since joining the BAU, obviously missing his old teammates but happy to have a new chance to get back in the field utilizing his profiling skills.
After hanging out largely in the background all season, Simmons was severely tested in this episode. His wife Kristy was among the hostages taken at a D.C. civil-rights law firm.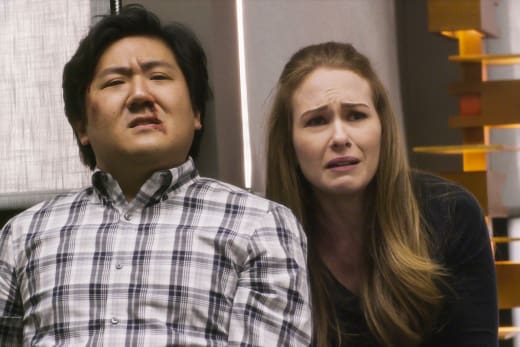 Simmons, Kristy and the new cell phone she bought for him actually saved the day. Ain't technology grand?
You just knew that phone was going to be important after Kristy tried to get Matt to switch to it in an early scene, extolling its many features.
The episode featured an interesting variation of villain, domestic terrorists, with a BAU twist, a leader with Daddy issues. It's good to see that not all terrorists are brown and imported in today's TV landscape.
Related: View Criminal Minds Online: Season 13 Episode 18
Was it more than a little convenient that, with all the hostage negotiators available in the D.C. area, the BAU gets called in? Also convenient was the fact that the incident was happening where Kristy had recently started working.
But if events had happened in any other way, we wouldn't have gotten to see what makes SImmons tick. And get ticked off.
Prentiss rightfully held Simmons back at headquarters to help develop a profile of the hostage-takers.
Kristy was seemingly the only one at her firm able to think on her feet in a crisis situation. She somehow hid her second phone (the one she got for Matt) from the terrorists and snuck away to call for help.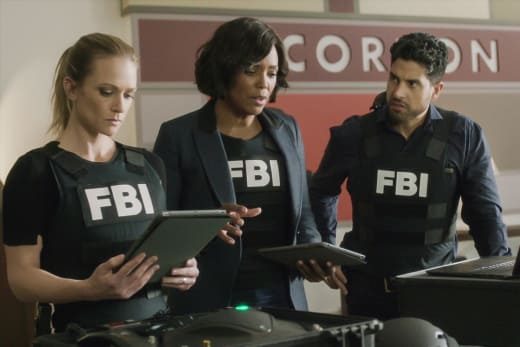 This call, forwarded to Garcia, allowed Garcia to take over the phone, which Kristy in turn used as a video camera, giving the BAU in effect a closed-circuit feed.
This resulted in more intel for the BAU, and Lewis's pestering of Josh Martin, the terrorists' leader, got them time to gain more information about the hostage-takers.
The confrontations were amusing between Hagland and Rossi. Hagland spouted his white-supremacist and deep state rants, which Rossi dismissed with a series as sarcastic responses meant to get Hagland riled up.
Related: Criminal Minds First Look: The Calm Before the Storm
I guess the rotten apple didn't fall far from the tree. Josh may have not inherited his father's name, but he sure inherited his hate.
The covert surveillance didn't hold up for long, as Kristy's arguing co-worker drew the Martin's attention. What, pray tell, did that guy hope to gain for his whimpering?
Rather than let that idiot take the punishment he deserves for his cowardice, Kristy bravely took responsibility for setting up the phone.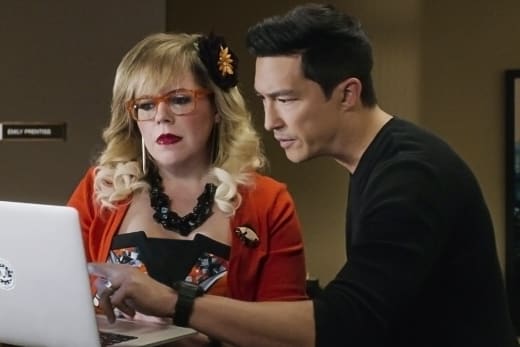 Kristy's being threatened spurred Simmons into action, as he got to her office building, which must have been nearby, used the convenient maintenance shaft the team had discovered, and dispatched the remaining terrorists in short order.
Which begs the question: Why didn't Prentiss OK the angry-husband-assault option as soon as they uncovered a way to access the offices? I guess that would go against protocol.
All of which led to that dramatic hand-to-hand battle between Simmons and Daddy's boy Martin, which ended only when Kristy stopped Matt from choking out Josh.
Related: Get CBS All Access via Amazon Channels for Hit Shows, Exclusive Originals & Live TV!
The morale of this story: Don't mess with Simmons' family, especially his wife.
Will anything result from his breaking protocol (and ending the standoff). I seriously doubt it, under such trying circumstances.
It was heartening to have an episode focused on Matt. It was a chance to explore all the qualities that make him a strong BAU agent.
I realize it's a large cast and there's only so much time to focus on individual characters. Still, it was appropriate that the newest team member got his chance to shine.
To watch Simmons develop, watch Criminal Minds online.
How did you enjoy Matt's spotlight? Who else deserves to be the focus of an episode? What flaws did you find with this episode? Comment below.
Dale McGarrigle is a staff writer for TV Fanatic. Follow him on Twitter.