Empire Season 4 Episode 12 Review: Sweet Sorrow
Paul Dailly at .
Queen Cookie needs her rest. 
The family rallied around the matriarch on Empire Season 4 Episode 12 after a brush with death that was very likely brought on by the earth-shattering revelation that Andre was the one responsible for planting the bomb in Las Vegas. 
There were myriad other reasons for the near-heart attack, but learning your son tried to have his father murdered was very likely to do the trick.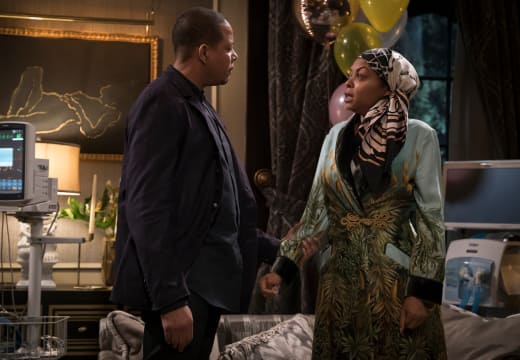 When Cookie realized she was not as invincible as she thought she was, I was glad. She's always trying to keep on top of things, but she takes on far too many things at once. 
She's trying to rush 20 albums to the market, trying to keep her family together, and giving Empire Fanatics some gorgeous and flawless looks that would make one think she was on the runway as a profession. 
Related: Empire Season 4 Episode 9 Review: Slave to Memory
It was expected that Andre would rush to the hospital to find out the goods, but I was surprised his brothers sided with their father to tell him to get out of the building. 
Hakeem: I swear, momma's like a superhero. How the hell did this happen?
Jamal: I don't know. I just wish there was something we could do.
Hakeem: Wanna pray? You pray … every night with Bella.
Jamal: Yeah, okay.
Hakeem: Dad, you wanna?
Lucious: Y'all keep that to yourselves.
It looks like all of that brotherly bonding on Empire Season 4 Episode 9 did a world of good. With that said, I have to agree with Jamal, Hakeem, and Lucious. 
Andre is too much of a loose cannon to let float under the radar, and the sooner something is done about him, the better.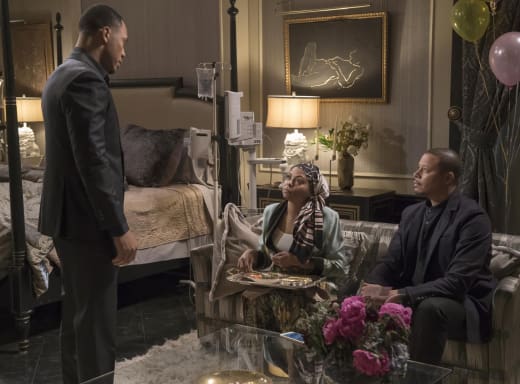 That's not me saying I want someone to pop a cap in him. Andre needs help, and he's not getting it by being given things to do at the company. 
He needs to go off on a wellness retreat or something because he never really got over the death of Rhonda. 
What irked me was that Andre took the fall for everything while Shine got to continue to scheme another day. 
Shine forced his way through the doors of Empire intent on getting some power, and he's one of those characters who can rise at any time to cause some trouble. 
Related: Enjoy UNLIMITED access to thousands of Movies and TV shows with Amazon Prime Video. WATCH ANYWHERE. CANCEL ANYTIME!
He may be acting happy right now because he's got work, but there's no telling what the man is really capable of doing. 
If he knows there's a possibility he can be caught, it means that almost all of the other characters are going to be put on the firing line. 
Andre: How is she?
Lucious: Congratulations, Andre.
Andre: Excuse me.
Lucious: Isn't this what you wanted?
Andre: What the hell are you talking … what I wanted?
Lucious: When we were in Vegas and you wanted me and your mother dead?
Andre: Oh, come on man.
Jamal: Come on. Stop. Andre, why don't you just leave, man?
Andre: I'm not going nowhere, man. She's my mother too.
Hakeem: Go home 'Dre. Somebody will call your ass.

I did like that Andre managed to expose Eddie's true colors before it was too late. It would have been easy for the family to continue to point out Andre and peg it as a tactic to get back in their good books. 
Celeste was way more fun to watch than Drizell. Now that the chance of selling Empire from under the Lyons has lapsed, Eddie's going to have a lot of explaining to do to his army of ex-wives. 
Will he take that vacation, or will he come back armed with some more power than ever before? Well, the board loved Eddie when they allowed him to take over for Lucious earlier on Empire Season 4.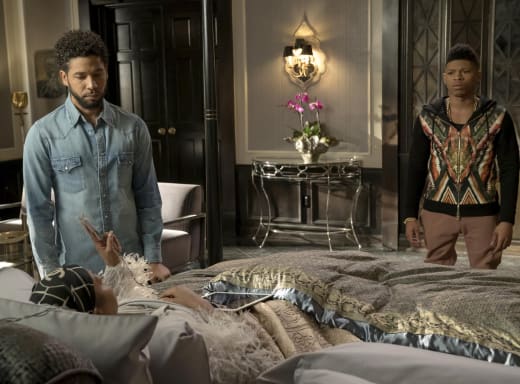 I'm sure he can make a few phone calls and complain about how the PR disasters that seem to follow the company around are going to make it go the way of the flip phone. 
Jamal seriously needs to join Andre on that wellness retreat. He's tired of his life in the spotlight, and that's part of the reason why he opened up about not being sorry. 
However, the fate of the company rests on semi-likable people working for it. The very notion that Jamal is a violent man is comical. 
Related: Empire Season 4 Episode 10 Review: Birds in the Cage
He wouldn't hurt a fly but throw in the fact that he was addicted to drugs, and the media will make of that what it will. In short, it spells a death knell for Jamal's career. 
Maybe it would be the best thing to happen to him at this stage. He's been over the struggle of being in front of the cameras for a while now. 
What I love the most about Empire Season 4, is that things have been dialed back to focus on the core characters instead of the stunt casting that has plagued the series since its inception. 
The stories are coherent, and the family is at the root of them. There's something satisfying about seeing the family at odds and knowing that there's a plausible reason why as opposed to a convoluted one. 
Other Odds & Ends:
Becky and T-Pop have a lot of speaking to do. It wouldn't hurt them to lay their feelings out on the table instead of bickering or hiding from each other. 
Cookie's sisters need to be more permanent fixtures. The scenes with the three together were witty as hell. 
Cookie asking for the chef to fry her kale was a typical Cookie response. 
Can we get some more flashbacks of Lucious' past? He's had a crisis of faith ever since his father passed and his mother went off the rails.
That's all I've got, Empire Fanatics. Chat with me in the comments about your thoughts!
Remember, you can watch Empire online right here via TV Fanatic. Get caught up with all the latest scheming right now. 
Empire continues Wednesdays on Fox!
Paul Dailly is the Associate Editor for TV Fanatic. Follow him on Twitter.