Gotham Season 4 Episode 19 Review: To Our Deaths and Beyond

Lisa Babick at . Updated at .
I'll be the first to admit that I wasn't a fan of a Lee and Riddler romance, but that smug look she had on her face when Riddler chose her over Penguin on Gotham Season 4 Episode 19 was enough to sway me that their partnership may be the most delicious pairing on Gotham.
I got as excited as she did when Riddler told her she'd come around eventually.
Lee deserves happiness, and if Riddler can give it to her without hindering her badassness, I'm all for it.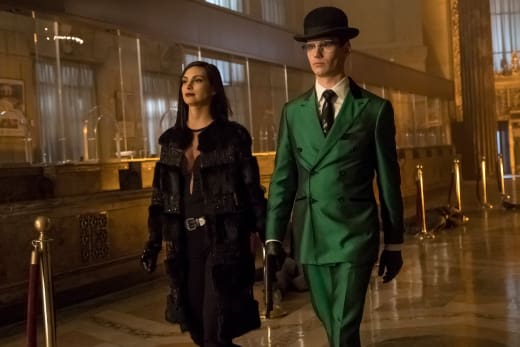 I'm concerned about that look she had after Jim put her in the police car. You just know he's going to do everything he can to try to turn her back into Little Miss Goody Two Shoes. 
He needs to let her be. She's thriving in her new life without him even if it is on the wrong side of the law.
Maybe Bullock will convince him of it (and who didn't love Bullock's reaction when Lee walked out of the bank with her hands up?!) because God knows, he's seen enough of their drama through the years.
He has to be as sick of it as we are, right?
Related: Gotham Season 4 Episode 18 Review: That's Entertainment
There's always the possibility she's wondering about whether what she's doing is the right thing.
She and Riddler are robbing banks from crooked bank managers, but they're giving the money to the people of the Narrows for food and medicine, so her crimes have a purpose.
Riddler: You aren't stringing me along, are you Lee?
Lee: Don't you want to find out? The answer to the riddle?
She's not completely evil, and neither is Riddler which is why they make a perfect couple. He so desperately wants her to love him; he's blind to what she's doing -- using him.
She doesn't love him, but she needs him. Can she grow to love him? I believe she can as long as Jim doesn't get in the way. If Jim gets in her head, then it's all over, so, please, Bullock, get involved and help Jim stay out of Lee's life!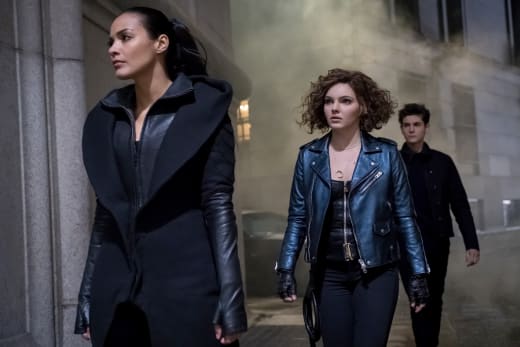 If Lee's all in, they can do anything together -- even fight off Penguin when he and Butch come after them. Lee and Riddler are Gotham's new power couple!
One couple that was a lot of fun to watch was Tabitha and Alfred. Wouldn't it be great if those two got together? They both need someone in their life, and they played off each other quite nicely. 
I like Tabitha and Alfred as a couple better than Tabitha and Babs. I'm so tired of their crazy romance. Let them be friends and let Alfred and Tabitha become an item.
Babs: Not feeling a whole lot of faith here, kitty kat.
Selina: Maybe I'd have a little more if you knew how to use the Demon's Head other than a flashlight.
But after Babs gave up the Demon's Head to save Tabitha's life, it doesn't look like their on-again/off-again romance is going away anytime soon. In fact, it's probably going to be stronger than ever.
Related: Get Showtime via Prime Video Channels for Award-Winning Original Series, Hit Movies, Sports & More!  
Babs proved that she could think of someone other than herself. She fought for what she wanted, but in the end, she realized that Tabitha was more important to her than world domination (or at least domination of Gotham).
But Barbara was rewarded. The Shadow Ladies were impressed with Barbara's decision to fight Ra's al Ghul and showed their allegiance to her. Now Babs has an army, and that bodes well for all of her desires. 
Babs deserved something, and I'm glad Gotham gave her an army.
She proved she could be more than just crazy and with Tabitha's guidance, they can create something powerful. Barbara can still be Queen of Gotham, and I hope she gets her wish.
The whole Ra's al Ghul rising from the dead was sort of goofy, but the fight scenes were great. Even better were Babs, Tabitha, and Selina peeling off in Bruce's Batmobile and leaving him and Alfred in the dust.
Related: The Terror Season 1 Episode 5 Review: First Shot a Winner, Lads
Speaking of the Batmobile, who isn't in love with Selina and Bruce? I loved her riding along with him in the Batmobile, but the best part had to be when he showed her the car's quiet mode.
Now, can he please morph into the Dark Knight so I can be a happy camper? 
If Gotham Season 4 is its last, I hope we get to see Bruce don the cape before it's over. If Jeremiah can be the Joker, then Bruce can be Batman. I think we deserve to see that happen.
So what did you think of all the craziness on "To Our Deaths and Beyond"? 
Are you excited about Lee and Riddler? Are you happy Babs gave up the Demon's Head?
Are Butch and Penguin even relevant anymore?
Hit the comments and share your thoughts!
If you need to catch up, you can watch Gotham online right here via TV Fanatic!