Law & Order: SVU Season 19 Episode 17 Review: Service

Jack Ori at . Updated at .
I have to admit I wasn't all that excited by the promo for Law & Order: SVU Season 19 Episode 17.
I love SVU and am thrilled it's back, but I was sure that it had tackled the code of silence in the military before and was expecting more of the same.
I should have known better, as SVU now did an excellent job exploring prejudice.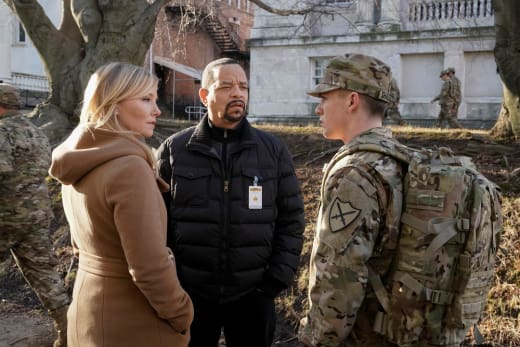 The issues that transgender military members face were handled well, and Rollins' prejudice against a victim who happened to be a prostitute kept my attention.
There were one or two flaws, but for the most part "Service" far exceeded my expectations.
When SVU promised us a story about military personnel reluctant to testify against one another, I expected that they would be protecting the rapist.
Having Sergeant Preston be hiding the fact that he is a transgender individual was a great twist. It was topical and handled sensitively.
I really appreciated the depiction of a transgender man struggling with discrimination because media often focuses exclusively on the problems transgender women face, making it appear as if trans men never have problems or worse, that they don't exist at all.
And the dialogue on the stand was perfect.
Preston: I am a transgender man. If you wanted to know that, you could have just asked. I would have told you.
Olson: So you used to be a woman?
Preston: No. I was always a man.
I was irritated that the defense attorney thought that he could win his case by putting a witness' gender identity on trial as if being transgender makes a person immediately lose credibility.
I guess this character was meant to be a mouthpiece for annoying points of view since his attitude towards Sandy wasn't any better.
Related: Get True Crime Files by ID via Prime Video Channels for Over 1,000 Real-life Mystery & Suspense Shows!
In any event, I liked the way SVU worked current events into the narrative.
Preston: Once I'm outed to officials, there's no going back in. And with one stroke of a Tweet from Air Force One, I could lose my job, my career, everything I've worked so hard for.
Benson: I know things seem really unfair right now, but does it give you any comfort that that Tweet did not become law?
Preston: Today, maybe. But what about tomorrow? Do you know what's going to happen?
All season long, the dialogue has been on the edge of criticizing the current political climate, and this was the closest it came to doing so directly.
That's a gutsy move that could have backfired.
We're living in a polarized society where people seem to boycott shows the second they learn that their views don't match those of the people involved with the show, and that's probably why so many shows make veiled allusions to what they think but never come out and say so.
I'm sure there will be some backlash for SVU criticizing the current President's tendency to govern by Tweet and his proposed policy on transgender people serving in the military. But I think it was worth it.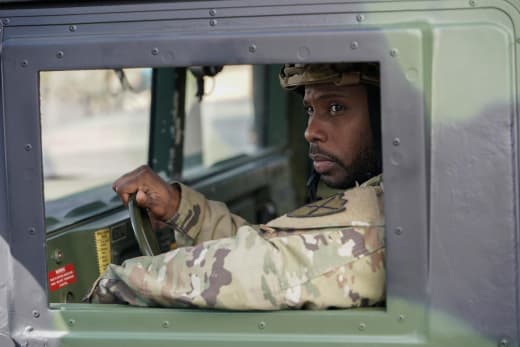 This was a story that needed to be told so that people could understand what is at stake for transgender members of the military.  And it was told well.
It wasn't preachy or moralizing, and it didn't try to force anyone to change their minds about this issue, but I hope it gave some people food for thought.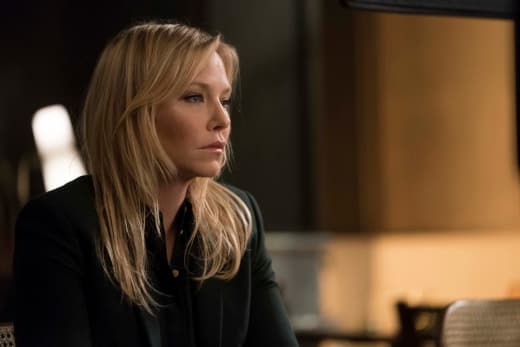 I was surprised by how narrow-minded Rollins seemed to be when it came to investigating prostitutes, though. She didn't seem like herself, and I was expecting some big secret from the past to be behind it.
I was disappointed that it turned out that she was mad at some guy who had cheated on her with an escort service.
It felt anticlimactic after all the buildup.
It probably would have helped if we'd ever seen Rollins with this cardiologist who supposedly broke her heart. It felt random, and I was distracted wondering whether I'd just forgotten that she was dating someone or whether this came from out of the blue.
Rollins: I've been here seven years and I still don't get it.
Carisi: World's oldest profession, my friend.
Rollins: I get why there are hookers. I just don't get why we give a damn. They know the risks.
Carisi: Maybe they didn't have a choice.
Rollins: Everyone has a choice.
If SVU weren't going to go the route of exploring Rollins' past some more, it would have made sense for her to be reacting to some case where she tried to save a prostitute and couldn't. 
I also expected it to be connected to her past struggles with a gambling addiction or maybe to what she'd seen in that crazy family from which she's always fighting to distance herself.
Anything but a random lover choosing a prostitute over her. That was a disappointing ending to an otherwise solid subplot.
You know, every morning I get up, I look in the mirror, you know what I see? Not a damn thing.

Sky
Morgan Campbell did an excellent job as Sky/Sandy.
Her heartfelt declaration that she had lost the little bit of self-respect she'd gained because of the humiliation of this trial and the way Rollins treated her brought tears to my eyes.
She was a complex character who was a lot more than what she did for a living. I was moved by her and would have loved to know more about her.
Related: Get Shudder via Prime Video Channels for Spine-Tingling & Provocative Films, TV Series, & Originals!
I was especially curious about why and how she ended up in sex work, especially after Rollins claimed that everyone has a choice and Sandy told Benson that the last time anyone used her real name was when her mom said it right before she died.
It seemed like we were building to a powerful backstory that we just never got, and that was a shame.
What did you think of "Service"?
Is this what you wanted or expected from SVU right after it returned from hiatus?
Did you think the transgender issues were handled appropriately?
Was I the only one disappointed by Rollins' reveal about why she hates working on prostitutes' cases?
Weigh in below, and don't forget that if you missed something, you can always  watch Law & Order: SVU online to catch up.
Jack Ori is a senior staff writer for TV Fanatic. His debut young adult novel, Reinventing Hannah, is available on Amazon. Follow him on Twitter.