Lethal Weapon Season 2 Episode 19 Review: Leo Getz Hitched

Lisa Babick at . Updated at .
I don't know about anyone else, but Lethal Weapon Season 2 Episode 19 seemed a little out of place and all over the place.
Was there a time jump I missed? I can't remember Molly and Riggs getting back together. And Riana possibly being pregnant right after she got her driver's license on Lethal Weapon Season 2 Episode 18 seemed a bit overdramatic even if it ended up not being true.
Sorry, folks, but not even Leo Getz could save this one.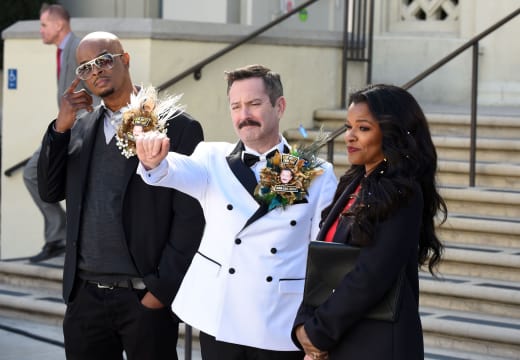 I don't even know where to begin so let's start with Riggs and Molly.
I love the idea of Riggs and Molly being back together again, but I would have liked to have seen how they got to that point considering the last time we saw them together she was fuming at his idiocy and didn't want to see him again.
I didn't quite understand why Jake had to be back into the mix of things. Maybe it was to give some closure so that Molly and Riggs could get on with their lives without there being someone to mess things up for them again. 
It wasn't necessary because Jake was a loser and ran off however many episodes ago, so that was already enough closure. We didn't need to see him again or have him be part of the case of the week.
Related: Lethal Weapon Season 2 Episode 18 Review: Frankie Comes to Hollywood
If we're going to have the pleasure of a Molly and Riggs romance, let us have it without interference. Hasn't Riggs suffered enough?
Let him be happy. He certainly was in seventh heaven playing with Ben and being cozy with Molly. I think it's great they're back together; I just don't know how they got to that point.
When did Riggs have time to woo her back between solving crazy cases and visiting his dad in Texas? 
I can't imagine Molly would be quick to forgive Riggs for his behavior. Sure, she loves Riggs but she's not going to forget the pain he caused her. 
I feel that she would have made him work a little harder to get back in her good graces but obviously not. Even though he screwed up before, it seemed sort of dumb that he would screw up again putting a tail on her.
He should have known that she wouldn't be too thrilled that he'd do something like that. Yet, she was quick to forgive that gaffe, too.
Who knows? The whole thing just seemed odd and out of place to me.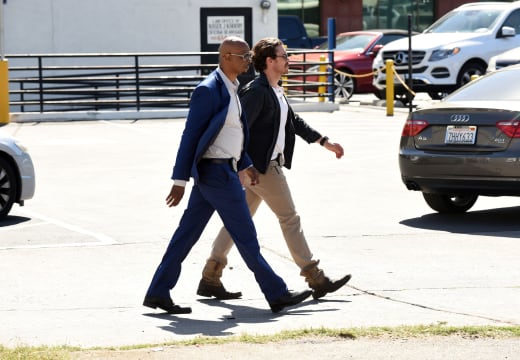 But now that we're in this spot, I hope Riggs' and Molly's renewed romance isn't short-lived because there are issues still to be resolved with his father. 
Will she be okay with him forgiving his father and beginning a new relationship with him? I can't imagine she will, just as I can't imagine they wouldn't have talked it over.
RELATED: Get CBS All Access via Amazon Channels for Hit Shows, Exclusive Originals & Live TV!
If they were together, he would have talked to her about what happened to his dad. It was like what happened on Lethal Weapon Season 2 Episode 18 didn't even exist. It's very bizarre.
Riana's story was just as bizarre, but worse was learning that McNeeley's wife might be pregnant with another man's baby.
That's way too much information and drama than I need.
I don't know why we had to go down a possible pregnancy road with Riana after she just got her driver's license. Riana is a responsible girl and getting pregnant isn't in her game plan. It's not that she couldn't. Stuff happens. It just seemed like unnecessary drama.
Let the girl be a girl.
Thomas Lennon is always a delight, but his story this time around was really goofy. 
Related: The Terror Season 1 Episode 5 Review: First Shot a Winner, Lads
It's not entirely out of character that he'd marry a convict, but it also seems a little off. He's not stupid either. Once he realized Nina wasn't the woman he hoped for, he should have walked away.
And for Trish and Roger to let him marry a woman who was about to be convicted of murder was off too. There's no way in the real world of Lethal Weapon that they would have allowed it.
Yes, I said the real world of Lethal Weapon because this installment felt completely out of place -- like an alternate world.
Was it just me?
Over to you.
What did you think of "Leo Getz Hitched"? Did things seem as off to you as they did to me?
Hit the comments and share your thoughts!
If you need to catch up, you can watch Lethal Weapon online right here via TV Fanatic!