So much for the Boroumands being the McCord's new Cranium partners.
Piper and Jason provided some much needed comic relief on Madam Secretary Season 4 Episode 19. Is it wrong to laugh at Jason's pain? Or to say that he's at his most tolerable when his miserable?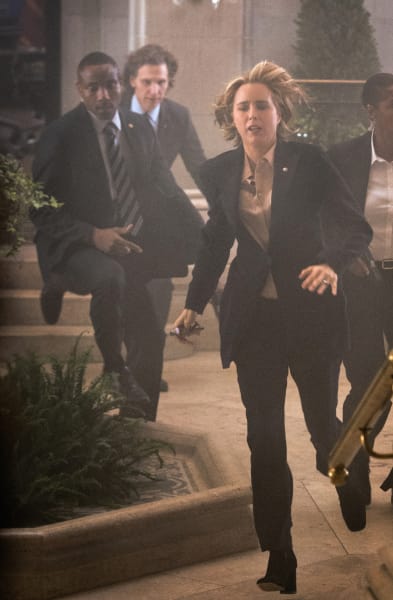 I absolutely loved that the outcome of the oh-so-hyped explosion was that Piper and Jason were planning to have sex. And that they made such a production of it. 
Although I was a little surprised that Jason didn't have his own DS agent during the trip. Haven't past experiences proven that trouble follows the McCord offspring whenever they travel abroad with their mother? 
Related: Enjoy UNLIMITED access to thousands of Movies & TV Shows with Amazon Prime Videos!
I actually felt bad for the kids. I mean, yeah, they totally deserved to be punished, but having a parent walk in on your first time would be bad enough. A staff member and two armed guards to boot? No wonder Piper broke up with Jace. 
As ridiculous as the aborted sex scene was, the scene between Stevie and Jason at the end made up for all boring (albeit important) parenting scenes we had to endure. 
It was low key return for Wallis Currie Wood, but a touching one. Stevie's still obviously heart broken over Dmitri, and I loved seeing the softer side of the siblings. 
Jason: How do I make the pain go away?
Stevie: You kinda don't. You just gotta wallow in it for as long as it takes.
Jason: Well, this sucks.
You know what I could have done without though? Henry and his student.
First, I hate when a new, one-off character is supposed to be a heretofore unknown family member of an established character. Ellen's been around forever, they couldn't have mentioned she had a kid before now?
Excepting one line from Elizabeth to the NSA, there was no need for Andrew to be another cabinet child. I mean, I still wouldn't have liked the story, but it would have been less annoying if his last name had been Smith or Jones.
Sometimes these kids that we love make decisions that we don't.

Elizabeth
The whole thing was just so random. I guess it was a good example of Henry the head of the ethics department, but who cares? We all know what an ethical guy he is, there's no need to beat a dead horse. 
Maybe I'm wrong. Maybe Andrew's conscientious objector status is setting up some far off story arc. Maybe helping this kid will come back to bite Henry in the ass somehow. Maybe he's Stevie's next love interest. 
It just doesn't seem very likely that's the case. 
Related: Get CBS All Access via Prime Video Channels for Hit Shows, Exclusive Originals, & Live TV!
In addition to modern teenage romantic practices and a random story about conscientious objectors, we learned a whole lot about the Arctic politics and nuclear power during "Thing Ice."
That's Madam Secretary at it's best -- informative and entertaining. 
The conversation about Arctic politics isn't new, but it doesn't really get the mainstream coverage that other climate change related issues get. 
You're much more likely to hear about how Miami is going to be under water before we know if or about strengthening hurricanes than you are about why there's so much debate about who owns vast stretches of uninhabitable ice shelves. 
It doesn't impact as many day-to-day lives as those issues to be sure.
Chip: With no drilling, there's no gas. With no gas, there's no future.
Elizabeth: Your company has been saying that for thirty years, Chip, and it is as false now as it was then.
Chip: Yeah, well, the money's just as green.
But as Jason pointed out, it's about the shipping lanes. And the mineral rights. And drilling. I think that bit character Chip Harding got to the heart of the matter...it's all about money. 
It's just another way that massive corporations are going to benefit from publicly denying human caused climate change.
I loved Elizabeth's take down of the Big Oil & Gas shill. Or rather, her halted recounting of it. It's the kind of thing we all wish our politicians and bureaucrats would actually do, isn't it?
Elizabeth: Chip Harding is no longer our sponsor.
Blake: Because of Bella Rossi?
Elizabeth: Because I refused to endorse Arctic drilling. And I may also have mentioned his company's long history of hiding data and denying climate change. And violating the Foreign Corrupt Practices Act, so that probably did it.
I also love Blake's passion about the energy topic, and how even though he's been in this world for a while, he's still got enough faith that he's disappointed in the system. 
And that he'll just go on and on and on to a coworker who he already knows agrees with him. 
It was also nice to see that Elizabeth's ultimatum to her assistant hasn't been forgotten. And that he's getting some mentorship from the team.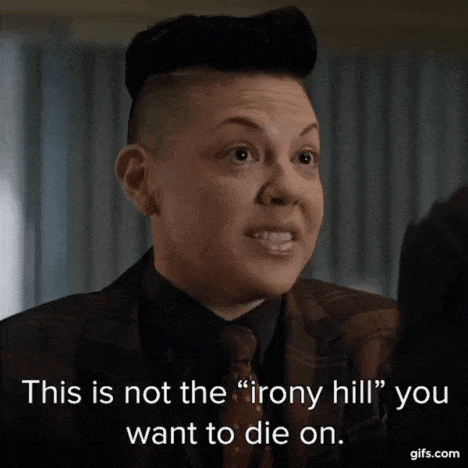 Everybody's going to have to watch their mouths a little more closely on Madam Secretary Season 4 Episode 20 ("The Things We Get To Say"). A reporter is going to be shadowing Elizabeth and taking down every word.
Which almost guarantees that something controversial will be said in the heat of the moment, right? Of course, it'll also probably be something that sways public approval towards Elizabeth. 
Related: CBS Renewals: Which Major Show Is Missing?
So what did you think of "Thin Ice?" Will Elizabeth's deal with the Chinese come back to haunt her? Will Russia try to infringe on our sovereignty again? Are Piper and Jason done for good? 
We want to hear your thoughts, so join the conversation in the comments section below!
You can watch Madam Secretary online with us anytime!
Elizabeth Harlow was a staff writer for TV Fanatic. She left the organization in October 2018.