NCIS Season 15 Episode 20 Review: Sight Unseen

Kathleen Wiedel at . Updated at .
Sometimes, a show can really surprise you. Keep you guessing and speculating right to the end. NCIS Season 15 Episode 20 definitely made a valiant effort and very nearly stuck that landing.
For someone who's seen as many cop show episodes, I confess that I was honestly stumped for a good portion of the story. That's not bad for the 350th installment of the series!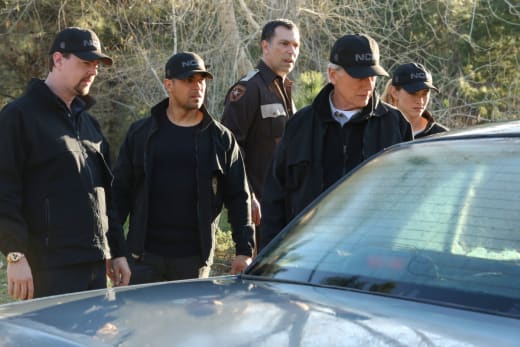 Yes, that's right. Three hundred and fifty episodes of NCIS! Congratulations all around. It's an exceptional accomplishment, to be sure, when so few series even make it to 100.
But back to the episode at hand.
I suspected early on that there was something suspicious going on with the sheriff, though likely not what most people would likely guess.
I was more confused as to why the Sheriff himself was out serving an arrest warrant! That's almost certainly going to be a job for a deputy. And he definitely wouldn't serve the warrant alone.
Not kosher by a long shot.
Related: Get CBS All Access via Prime Video Channels for Hit Shows, Exclusive Originals & Live TV!
The second detail I noticed was that there were no shots of the vehicle he was supposedly pursuing before swan diving into the lake, which meant I wasn't surprised when Annie reported there was no second vehicle to Nick.
But they made things delightfully difficult just to guess. Like, who was the mysterious fisherman in a boat in the middle of the night? It wasn't until the line-up that I figured out that it had to be the lawyer!
And I'm almost always a fan of a case where it turns into a matter of who didn't do something! While Petty Officer Billings was the victim of attempted murder, he was still a culprit in the original criminal enterprise of making meth.
Not to mention the downright scathing report from his commanding officer. Billings was no saint or innocent in the whole mess.
Painting him as the suspect in the sheriff's sudden murder (kudos on making me jump with that one) would've been too easy.
The lawyer's attack (predictable though it was by that moment) on Annie was well-choreographed and tense. It's not the only time I've watched a scene where a disabled character "evens the odds" to fight off an attacker, but this one worked well.
Related: Enjoy UNLIMITED access to thousands of Movies and TV shows with Amazon Prime Video. WATCH ANYWHERE. CANCEL ANYTIME!
This was in no small part thanks to guest star Marilee Talkington, who made quite an impression. Talkington is legally blind, herself, and her character here asked for no pity.
Plus, she bonded with Torres, to the point of remarking on his very impressive arm musculature (a fact that everyone seems to comment on lately!):
I've held lots of arms. Yours are more than decent.

Annie [to Torres]
This isn't the first time NCIS dealt with a blind witness and/or victim: this previously happened in NCIS Season 2 Episode 1, "See No Evil" and NCIS Season 4 Episode 22, "In the Dark."
In the latter case, it actually turned out to be a smell that helped solved the case. No wonder Gibbs was so strongly insistent that Torres find out what Annie had to say.
Whether or not episode writer Brendan Fehily intentionally wrote it that way or not, it worked.
Related: Get True Crime Files by ID via Prime Video Channels for Over 1,000 Real-life Mystery & Suspense Shows!
It may not have been the most dramatic, heart-pounding, jaw-dropping thrill ride of a story, but "Sight Unseen" made for a solid and enjoyable way to celebrate the big 350.
A few final notes before I turn this discussion over to you:
I'm not a person with a secret stash of cash to hide, but wouldn't it make more sense to bundle it with rubber bands or plastic wrap rather than leave it loose to fall everywhere (as it did with Torres)?
Did anyone else feel really bad for the pharmacist's daughter? Her dad and her fiancee were making meth together, and then her dad tried to kill her fiancee with the sheriff, who was in on it, and then their lawyer killed the sheriff...
Could someone please tell me what job Reeves does at NCIS? It's obviously not that important because he sure seems to find his way into MCRT cases a lot.
While this episode didn't feature a vast number of amazing one-liners, you should still pay a visit to our NCIS quotes page.
While waiting for the next installment, feel free to watch NCIS online! The show returns on Tuesday, May 1, 2018, at 8/7c on CBS with Season 15 Episode 21, "One Step Forward."
What did you think of "Sight Unseen"? Are you in favor of a potential Torres/Annie pairing? What about Bishop and Commander Buckner? Share your thoughts in the comments section below!
Tonight, #NCIS airs its 350th episode! Thank you fans for your support and dedication. This milestone is only possible because of you! #NCIS350 pic.twitter.com/4VGPMZeGdA

— NCIS (@NCIS_CBS) April 17, 2018