Suits Season 7 Episode 14 Review: Pulling the Goalie
Paul Dailly at .
Did Louis just find a way to redeem himself after a string of downright terrible decisions?
It sure felt that way on Suits Season 7 Episode 14, which certainly seemed like an hour that was all about undoing some of the awful stuff the characters have done of late. 
I never thought things could possibly get any more complicated for the Louis, Sheila, and Xander love triangle, but I was mistaken.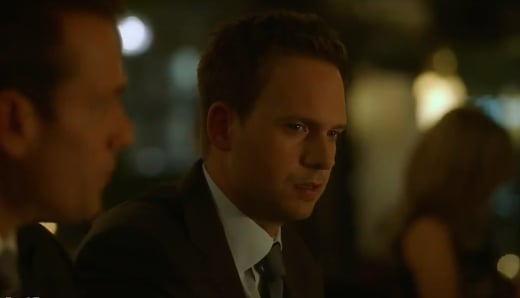 It was true to the character of Louis to have him get ready to destroy Xander in the courtroom, but it was still rather silly. 
It boggled my mind that Xander never managed to put two and two together to figure out there was something going on between Sheila and her ex. 
When the smug lawyer was talking about Louis being a distant memory to Sheila down the line, it was obvious something was going to happen to swing the ball back into Louis' court. 
Related: Suits Season 7 Episode 13 Review: Inevitable
While it's easy to blame Louis for getting involved with someone who was in a relationship, Sheila was the one who was pursuing him from the get-go. 
It was random that Sheila showed up in the closing moments to admit she loved Louis all along because, well, they don't exactly have the best track record.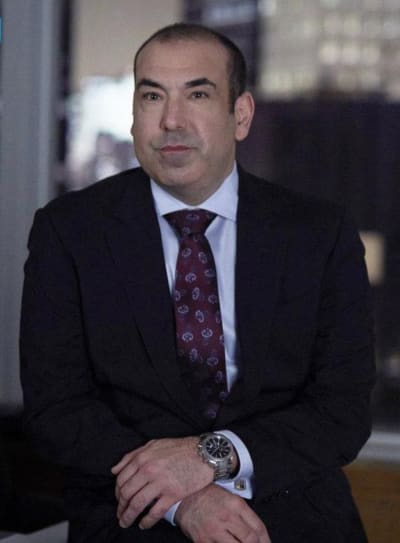 Sheila may be offering Louis everything he's ever wanted, but it's never smooth sailing for him, and his paranoia tends to set in before long. 
Sheila talks a big game, but I'm not sold on her giving Louis what he's always wanted: Children. Sheila obviously knew she wanted to be with Louis quite some time ago or she wouldn't have turned to him. 
In previous reviews, I have ruled their feelings as lust as opposed to love, and until I see otherwise, I'm sticking to my guns on this one. 
That said, it was appreciated that Amanda Schull was acknowledged as still being part of the cast. I loved every single moment of her helping Louis take down Xander. 
Related: Enjoy UNLIMITED access to thousands of Movies and TV shows with Amazon Prime Video. WATCH ANYWHERE. CANCEL ANYTIME!  
It did seem a little convenient that she was already looking into Xander before Louis even turned to her, but maybe that says more about how much she really knows him. 
Louis is impulsive, and it's generally easy to read him based on certain situations. Now that he has the prize he's always wanted, there's no telling how things will play out.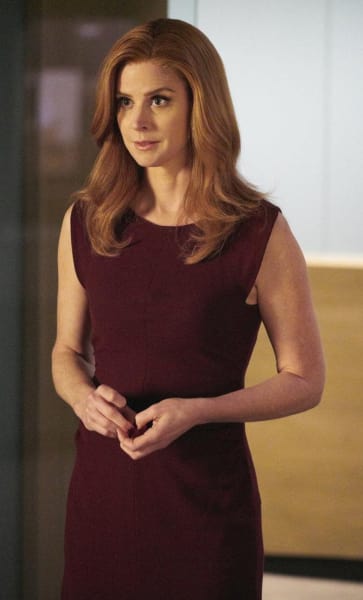 The storyline with Donna and David was horrific. Yes, I agree that there would have been some changes to the tenancy agreement, but Donna should have seen through David's plan all along. 
David was a conniving snake, and that's why he used the flirting to lead Donna into a false sense of security. 
Donna should have turned to Harvey in the first place, so things wouldn't have taken such a terrible turn.
She was scared that Harvey would go back on his decision to keep her at the firm, but she should have had faith that he would listen to her. 
What I did like was that Rachel joined in on the fight, but can we take a moment to recognize that Meghan Markle has had very little screen time on Suits Season 7?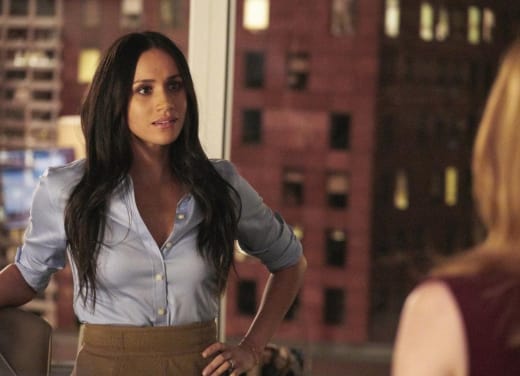 She might as well have been a recurring player. The whole airspace plot was ripped straight from that terrible movie, Burlesque. It fell flat in that movie, and it fell flatter on Suits. 
Suits Season 7 has been limping along at a slow pace, and it's such a shame. It would have made more sense to have fewer episodes, and as a result, it would have felt like a more streamlined season. 
There's been so much back and forth now across all of the storylines that it's difficult to care about anyone on the show. 
Related: Suits 7 Episode 12 Review: Bad Man
Even the story of the week with Judge Rall felt like it was thrown in there to bring Mike and Harvey together for one final big case. 
I enjoyed Mike calling her out on her first scene when she tried to imply that Mike was the first person to whom she turned. 
Mike has a habit of thinking about what he would do in any given situation, and that will be missed when Patrick J. Adams departs. 
It's hard to imagine, but we have only two more episodes with Patrick and Meghan. How will the show look without them? 
OK, Suits Fanatics. That's all I've got. What do you think of all the latest twists? Do you even care about Louis and Sheila at this stage?
Hit the comments below.
Remember you can watch Suits online right here via TV Fanatic. Get caught up now. 
Suits Season 7 concludes Wednesday, April 25 at 9/8c on USA Network. 
Paul Dailly is the Associate Editor for TV Fanatic. Follow him on Twitter.