The Arrangement Season 2 Episode 6 Review: The Break Up

Lisa Babick at .
Megan should cash in her chips and call it a day.
Kyle made it very clear on The Arrangement Season 2 Episode 6 that he'll never sever ties with Terence because without him Kyle would not exist.
Terence brought Kyle back from the brink of suicide, and it's something that Kyle will never forget.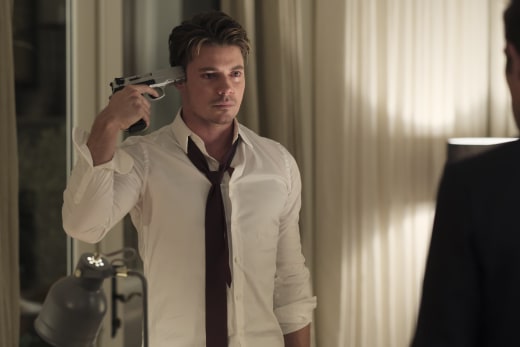 Like he said, Terence saved his life.
Megan has no chance of breaking the spell Kyle is under. He's so wrapped up in the idea that Terence is his savior that he's never going to be able to break free. Even learning the truth about Lisbeth and Terence wouldn't be enough to break that spell.
Related: The Arrangement Season 2 Episode 5 Review: You Are Not Alone
Terence would lie, and Kyle would believe him because that's how messed up Kyle is.
Kyle is drowning in the Kool-Aid, and there's no way out. Call me cold-hearted, but I wouldn't waste my time anymore. I don't believe that Megan loves Kyle enough to risk her life the way that she is right now.
If she walked away, she'd ruin her career, but she needs to save herself before it's too late.
There are too many things pulling at her. Shaun is not to be trusted, and it's up in the air whether or not Zach is trustworthy.
The best thing for Megan to do is get out and let IHM, Terence, and all the rest of them live in their self-created craziness.
Megan can't destroy them all by herself anyway. She can't take down Terence all by herself. She can't even do it with Gail, Gene, or Zach (if they're to be trusted), or even Julia -- if they ever find her.
The machine is too powerful, and Megan doesn't have enough support to tear it apart.
Related: Enjoy UNLIMITED access to thousands of movies and TV shows with Amazon Prime Video! Watch Anywhere! Cancel Anytime!
Besides that, why does she want to continue working in a toxic environment where you're told you don't matter by the man your future husband worships? 
Those were some harsh words Terence threw at her, and it wasn't the first time he's been mean to her.
Continuing to tolerate that kind of behavior from anyone only makes her look more foolish. After everything she's been through with Kyle and IHM, when is enough going to be enough?
It's frustrating watching her spin her wheels for a man and a career that only exists because of an arrangement she made with a man.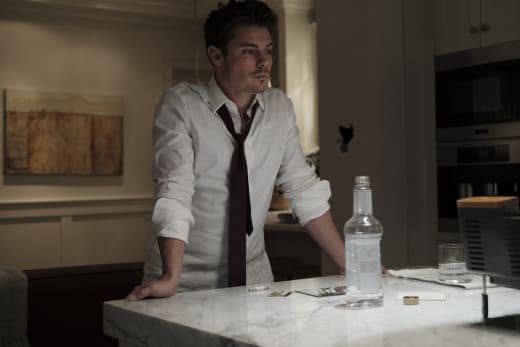 Where is her pride?
I have no admiration for a woman who puts herself in a situation like that. Megan's only focus should be finding ways to get out of this mess. Forget about saving Kyle West. Forget about taking down Terence and IHM. Save yourself, Megan!
Kyle gave her the perfect opportunity to walk away when he told her she'd never be his lifeline. She will never be number one in his life, and if she didn't believe it before, she better believe it now because Kyle spelled it out plain and simple.
He loves her, but not enough for him to depend on her in times of crisis. That privilege goes to Terence, and that's where it's going to stay.
Kyle has obvious issues, mental and otherwise. His epiphany after his wild motorcycle ride that he was the one who was starring opposite Megan in the film was born out of jealousy no matter what he tells himself.
Related: The Arrangement Season 2 Episode 3 Review: The Sessions
I still don't get the connection between Xavier and Megan and don't see whatever chemistry Kyle is seeing. I think he's imagining it because of what happened with Lisbeth.
There hasn't been enough time with Xavier for me to be convinced that Megan cares so much about him that she would chase after him when Kyle fired him. She should have just called him on the phone.
The only saving grace to that situation is that Xavier knows that something is not quite right at the farm and might become the one person Megan will be able to rely on to keep her from the brink of insanity.
Or at least to shake some sense into her that none of what she's doing is worth it.
Someone needs to shake her awake before it's too late.
Over to you guys!
What did you think of "The Break Up"? Does Megan need to cut her losses and get out? Will Kyle learn about Terence and Lisbeth?
Hit the comments and share your thoughts! If you need to catch up, you can watch The Arrangement online right here via TV Fanatic.