The Terror Season 1 Episode 5 Review: First Shot A Winner, Lads

Lisa Babick at . Updated at .
Despite the fact that Captain Crozier acted like a huge baby on The Terror Season 1 Episode 5, there's something about him that makes me want to give him a big, fat hug. 
It's hard not to feel sorry for the guy even if his only answer to his dire situation is to drown his sorrows in whiskey.
But it didn't take him long to come to the conclusion he needed to step up and be the man in charge -- and that means facing his demons head-on.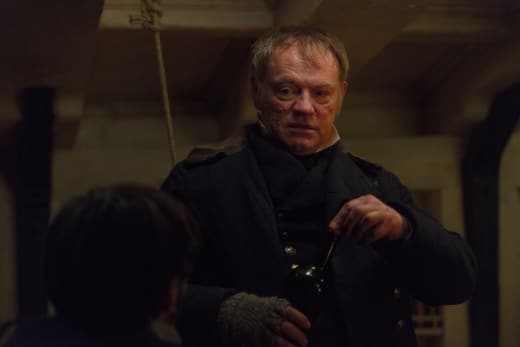 It's understandable that he feels trapped. The worst winter of his life is upon him, and there's nowhere to go. It's enough to make anyone crazy, but the addition of a supernatural monster makes everything even bleaker.
I'd throw a temper tantrum, too. And that's all Crozier's outburst was -- a big temper tantrum that, unfortunately, cost Mr. Blanky his leg and gave the crew a whole slew of new nightmares.
Related: The Terror Season 1 Episode 4 Review: Punished, as a Boy
Seeing Mr. Blanky almost get torn up by the Tuunbaq was like a long-awaited bitch slap that Crozier desperately needed. It sobered him up mighty quickly.
He's never going to forgive himself for ordering his loyal friend to go out and "watch the ice" because the whole situation angered him with Fitzjames and Lady Silence.
If he put one of his closest men in horrendous danger because of a lapse in judgment caused by drinking, what else was he capable of doing if he was in a constant drunken state?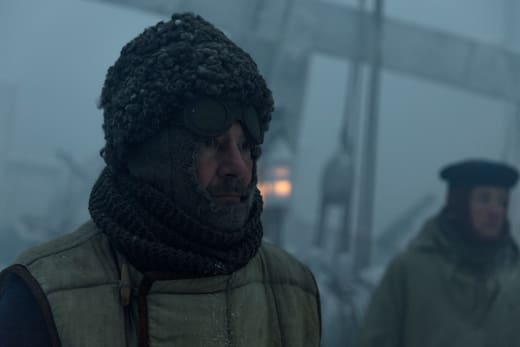 He knew the only solution was to quit drinking and face the demons from which he was so desperately trying to hide.
Crozier is more scared than he's ever been in his entire life. 
I'm not quite sure why he let Lady Silence run off into the night without sending anyone after her. It could be because he felt Mr. Blanky's safety was more important than capturing a woman who saw too far into his soul.
She laid him bare in front of Fitzjames and the others, and it angered him.
Related: Enjoy UNLIMITED access to thousands of movies and TV shows with Amazon Prime Video! Watch Anywhere! Cancel Anytime!
Does Crozier want to die because of Sophia's unrequited love, or has he always been seeking death?
Could that be the reason he always wanted to be at sea, hoping that it would swallow him whole and end his misery?
You have to wonder if a part of him wishes the monster would kill him so he could be free, but he knows it's not going to happen that way.
He's doomed to live the rest of his short life in terror watching his men get mauled and killed by the thing that stalks them.
Not having whiskey to numb his mind is going to be tough, and he knows it. That is why he told Fitzjames and the others that he's going to be unwell for some time.
But he's not planning on fighting it all by himself. He expects them to cater to his every need while he goes through the horror of his withdrawal.
I can't imagine that Fitzjames is going to be very sympathetic towards Crozier. He doesn't like the guy and won't have any patience for what's about to come. 
Fitzjames is going to have a lot on his plate because not only is there the monster to deal with, but there are issues with the ship's food supply and that little thing called scurvy.
He isn't going to have time to babysit Crozier and his nightmares.
The perfect person to take care of Crozier would actually be Dr. Goodsir. He is a kind and gentle soul and would try hard to understand Crozier's pain. He would do everything he could to help Crozier battle his demons.
Related: The Terror: 7 Things to Know about the Season Premiere
Dr. Goodsir is going to be the only sane one left on either ship. He knows they have more to worry about than just the Tuunbaq. If the food is going bad, it's going to make a miserable situation even worse.
Too bad the monkey had to be his test subject, but he needs to know. However, even when his suspicions are confirmed, what course of action will there be? What other sources of food do they have?
Monster, starvation or disease? The outlook is dismal for all of them.
Over to you guys.
What do you think of the story so far?
Do you feel sorry for Crozier? Will he be able to sober up and save his crew? Will Goodsir share the results of the poisoned food?
Hit the comments and share your thoughts!
If you need to catch up, you can watch The Terror online right here via TV Fanatic!