Agents of S.H.I.E.L.D. Season 5 Episode 20 Review: The One Who Will Save Us All

Kathleen Wiedel at . Updated at .
Behold, in all his glory, Earth's Mightiest Hero. The one who will save us all. Hail, Graviton and his questionable facial hair! Agents of S.H.I.E.L.D. Season 5 Episode 20 featured some great scenes with Talbot and Coulson helplessly watching his friend's descent into madness.
The rest of it, well. Let's just call this one The Good, the Bad, and the Ugly.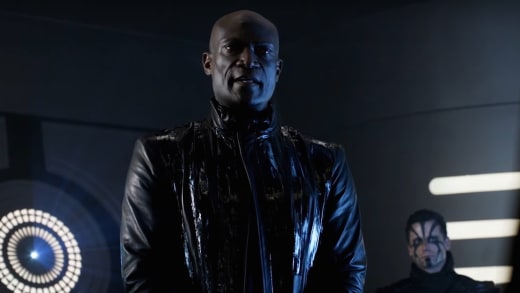 Working backwards, starting with the Ugly, we had the infighting by the members of Team Coulson, sans Coulson himself. This played out most obviously in a pair of scenes, one featuring Yo-Yo and Daisy and the other Fitz and Mack.
Let me just say this plainly: getting into physical fights with your colleagues in the middle of a corridor is bad leadership. If either Coulson or the show itself hopes to convince viewers that Daisy is fit to lead S.H.I.E.L.D., they're failing miserably.
While I don't condone with Yo-Yo's aggressive and hostile attitude, she wasn't exactly wrong about Daisy, was she? Daisy going off on her self-appointed mission to save Coulson instead of doing the job he gave her (lead S.H.I.E.L.D.) with the fate of the world on the line?
Yo-Yo: After all your finger-wagging, the same rules don't apply to you?!
Daisy: You are the *last* person who should be giving a lecture right now!
Daisy's been a complex and divisive character ever since her Agents of SHIELD Season 1 days as Skye. But the stakes were lower then, and she didn't occupy as prominent a position in the cast (or S.H.I.E.L.D. hierarchy) as she does in Agents of SHIELD Season 5.
Coulson keeps pushing her to be the leader S.H.I.E.L.D. needs, but little to nothing she's done since returning to the present has convinced me she's a capable leader. A skilled fighter, sure. But a leader?
As a viewer, I find this frustrating, to say the least. What does Coulson see in her, leadership material-wise? I'm certainly not seeing it right now.
Also filed under the Ugly: the conversation between Fitz and Mack. Here's a sampling, if you want a reminder:
Mack: When does killing become the only way? We're SHIELD. We're supposed to be better than that. None of this would've happened if you would've just said this "invincible" nonsense wasn't real. But instead you and Simmons lit a match and now Yo-Yo's responsible for a girl's death!
Fitz: I'm sorry, Mack. I really am. But it's not that simple.
Mack: Simple? Is how you live a good life. Not with your theories or prophesies. It's following the Good Word and doing the right thing every time. Simple as that.
Fitz: No. Not always, 'cause there's lots of instances in history where it was necessary to sacrifice the few in order to save the lives of many.
Why is this "ugly," you ask? Because, while we might all like to flat-out agree with Mack, he seemed to have forgotten all the other times that S.H.I.E.L.D. (and he himself) killed the bad guys.
And bad guys who were less obviously an enormous danger to themselves, those around them, and easily the entire planet. Mack taking this stance, particularly regarding Ruby, makes him sound naive, hypocritical, or both.
Related: Enjoy UNLIMITED access to thousands of Movies and TV shows with Amazon Prime Video. WATCH ANYWHERE. CANCEL ANYTIME!
That said, I think he was absolutely right about the whole invincibility idiocy.
To put it succinctly, the internal arguing in Team Coulson made them all look bad, especially at a time when the world is at stake. (For those of you wondering, this episode takes place concurrently with Avengers: Infinity War.)
Moving on to the Bad. This is in part an extension of what I already mentioned above: Daisy and her plan to save Coulson.
Despite him clearly and vehemently expressing his wishes on that count, Daisy still insisted on doing what she wants. Which included using Centipede serum and Jiaying extract.
Remember the other folks to use Jiaying extract? That's right: John Garrett and Daniel Whitehall. Also, the minor little detail that Coulson told them repeatedly not to perform extreme measures to save him!
Given that Yo-Yo revealed in the previous episode that her future self specifically said to let Coulson die, you'd think that someone would hesitate. But, no, everyone's full speed ahead!
Related: Agents of S.H.I.E.L.D. Season 5 Episode 19, "Option Two"
Now! Let's finally discuss what I love about this episode. Because when the going gets good, it gets really good, and I like to be able to end things on a high note.
Adrian Pasdar continued to be amazing, however personally heartbreaking I find the terrible fall of one of my favorite recurring characters.
Coulson: So what's our plan?
Talbot: Well, you and I are gonna show these ETs who's boss. Don't worry! I can fix this.
Coulson [not comforted]: I'd really wish you'd stop saying that.
All the ham and cheese and scenery chewing (really, how was there even a ship left for May and Daisy to board after all the scenery chewing?) just added to the sense of tragic loss, made especially obvious against an unusually subdued performance out of Clark Gregg.
Hale's own personal revelations and contemplations made for an intriguing contrast, especially since she played such a large part in making, or rather breaking, Talbot.
I've been angry for so long. Y'know, every time I got passed over, ignored, talked down to, I swallowed it. Told myself I'd make it better for Ruby, but the anger was just… always there, the hatred. In the end, all I did was carry out Hydra's agenda. I never even took a breath and stopped to think about the… the gift that life had given me. I failed her. Ruby died for nothing, and it was all my fault.

Hale
Given the very distinct possibility that Talbot will play a role, either directly or indirectly, with breaking the Earth, I can't wait to find out how things go in the next episode.
Related: Get Comic Con HQ via Prime Video Channels to Stream Original Series, Past Comic-Con Panels & More!
Some of the best lines in "The One Who Will Save Us All" came from this plot. Pop on over to our Agents of S.H.I.E.L.D. quotes page for a rundown.
Especially noteworthy is that the threat to Earth actually directly related to Avengers: Infinity War! Thanos himself got name-dropped, though the name, of course, meant nothing to our heroes.
The biggest question may be whether the end of that movie will have any appreciable effect on this show. Given the timeframe of the series and the film, we may not find out until next season, if that happens.
We shall see.
In the meantime, watch Agents of S.H.I.E.L.D. online if you want to relive the excitement and anticipation! Only a couple episodes remain this season.
A few miscellaneous thoughts before I turn the discussion over to you:
We met Kasius Senior, the father of the very friendly fellow who did such wonderful things for our protagonists in the first half of the season.
Poor Deke. He got friend zoned hard by Daisy. Poor guy just can't catch a break. At least he finally got a nice word or two from Fitz by fixing the computers!
RIP Hale. And just as she was becoming truly interesting, too!
The Avengers were mentioned by name, and Talbot declared himself "Earth's Mightiest Hero."
Stop by after the next installment, Agents of S.H.I.E.L.D. Season 5 Episode 21, "The Force of Gravity," airs on Friday, May 11, 2018, at 9/8c on ABC. In the meantime, join in the conversation below!
What did you think of "The One Who Will Save Us All"?
Did you think Mack was right about saving lives rather than taking them? What will happen with Daisy and Kasius Sr.?
Let us know in the comments section!