Up is down and black is white and we are in bizzarro world
Somehow the double header of Chicago Fire Season 6 Episode 22 and Chicago Fire Season 6 Episode 23 for the season finale ended up with Gabby and Matt on the outs while Severide of all people is part of a loving, (seemingly) healthy relationship.
My head is spinning.
In the end, Renee was after Stella's man. But it Stella should have trusted Kelly more. There was no need to threaten his ex, he never had an interest in her anyway.
I can sort of understand Stella's insecurities, but I'm not sure I agree with her actions. That weirdly vague threat to Renee didn't do anything but make the other woman think she actually had a chance. 
I'm not dying for more arguing couples -- Dawsey's perpetual unrest is tiring enough -- but I'd have rather seen Kelly and Stella discussing her feelings openly than the cattiness with Sarah Shahi's character. 
Related: Enjoy UNLIMITED access to thousands of Movies & TV Shows with Amazon Prime Video!
It just seemed so below Stella. I suppose it was supposed to be some indicator of how much she really cares for Kelly, but it came off as desperate. 
Which is the last word we'd use to describe Stella Kidd, right?
But as long as this arc doesn't come back to haunt us next season, I'm resolved to put it to bed. Severide is finally settled, which is a new look for him, and I just want to enjoy it.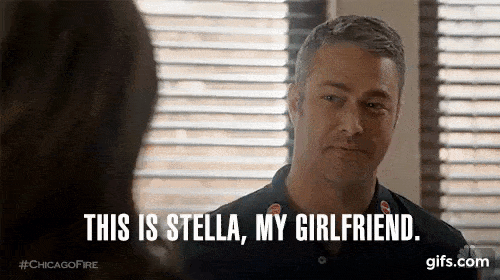 Severide's going to be really bummed that Casey and Dawson's marriage has exploded right as he's ready for some double dates. 
I know a lot of people are exhausted with the Dawsey drama, but my biggest problem with their latest fracas wasn't fatigue. It's that it was absolutely ridiculous.
First off, these two are clearly in need of some couples counseling. Their communication continues to be crap, and it's not fun to watch people just make the same errors over and over again.
Matt: I guess that's the crux of it, the thing I've never really understood.
Gabby: What?
Matt: When you adopted Louie without me, when you hid the fact that you were helping Bria. You make these big emotional decisions as if my input doesn't matter.
Gabby: Baby, of course it matters. I care deeply how you feel, but I can't be dependent on it, or on you.
Matt: Why not, Gabby? What's wrong with being dependent on someone who loves you with everything he has?!
Secondly, they really need to get a second opinion on Gabby's aneurysm and then slow their roll about making decisions. 
Getting into a fight about adoption or trying for a pregnancy was just so precipitous. I get the fertility issues were a plot device to separate the love birds, but it was just so completely mishandled and insensitive. 
We could have all used a break from the roller coaster of that marriage, and letting them try to conceive for more than a few weeks would have been more realistic and more palatable to audiences. Going to a fertility doc after a month is bonkers.
Gabby: I don't want to be rash or impulsive...but I've decided that we're gonna keep trying for a baby.
Matt: You've decided?
Gabby: Well, it's my body, so it's my choice.
The writers also needed to do a better research on why it's a risk for Gabby to get pregnant if they're going to insist on going with that idea. My first reaction was why the hell didn't the doctor talk to her about repairing the aneurysm. Shouldn't be a huge deal.
And make it something riskier than a 10% chance of something happening! I'm with Gabby on that one. Also, ten percent is the number of women in the US who have problems getting or staying pregnant, so maybe be aware this is a sensitive issue. 
We all know why Gabby's gun shy about adopting, but were are other options. They didn't say she was sterile, just that she maybe shouldn't carry a baby while the aneurysm is still there. 
So talk about surrogacy. That actually seems like an ideal solution if for no other reason than it allows Gabby to stay on 61 with Sylvie and end up with an adorable little baby. 
There were just so many other options available.
I did love that the adoption advisor's last name was Dawsey though. I can't have been the only one who giggled. 
Related: NBC Renews Blindspot For Season 4, Gives Series Order To Manifest
Matt's been talking about Gabby's propensity to run away from problems all season, so obviously Puerto Rico is just the extreme manifestation of that. 
While I really, really don't want to suffer through any more of their marital discord, I do kind of dig the idea of part of the team heading down to P.R. to help out after Hurricane Maria. 
I've got my fingers crossed that they'll actually film some scenes on the island, although that could be tricky logistically. 
Cruz [about the success of the Slamigan]: I figured I'd celebrate.
Stella: By booking two nights at one of the most romantic spots in America? You taking Otis? Hmm?
Besides, there's even odds Derek Haas and his team will pull a bait and switch on us and the Chicago Fire Season 7 Premiere will open with Gabby eight months pregnant. 
If that happens, what are the odds that Joe and Sylvie have finally started a relationship?
Personally, I'm still not feeling a grand romance between these two. Joe may think he's in love with Brett, but I generally feel like they've both idealized the other person far too much and things will fall apart when reality sets in.
Kind of like what happened the last time they dated. It's just so crazy that two people who legitimately didn't work as a couple are the ones being pushed back together instead of Brett and Antonio, whose reasons for splitting were, well, stupid.
I'm not convinced that Otis' advice was wrong, even if Joe's been acting like an idiot.
So obviously it was bad advice! Since I said it, you haven't been able to sleep, you had sex with a married woman, you got punched in the face, and now you blew a big Slamigan sale.

Otis
Besides, the Firehouse 51 is starting to become a little too...incestuous. Do we really need another couple there? At what point does that completely stretch the bounds of reality?
I want more relationships between the franchise properties, not within the individual shows. It makes the whole #OneChicago world feel more real, and might encourage better continuity.
Anything for better continuity.
Related: NBC Renews Chicago Fire, Law & Order: SVU, And Two More
For instance, why couldn't Boden and Grizz have been discussing ideas about how the fire department and the police department need to work together and train for mass casualty events like the shooting from Chicago Med Season 3 Episode 18? 
Or even just having one of the background TVs on Chicago Med or Chicago PD showing a news clip about Grizz's appointment as commissioner. That seems like an easily managed request, right?
I was a little alarmed at the lengths that Grizz went to in order to secure the job. We've always known he was ambitious, but this took things to a whole new level. 
It's not his time, okay? It's my time. And let me tell you something, old friend, you're going to wish you hadn't stabbed me in the back.

Gris [to Kelly]
And I was really expecting that Boden's confrontation with him would spark a turn around. Calling him out for not having integrity should have been a wake-up call. 
My one wish for this particular arc going forward is that the guys are wrong and Grizz's appointment doesn't spell out doom for 51. 
That particular plot is just so well worn at this point. It would actually be more surprising (and therefore satisfying) if Grizz promotes Boden to his old position instead of breaking up the team.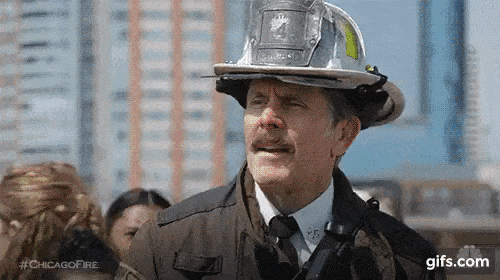 So what did you think of "One For The Ages" and "The Grand Gesture?" Were you shocked that Gabby and Matt ended up on the outs again? Has Stella finally put her doubts about Kelly to rest? Is Cruz going to make millions with the Slamigan? 
And what were you overall impressions of Season 6? Will you be tuning in again in the fall? 
We want to hear your opinions, so feel free to sound off in the comments section! And if you need a hit of Firehouse 51 during the summer hiatus, remember you can always watch Chicago Fire online with us any time, any where!
Elizabeth Harlow was a staff writer for TV Fanatic. She left the organization in October 2018.