I think it's official. Gaffney is the last ED I would want to go.
Not only do they barely try to resuscitate patients, but just about everybody on Chicago Med Season 3 Episode 20 was making terrible decisions.
From poorly timed proposals to independent sleuthing, it was like watching a montage of the worst responses on What Would You Do?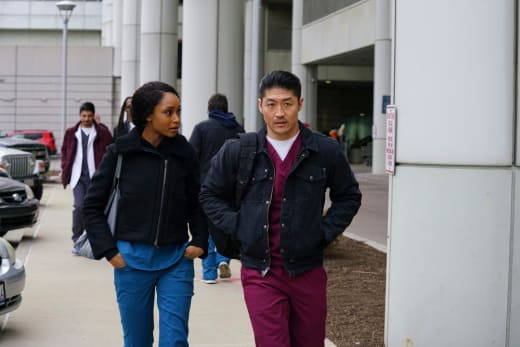 I already thought Will's decision to propose was a piss poor one but sticking to your plan when your possible fiance has just met the woman with whom you (quite recently) cheated on her? 
What. An. Idiot.
I know it was for the dramatic effect of the long shot of Will kneeling before a shocked Natalie, but I can't imagine any woman standing still long enough for him to make it through that weak ass proposal. I would have kept on walking. 
Related: Enjoy UNLIMITED access to thousands of Movies & TV Shows with Amazon Prime Video!
Proposing to somebody because you're afraid of imminently losing them because of your poor behavior is only better than proposing to someone just because you made a baby. 
I'm ninety-five percent certain that Nat is going to shut him down, but I doubt we'll get to see her refusal. That is a shame; Nat's gotten pretty good at giving incensed rants. 
But a time jump of a few months seems quite plausible and in keeping with what we've seen in the past.
Will: Natalie, wait! I wanted this to be so special, a view of the city, champagne... Not like this, not in a parking lot, but I'm not going to let you go. Not without asking.
Nat: Will...
Will: Just wait [opens ring box] Will you marry me? [gets down on one knee] Will you marry me?
The only plot that may need some more direct resolution would be Robert Haywood's heart attack or stroke. 
After Daniel's commitment to saving the shooter from Chicago Med Season 3 Episode 18, I was a little surprised by his hesitancy to save Robert. But just a little.
Because Daniel is obviously thinking how just letting Robert die will end up saving Sarah a whole lot of pain. 
Daniel: What are you doing, Bob? Your antisocial personality disorder isn't going to be affected a transplant. The issue is your brain, not your heart. Linda, could you escort Dr. Haywood back to his room? He's had a nice long walk.
Robert: Well, Sarah seems open to the possibility. Or do you think she's just another young, gullible woman, Daniel?
Too bad he wasn't thinking more clearly when he decided to play Encyclopedia Brown. 
I'm not just annoyed that he was playing detective, I'm annoyed that he was doing it so poorly. Why try and get in through the landlord? Why not call Sarah and say you dropped your glasses there or something? 
Or take a photo through the window of that stupid monkey and then GO TO THE POLICE?
Related: New Amsterdam Trailer: Ryan Eggold Returns to TV!
We're being primed to worry that Daniel's willingness to let Robert die is going to ruin his relationship with Sarah, but that's an awfully big stretch. There may be some loss of trust, but not telling her his suspicions about Robert will probably be the bigger issue there. 
Because even if she agreed to have her father move in with him, I don't think she was buying his "cell memory" changed personality crap. 
She's way too logical and empirically minded to fall for that kind of pseudoscience ... and her past concern for Dr. Charles and his well-being gives me hope that they'll be able to work through their issues. 
Ethan: So you want me to send her away?
April: She needs professional help.
Ethan: Let her be someone else's problem? That's how I've always dealt with Emily. I can't do that anymore.
I'm not so convinced about April and Ethan. Their breakup is probably for good. 
I don't understand she had to turn on Emily so fast and so hard. It just doesn't jive with literally everything she's said about family all damn season long. 
It's nice that she's been able to affect some change in Choi. He certainly needed some help loosening up and letting go of his judgemental ways.
Ethan: Then what is it? You're the one who always told me how important family is.
April: Yes, and I treated Emily like family. I stood up for her, I told you to give her another chance, and how did she thank you? Thank me? She stole drugs, she lied to us. Ethan, she's damaged. You can't fix her.
Ethan: I gotta try.
But that just makes her dismissal of Emily all the stranger. The only way this makes sense is that its cause for the breakup to be irreversible.
I may not have been shipping these two, but they were the healthy relationship of the show. If they separate and Will and Nat don't, I may tear my hair out in frustration. 
Regardless of that, it's going to be hard to reconcile this cold-hearted side of April with any of her kind, caring nurse stories in the future. How can the same person who sees the humanity in all her patients be so harsh on someone who's like family?
Related: NBC Renews Chicago Fire, Law & Order: SVU, and Two More
Speaking of breakups, are Ava and Connor done for good? Will Norma Kuhling be back next season? 
She may rub a lot of you the wrong way, but my affection for her keeps growing. She sees Connor in a way that no one else does, and she calls him on his crap. 
I've been thinking about how uncomfortable she is regarding Connor's constant interruptions and the way he pitches innovative but risky procedures. 
Ava: He pulled himself off.
Nat: Why? Because we lost a patient?
Connor: I lost her and her baby because of my poor judgement. I made the wrong call on her treatment.
Nat: But the Cronins are counting on you.
Ava: They're counting on the team.
It's more than being annoyed that he's outshining her. Yes, that's part of it, you don't get to where these two are without a need to be in the limelight. 
But if we look at the differences between them, I think she's a little jealous that she can't act the same way. As a woman, as a person who isn't independently wealthy, as someone who wasn't the appointed heir of cardio god ... she just can't risk it. 
I'm not saying that she thinks that Connor is intentionally pulling stunts. It's just that she's aware of his privilege and he isn't. And she doesn't love the way that he uses said privilege for his advancement.
Ava: So tell me, did you orchestrate this whole thing? Reluctant hero comes in and saves the day?
Connor: You give me too much credit.
Ava: Do I? Your ambition strikes me as boundless.
There are going to be plenty of staffing changes coming up at Gaffney next year, and not just in the Cardiothoracic department.
After avoiding a meeting with the board all day long, Sharon was completely shocked by the appointment of the new COO. You can bet there's going to be a lot of administrative drama during Chicago Med Season 4. 
I'm glad they brought in a new head of trauma so that it's not just Sharon feeling the heat. As much as I love S. Epatha Merkerson, nobody is watching Med for the boardroom battles. It's all about what happens in the trenches. 
Board Member: Sharon, this is Gwen Garrett, our new COO.
Sharon: New? We never had an old COO.
Peter: Well, it's a recently created position.
Board Member: Help run the hospital a little more efficiently.
Sharon: Efficiently or economically?
So what did you think of "The Tipping Point"? Did April have a point about Emily or was she way off base? Will Sarah forgive Daniel? Will Will's proposal put a final kibosh on his relationship with Nat? Are you excited about #OneChicago night in the fall?
We want to hear what you have to say, so join the conversation in the comments section below!
And if you start to go into withdrawal during the hiatus, remember you can watch Chicago Med online with us anytime!
Elizabeth Harlow was a staff writer for TV Fanatic. She left the organization in October 2018.