Chicago PD Season 5 Episode 21 Review: Allegiance
Lizzy Buczak at . Updated at .
Well, this isn't good.
As expected, Olinksy ended up paying the ultimate price for Kevin Bingham's death on Chicago PD Season 5 Episode 21. 
And by ultimate I mean there's a good chance he's dead. Did Elias Koteas want to be written off the show so badly they couldn't even leave the door open for an occasional guest appearance?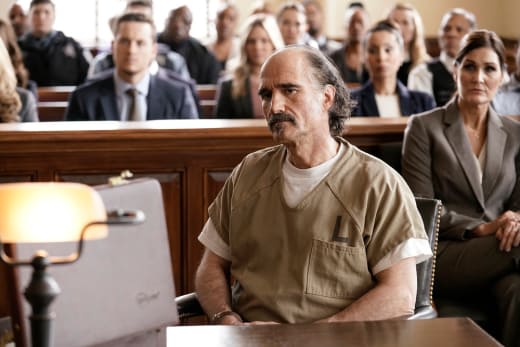 Though I wouldn't be surprised since he hasn't had any substantial storylines this season until now. 
While Al's fate remains unknown, I'd say that after being brutally stabbed in prison multiple times, his odds of survival are slim, especially since no one witnessed the stabbing and they probably won't find him until it is too late.
I've always liked Olinsky, so I probably won't ever get the image of someone stabbing him repeatedly out of my mind. It was a brutal scene and a brutal ending that simply wasn't warranted no matter how many people he's helped Voight bury. 
I'm not sure what was worse, seeing him bleed out with no one by his side or seeing cops treat such a highly decorated officer like a monster and strip him of his weapon and badge. 
Yes, Olinksy did a bad thing and should be held responsible or even tried as an accessory to murder, but shouldn't he be offered protections so that he makes it to the trial? If the corrections officer was that concerned, it's likely everyone knew the dangers at hand.
We can beat this. We will beat it. We're Chicago.

Voight
Wouldn't they at least give him some form of personal security so he wasn't killed prematurely?
Olinsky was a trooper because at no point did he even think about ratting out Voight; he honored the code until the very end. 
It was a code his wife thinks is stupid because "it could cost him his life." She wasn't exactly wrong! 
I was irritated by Meredith's return considering she hasn't been around or supported him until now. It's easy to point fingers at Voight and everyone else when the truth is Voight was the only person who stuck by his side the whole time. 
If she was really to be the doting wife who made Al change his mind, they should have mended their relationship beforehand. It was just annoying.
Voight's approach wasn't ideal and at first it did seem like he was letting his best friend take the fall for something he did, but I can understand why he believed he'd find a way out of his mess before it got too serious. They always have.
Related: Enjoy UNLIMITED access to thousands of Movies and TV shows with Amazon Prime Video. WATCH ANYWHERE. CANCEL ANYTIME!
In fact, when he was getting processed, Olinsky told him not to worry because he's "got this." Voight really thought that he would be able to sway the bond hearing in Olinsky's favor by using a friend who owed him. 
Tommy Wells, a man who once did the same thing Voight did and covered it up, was woven in smartly. He understood that Voight did what "had to be done" to avenge his son's death and didn't think he should pay for it. Personally? I see both sides.
Wells was powerful, but he wasn't as powerful as the Mayor which Woods conveniently had in his back pocket. 
Woods' obsession with Voight came in handy because after watching Voight for so long, he learned a thing or two about how he operates. He was able to foresee his tactics and beat him to the punch when it came to replacing a judge for the hearing.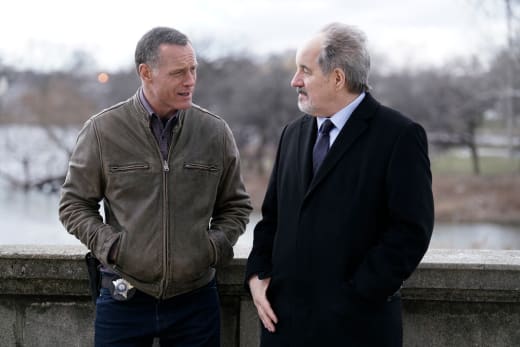 It's surprising that Woods has so much pull in this city -- how do you call in favors with the Mayor? Nevermind, this is Chicago, after all. 
Alas, Voight finally met his match with Denny Woods who wasn't willing to let anything get in the way of "justice."
I could definitely see Woods being the one who orchestrated the internal attack on Olinsky since he realized nothing was going to make Voight budge.
I got something on everyone, just like you.

Tommy Osha
And he always said that in order to get to Voight, he had to remove Olinsky. 
I wanted to wipe that overjoyed, smug look right off of his face in court when it was announced Olinsky wouldn't be getting out. 
The worst part was that while Olinsky was getting stabbed, Voight was finally doing the right thing! 
He swallowed his pride, accepted defeat and turned to the enemy for help. Woods promised to let Olinsky go if Voight confessed to the truth.
So now, Olinksy is dead -- or badly injured -- and Voight has admitted to guilt. There's no turning back unless, in the midst of Voight's confession, they get a call that Olinksy's been attacked.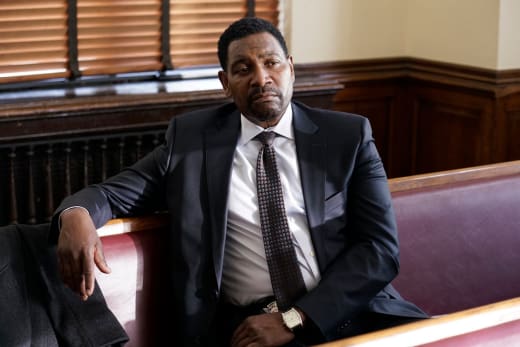 I could see that being the case because then Voight would continue running Intelligence and Chicago PD Season 6 would be slightly focused on getting revenge on Woods for killing his best friend. Getting justice for Al is something I can get behind so his death wouldn't be in vain. 
Voight tried to keep a brave face and a "life goes on" mentality in front of the team but honestly, they were all shaken by it. 
Related: Chicago PD Season 5 Episode 20 Review: Saved
All that tension finally erupted in a showdown between Voight and Antonio and if it comes down to it, I'm willing to bet Antonio would break the code and rat out Voight in a heartbeat. I don't think he has as much loyalty to his boss as Olinsky did. 
It's too early to be drinking vodka but whatever.

Atwater
Plus, every single one of them knows the truth deep down and when they find out Al died covering for Voight, they'll be furious. 
The second-tier storyline about removing military-grade weapons from the streets was compelling especially as racial tensions ran high between the distributors and the black gang.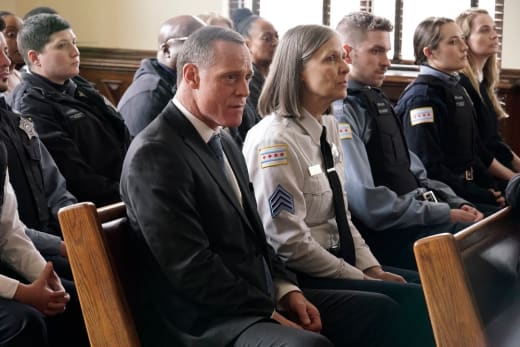 Truthfully, the story deserved way more attention than the episode allowed, and I actually felt overwhelmed trying to follow along amidst all the Olinsky drama.
Atwater and Halstead's could have really shined during their undercover assignment but they were overshadowed by more pressing matters. 
Even Atwater's frustration at Voight, who didn't want to meddle in the gang's personal issues to prevent the death of a brother, was glossed over. Such a shame. 
If both Voight and Olinsky end up dead/behind bars, who will take over Intelligence? Who is next in line for the "throne"?
Is Olinksy dead? Will the team ever forgive Voight? 
Share your thoughts with me as we keep Olinsky in our thoughts.
You can watch Chicago PD online to catch up on episodes! 
Lizzy Buczak was a staff writer for TV Fanatic. She retired in June 2021..