Empire Season 4 Episode 15 Review: A Lean and Hungry Look
Paul Dailly at .
Just when it seemed like Lucious Lyon's murderous tendencies were gone, they came back out to haunt him on Empire Season 4 Episode 15. 
It was only a matter of time before the truth came out about Shine, but had Fox not spoiled the big reveal in the official preview, I would have been shocked to the core by the developments. 
Shine has always flown under the radar, and the random focus on his past with Lucious was a dead giveaway. 
Lucious tricking him into recording the song to capitalize on the posthumous record sales was a stroke of genius.
In this day and age, it's not uncommon for deceased artists to catapult up the charts, and Lucious needed to get the board members back on his side. 
How would it look from a business perspective if Lucious and Cookie were stripped of their powers just as the company is placed under a microscope as a result of Shine's untimely death?
Related: Empire Season 4 Episode 14 Review: False Face
In essence, it's a great plan to kill off Shine, but it's going to come with its fair share of revelations. 
The whole board meeting that included Anika and Tiana was so cumbersome that I wanted to gouge my eyes out with a rusty spoon. 
I mean, I'm all for the Lyons having to defend their legacy, but Anika back in the mix and working with Tiana is just so ridiculous. 
Tiana is acting like a spoiled brat, and I could not believe her throwing the shade at Cookie for allegedly not bothering with her until she got to number one. 
Cookie has always had a soft spot for her, and it was downright rude of her to say otherwise. Without Empire, there's a good chance Tiana would not be as big as she is.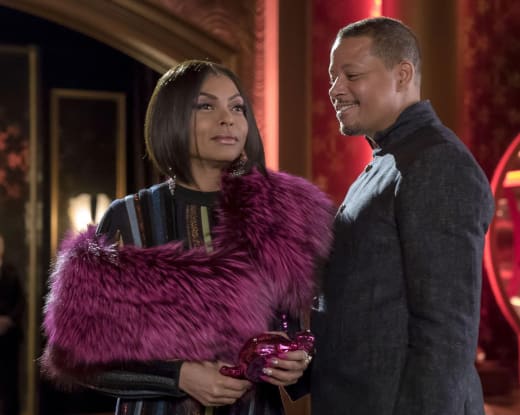 Now that Andre knows the truth, it's clear he's going to report back to the family, and it's going to cause even more hatred. 
I would not like to be Anika when Cookie learns what's really happening. We should probably gear up for another one of their big fights. 
Was anyone else glad Cookie finally talked Maya around? Time was running out for the kid to meet her mother before she passed away. 
Maya had every right to question why her mother wanted to see her after everything that happened. All she wanted was some facts. 
It was great that Poundcake got her dying wish to meet her daughter. It was surprising that she was the one who helped get Cookie out of prison earlier when that guard continued to try his best to keep her under lock and key. 
Cookie will likely find another way to take the guard down when Poundcake inevitably dies. He was horrible to everyone in her clique, and that's not something she'll be forgetting any time soon. 
The most interesting thing to come from Cookie urging Maya to meet her mother is that it sent her on a path of her own to reunite with her own mother. 
If you watch Empire online, you will already know that Cookie is not a fan of her mother and that's because she ran off when she was younger. 
Did Poundcake's story make her realize that there's a reason for everything?
Related: Enjoy UNLIMITED access to thousands of Movies and TV shows with Amazon Prime Video. WATCH ANYWHERE. CANCEL ANYTIME!
Jamal's storyline is a bit all over the place. While it's fun for him to be releasing music with a group under an alias, he should be focusing on his 20 for 20 album.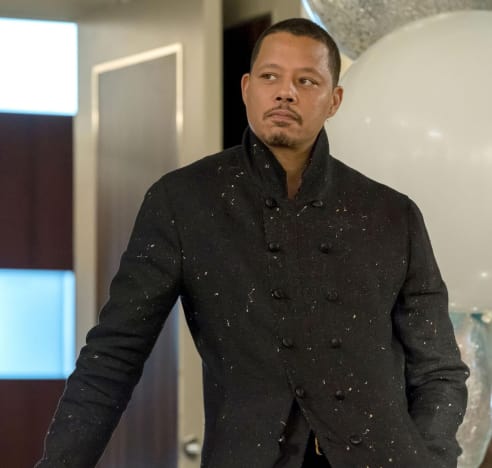 The company is already well behind of the times with it, and it's going to come back to haunt them when the board members catch on to it. 
It's ridiculous that they would even be entertaining the thought of bringing Eddie back. Edna should have been more vocal about his ex-wives being up to something. 
Related: Empire Renewed for Season 5 at Fox!
With that in mind, the board never seems to have faith in either Cookie or Lucious. It's bizarre that these two are still at the helm of the firm with such diminished reputations. 
When you think of everything they have done over the years to keep the firm afloat, you would think they would be cut some slack. 
"A Lean and Hungry Look" was a solid episode of this Fox drama. With a handful of episodes left, the stage is set for a wild conclusion. 
What did you think of the episode, Empire Fanatics?
Are you on board with Lucious retuning to his old ways?
Hit the comments below. 
Empire continues Wednesdays on Fox.
Paul Dailly is the Associate Editor for TV Fanatic. Follow him on Twitter.