Hawaii Five-0 Season 8 Episode 25 Review: Ancients Exposed
Dale McGarrigle at . Updated at .
You know the only thing worse than two lackluster, season-long storylines?
That would be carrying them over into the next season.
Yet that's exactly what happened on Hawaii Five-0 Season 8 Episode 25.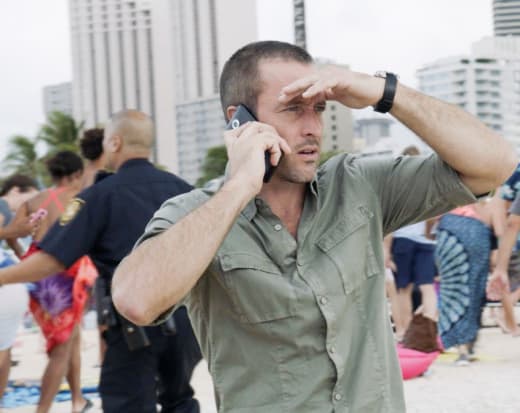 Which one to tackle first?
I know. Let's talk about the case of the week instead. That was a headscratcher.
Is a Russian submarine surfacing off Waikiki? Yeah, that's something you don't see every day.
Related: Hawaii Five-0 Season 8 Episode 24 Review: The Tough Branch That Does Not Break
I'm still not sure why, with all the coves around Hawaii, the acting commander chose to surface off of the islands' biggest city. There's no way word wasn't going to get out.
And if, say, the sub had come up off Molokai, good luck to Petrov trying to continue his mission of revenge.
Anyhoo, props to McGarrett, the diplomat.
Disinclined to wait for the bureaucrats to all get on the same page, first, he tried semaphore flags, which wasn't the universal language for which he was hoping.
So, being the hospitable type he is, Steve jumped in a boat and puttered out to say "aloha" to the sub's crew.
Once the acting commander explained about the failed mutiny, McGarrett was ready to chalk it up to an aborted attempt to defect.
That made sense. What didn't add up was the murderer Petrov escaping through a torpedo tube onto Oahu.
Related: Watch Hawaii Five-0 Online: Season 8 Episode 24
The Russian government naturally just wanted this unfortunate incident to go away. They also didn't McGarrett on their classified sub, without even knowing his SEAL background (or maybe they did).
But once Petrov shot a cop, all bets were off.
McGarrett was in fine form getting information out of reluctant sources, threatening to get the consular officer deported while bluffing about his girlfriend, then intimating that he would charge the sub crew as an accessory for the cop's murder.
Still, events got ahead of Five-0 during Petrov's mission of revenge, as they were at least a step behind. Following procedure can cause that to happen.
I was surprised that Petrov held out against McGarrett for as long as he did. In a battle between a SEAL and a crazy submariner, my money was on a quick knockout for Steve. I guess I didn't account enough for crazy.
If he hadn't killed that cop, I'm thinking Petrov would have gotten a medal and asylum for his part in destroying that Russian sleeper cell. Well, murder and a major assault on a police officer would disqualify him.
It was good that Jerry was back on his, um, foot for the finale, long enough to proclaim that he had predicted a Russian invasion of Hawaii. At least that's one storyline tied up.
Back to the never-ending storylines from above.
First, let's examine Steve's, err, Kamekona's Italian Bistro.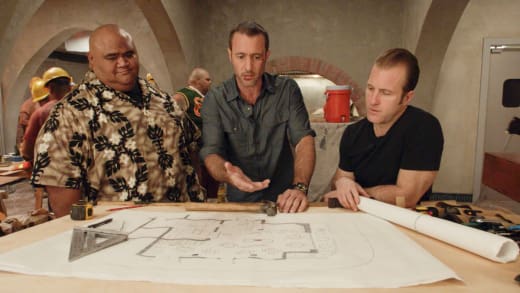 I'm perfectly behind the name change. Steve's sounded so blah. Kamekona knows how to market, so let him handle that.
He also knows how to get a restaurant up and running. So send Vito back to Jersey, if he hasn't gone already. It's been a while since we've seen him.
Let Steve and Danny go back to police work full time, and have them treat the restaurant as a hobby, not as their retirement nest egg.
It was actually an improvement. Bring in someone with deep pockets (or suitcases) who knows what he's doing. Then maybe that restaurant will actually open, someday, next season.
Related: Get CBS All Access via Amazon Channels for Hit Shows, Exclusive Originals & Live TV!
Finally, there was Adam's organized-crime storyline, which, unlike most people attached to it, never seems to die.
Let's see if I'm following this: Tani found a gun at Adam's house, had it tested off the books somehow and discovered it's the weapon that killed Noriko.
Let's set aside the fact she's likely blown the chain of custody all to hell. Here's what happened: The criminal mastermind, from whom Noriko was trying to escape, killed her and framed Adam by planting the gun at his house.
How anyone, even newbies Tani and Junior, can suspect Adam as the culprit is beyond me. Hasn't he earned enough goodwill while on the side of the angels that those on Five-0 could see through this transparent ploy?
Or are the powers that be just trying to write him off, even if the storyline makes little sense? That would be a shame. I like the character of Adam, but he's been used poorly this season.
It is what happens when you have to improvise a season's worth of stories on the fly because of unanticipated cast changes. Some of them don't fly.
To review the uneven season, watch Hawaii Five-0 online.
What did you think of the new additions, Tani and Junior? How did you like Adam's stories? Weren't you honestly hoping that Steve's was going down in flames? 
Comment below!
Dale McGarrigle is a staff writer for TV Fanatic. Follow him on Twitter.