NCIS: Los Angeles Season 9 Episode 22 Review: Venganza
Dale McGarrigle at . Updated at .
It was another followup and Anna going deeper into a hole.
In other words, NCIS: Los Angeles Season 9 Episode 22 was a bridge episode to get us to the BIG, TWO-PART SEASON FINALE.
Why be subtle? The show's powers that be certainly weren't with the preview at the end.
This episode was another one taking viewers back to a previous episode in which things seems largely tied up. In this case, it brought up Peruvian counterfeiter Alfonso Marca, from NCIS: Los Angeles Season 9 Episode 2.
First, Claudia Diaz, Marca's adoptive daughter, who made a strong impression in that earlier episode, got killed in the first scene. Way to wipe out a possible recurring villain.
Related: Watch NCIS: Los Angeles Online: Season 9 Episode 21
The next target was Nicole DeChamps, who was a Secret Service agent who recruited Sam into her undercover sting in the earlier episode.
Callen finished off that ensuing firefight with all well-thought-out explosion from shooting the propane tanks. That also killed off any leads.
Kensi and Deeks tracked down the only visitor that Diaz had had in prison, who gave her a coded message that yielded nothing, then delivered gallons of resin, which was taken to an out-of-town ranch. Mosley thought the resin meant Marca was printing yen.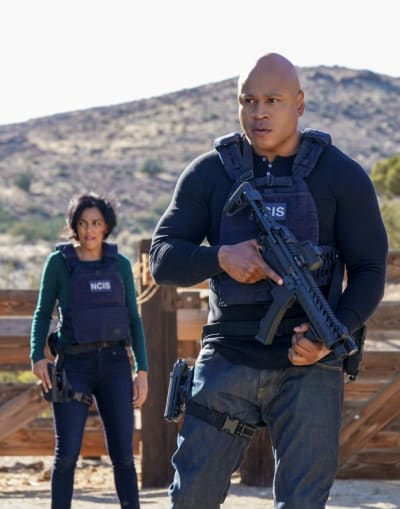 Sam and Nicole interviewed Silva, the only other person left from the earlier episode. He eventually told them the ranch was used for storage and an occasional rest stop for Marca's tactical team.
Longshot story: Kensi and Deeks walked into a trap and ran for cover, then got rescued by Sam, Callen, and Nicole. Dramatic, but easy-peasy.
Then, in a twist, we found out that some rival of Marca's had had Diaz murdered, to pit Marca and the Americans against each other. It was another haphazardly wrapped-up case, that will rear its head again next season.
Related: NCIS: Los Angeles Season 9 Episode 21 Review: Where Everybody Knows Your Name
But mostly this was an episode about relationships.
Let's start with Sam and Nicole.
Since Sam gave her a pep talk since then, Nicole, who was disenchanted in the Secret Service, moved over to NCIS and was now with NCIS: San Diego, which I'm guessing isn't about to become a spinoff.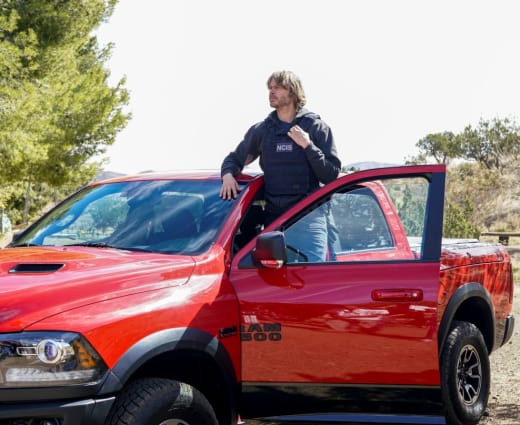 I'll speculate again that maybe the plan is to have Nicole and Sam become an item a little way down the road. That would be a much better option than King, most recently from NCIS: Los Angeles Season 9 Episode 19.
I know what you're thinking. Sam doesn't even have time to get his boat running. Why would he possibly get romantically entangled?
Well, it appears that Callen, and possibly Densi, will be getting un-entangled, so somebody has to step up. More on that later.
The most harmonious relationship right now is Sam and Callen. It was vintage, them sitting around and shooting the shit about such things as meditation and Sam's love of craftsmanship. Why mess with that any more than necessary?
Related: Get CBS All Access via Amazon Channels for Hit Shows, Exclusive Originals & Live TV!
A surprisingly smooth relationship is Mosley and Hetty. After pulling rank shortly after Hetty's return from Vietnam, Mosley has seemingly seen the light, appreciating the tiny font of wisdom in front of her. Maybe that's why she's been tolerable.
Then there's Deeks and Kensi: More wedding talk, more life-threatening situations.
With two episodes left, I'd say there are two choices: have the damn wedding or blow up Densi (figuratively). Based on the preview, it could well be the latter.
That would create new, dynamic tension for next season. But it would also result in a viewers' revolt.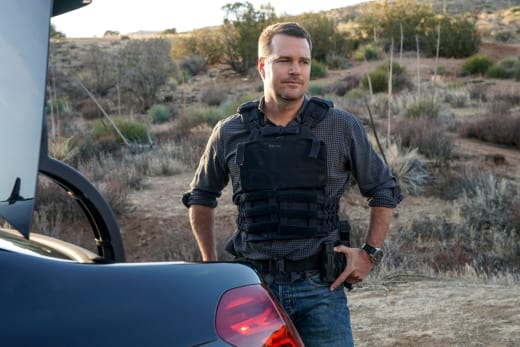 Also looking troublesome right now is Callen and Anna.
Of course, Callen has mishandled the whole being-supportive thing, trying to do it without actually contacting Anna in any way. After some of the things he's done, he's worried about legal niceties?
The message I took away from Anna's long, rambling talk with Callen is that she'll land on her feet, so Callen shouldn't worry about trying to make his story protect her.
Related: Ch-ch-changes: How to Handle Evolving Casts
That's good because when ATF Internal Affairs was interviewing him, he was dancing for all he was worth and not doing a particularly good job of it. I fear the worst for Anna, and Anna and Callen.
SPOILER ALERT: So where's all this headed? Based on the preview, Deeks wants Kensi to run away from NCIS, and she's not agreeable. So, no wedding? Also, the team goes on an off-the-books mission (is there any other kind?) to retrieve Mosley's son from her criminal ex.
To catch up before the finale, watch NCIS: Los Angeles online.
Did you enjoy seeing Nicole again? How did you enjoy the case of the week? Are Kensi and Deeks getting married or not? Comment below.
Dale McGarrigle is a staff writer for TV Fanatic. Follow him on Twitter.