NCIS Season 15 Episode 21 Review: One Step Forward

Kathleen Wiedel at . Updated at .
As a reviewer, little frustrates more than a squandered plot, a wasted opportunity. I really wish that I enjoyed NCIS Season 15 Episode 21 more than I did.
Frankly, the plight of homeless female veterans and their family deserves attention. Unfortunately, the vehicle NCIS chose for this message didn't do the best job communicating it.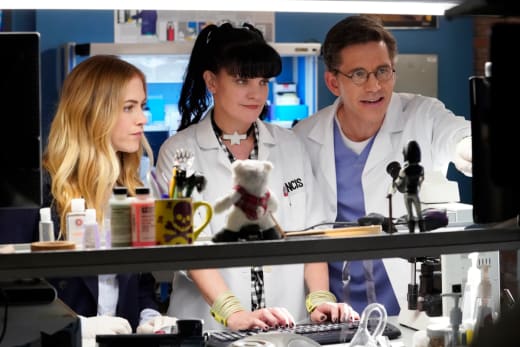 The case itself proved fairly standard fare as far as the series is concerned. Once again, Team Gibbs demonstrated the inferiority of every other detective team through the use of basic investigative techniques!
Sarcasm aside, it felt rather frustrating to realize that Detective Olsen probably could've solved the case a year ago if he'd seemingly put in any effort into it.
For instance, consider that apparently no one at the time bothered to wonder why the body had been moved. It took Abby about five seconds to figure out that something had been taken from her pocket, and that shipping codes were involved.
This particular plot problem could've been easily solved if Olsen had suspected something had been removed from the victim's pocket but didn't have the technology available to Abby to make the ink stains readable.
An advantage brought up in the argument to take over the case in the first place!
Those shipping codes proved to be a big key to the case.
Related: Get CBS All Access via Amazon Channels for Hit Shows, Exclusive Originals & Live TV!
But perhaps the most aggravating aspect of the whole story was the sheer unlikeablility of the victim's daughter. We were clearly supposed to feel sympathy for her plight, but she pretty much went out of her way to be disagreeable.
The episode opened with her literally punching a gate guard at the Navy Yard and then demanding Gibbs investigate the case of her mother's murder! And, for some reason, this tactic worked!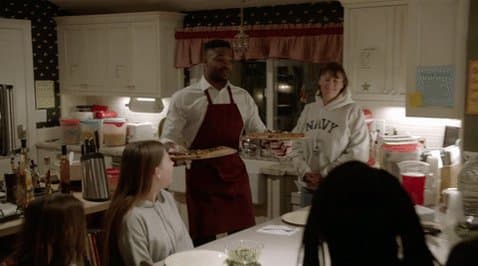 She also allowed her pride to interfere with both her mission to see justice done for her mother as well as the care of her son. With multiple agents offering her help (food, a place to stay) for her son's sake, she flat out refused!
To be fair and honest, her behavior isn't necessarily unrealistic at all. Traumatic Brain Injury (TBI) can do all sorts of things to a person. Or maybe she was just a jerk the whole the time.
Regardless of the reasons for her behavior, however, it did not make her very likable nor engender the proper amounts of sympathy, understanding, and compassion we should hopefully feel for someone in her situation.
The writer seemed to be aiming at her having a protective shell that could only be breached with openness and honesty, as Abby suggested to Clayton:
You don't need *me*. Everything that this place stands for, this is *you*, Clay. And you can't expect Sarah to let her guard down if you don't let *your* guard down.

Abby
Perhaps unsurprisingly, Clayton Reeves remains the most underdeveloped member of the main cast. Because he's not technically a member of the MCRT, his appearances can be sporadic and he hardly ever gets much to do.
So his connection to the real-world organization Final Salute provided a handy way to promote the group's good works for veterans, give the victim's family a better future, and add dimension to Reeves.
Related: NCIS Season 15 Episode 20 Review: Sight Unseen
"One Step Forward" also featured some pretty funny moments, like the brick joke regarding "When Gibbs Attacks" and this rather amusing gag that reminded me of all the time Gibbs did this sort of thing to Tony DiNozzo:
Jimmy [about Gibbs]: Camera adds ten pounds to his temper…
Gibbs [behind him]: Wanna make it twenty?
Now let's talk about the elephant in the room. The last couple of minutes of this episode. The bit everyone's been holding their breaths over.
After sharing dinner at the latest hot (well, frigid) new restaurant in town, Abby and Clayton suddenly experienced a robbery at gunpoint. As they handed over their belongings, Abby said something which set the man off, and a shot rang out.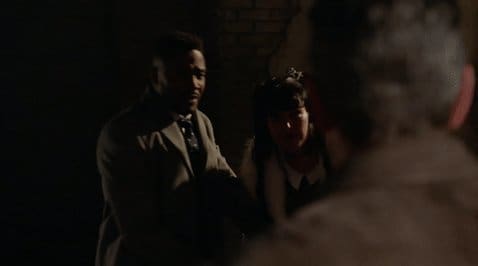 As someone with friends in law enforcement, this scene resonated more than it might have with other viewers.
First off, if you are ever in a similar situation with someone demanding your money while pointing a gun at you, give it to them. Your cash, driver's license, and credit cards aren't worth your life. Things can be replaced. You only have one life.
Secondly, it's entirely possible that even if you do everything the person with the gun asks, that person may still shoot you. Maybe you didn't move fast enough. Maybe it was something you said (as here), or did or the way you looked.
I'm curious to know how far Team Gibbs will go to catch the person responsible. After all, look at what Gibbs did when Kate died, or Jenny Sheppard, or Mike Franks.
Related: NCIS Season 8 Episode 23 Review: Swan Song
While we aren't certain Abby will die, we do know that it will be Pauley Perrette's last episode of NCIS. We wish her all the best in her future endeavors.
A few assorted thoughts before I turn the discussion over to you:
That poor gate guard, an actively serving member of the military, got punched in the head, and his assaulter got off completely free with zero negative consequences for her actions. Discuss.
I have to hand it to the effects guys who did the bit with the hostel drug dealer getting slammed by that car. It was absolutely brutal and made me wince.
Out of curiosity, was anyone half-expecting Detective Olsen to be in on the drug ring? They were rather short on possible suspects at that point!
Jurisdiction is a nasty word. Someone should remind the scriptwriters that MI6 does not have the jurisdiction to investigate U.S. Navy crimes on American soil! Either put Reeves on the MCRT or find him something else to do.
The drama continues! You can watch NCIS online to see it all over again before Pauley Perrette's final episode, NCIS Season 15 Episode 22, "Two Steps Back," airs on May 8, 2018, at 8/7c on CBS. 
What did you think of "One Step Forward"? Did you find the story compelling? Were you surprised to learn that Reeves volunteers with homeless female veterans? What do you think will happen to Abby?
Let us know in the comments section below!