NCIS Season 15 Episode 23 Review: Fallout

Kathleen Wiedel at . Updated at .
So, you're writing the script for NCIS Season 15 Episode 23, which followed directly after a big dramatic episode that saw two leads depart the series. Do you go for a somber reflection, or a more light-hearted tale?
"Fallout" tried to do both at the same time, resulting in a curious mash-up of the depressing and the ridiculous as Team Gibbs mourned the death of Reeves and departure of Abby and investigated the attempted murder of a Navy captain.
Gibbs appeared to spend most of the episode wondering why he was friends with Phil Brooks, who came across as a complete cloudcuckoolander. Their interactions provided much of the comedy.
Despite seeing it coming a mile away, I loved Gibbs' jump-scare double-take at discovering reports of his friend's death had been greatly exaggerated. Then there was this hilarious exchange:
Brooks: You wanna chime in?
Gibbs: Nope. Still waitin'.
Brooks: For?
Gibbs: The reason you are down here!
Brooks: Just told you! Somebody wants me dead.
Gibbs: Who?!
Brooks: I don't know! That's why *you're* here!
Gibbs: No, it's *not*, Phil! It's not! I am here for your *memorial*!
Brooks: What!? It's only been a few days!
Gibbs [in disbelief]: SIX! It's been SIX DAYS, Phil!
Cap it all with the ironic thumbs-up exchange later on after Phil reunited with his wife (hug followed by the inevitable SLAP), and it made for a pretty enjoyable story.
I'm generally not a huge fan of introducing never-mentioned old friends of the characters in any series, especially one as long-running as NCIS. As a viewer, it can be frustrating to connect with them.
Related: Enjoy UNLIMITED access to thousands of Movies and TV shows with Amazon Prime Video. WATCH ANYWHERE. CANCEL ANYTIME!
To be fair, though, we don't see a lot of our protagonists outside of their day jobs. And somehow I wouldn't put it past Gibbs to have a secret woodworking/boat-building buddy.
On the other hand, Gibbs isn't exactly the outgoing type and this leaves me to wonder how in the world they met and spent enough time together to discover common interests.
This part of the story chugged right along, all the way until the last ten minutes. When it just sort of, well, ended. No confession, no satisfying conclusion, just some weirdly vague assurances that the murderous Sean Parks would pay for his crimes.
What a waste of poor Rick Cosnett's talents! He barely got to do anything as Parks. And the interrogation scene left me wondering why Gibbs didn't just stare at him until he broke down and started blubbering.
He's certainly a capable actor (he played the unfortunate Eddie Thawne on The Flash), but between Phil, Marcy, and the Reeves/Abby drama, there just wasn't time to do him justice.
Of course, while the title "Fallout" referenced the fallout shelter in which Phil Brooks hid, in standard NCIS fashion it served double-duty as well, as the team dealt with their feelings about Abby and Reeves.
Related: 13 Ways NCIS's Abby Scuito Changed the World
This subplot felt a little muddled, with Team Gibbs lurking inside Abby's lab to sort out their feelings and acting for all the world as if she were the one who died.
(There's this fantastic piece of technology out there called a phone, guys! Also check out this newfangled internet thing!)
It got better with Bishop's more specific and personal angst over not having a picture of herself and Reeves. Sometimes, you really don't understand what you've lost until it's already out of reach.
Maybe it's just me, but the manner in which Kasie seemingly resolved their angst by gushing over solving the case came off as a little trite.
Overall assessment: enjoyable for the most part, but the conclusion seemed altogether rushed and unsatisfying.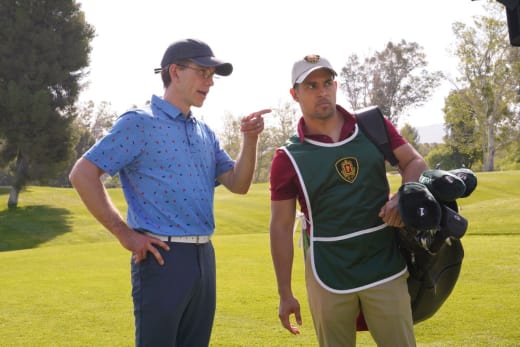 A few assorted thoughts before I turn the discussion over to you, fellow NCIS fans!
Kudos to everyone out there who bet on Ducky's assistant Kasie standing in as Abby's replacement (temporary or otherwise)!
On a related note, if Kasie spends her time doing labwork at NCIS, how can she manage Ducky, too?
Who knew Jimmy was such a good golfer?
So, anyone else wonder if CGIS Abigail Borin was supposed to appear in this episode at some point?
The item Gibbs placed at Phil's memorial was a block plane, a woodworking tool.
Check out our NCIS quotes page for some of the more notable lines from this episode!
So, there you have it! If you would like to experience this episode all over again, be sure to watch NCIS online.
Related: CBS Renewals: Which Major Show is Missing?
I hope you're all ready for the season finale! Because NCIS Season 15 Episode 24, "Date with Destiny," will air on Tuesday, May 22, 2018 at 8/7c on CBS. Stay tuned!
What did you think of "Fallout"? Did it keep you laughing, or were you bored to tears? How about dealing with the departure of Abby and the death of Reeves?
Let us know in the comments section below!