NCIS Season 15 Episode 24 Review: Date With Destiny

Kathleen Wiedel at . Updated at .
Maria Bello's Jack Sloane always felt disconnected from the main action of the series, so placing the spotlight on her for the season finale came as something of a surprise.
NCIS Season 15 Episode 24 finally filled in significant gaps in her character, elaborating on quite a dark and horrible backstory for Sloane, thus proving once again that no one on this cast can have a normal, well-adjusted background.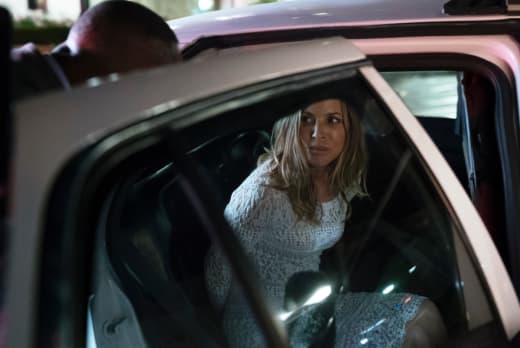 Sloane's dark past has been alluded to a few times before, as has her prior relationship with Vance. This episode pretty graphically spelled out what happened, with her months of torture at the hands of "the Monster."
Said monster was played by Pej Vahdat, who most viewers will probably recognize as Arastoo Vaziri from Fox's Bones. It was so strange to see him in such a wildly different role; I have to say!
Vahdat didn't get a lot to work with; he spent most of the episode playing the way-too-nice-to-not-be-a-vile-torturer person. It wasn't until the very last scene, as he made his escape that we finally got to see something shine from him.
Related: Get CBS All Access via Prime Video Channels for Hit Shows, Exclusive Originals & Live TV!
Just that menace as he stood from his seat and walked to the back of the plane, that oozing and finally revealed sadism! There's a reason viewers love British villains and their sophisticated accents as they do evil deeds.
(Yes, I know that Vahdat is American. But he's playing a guy with a classy British accent, so it still counts.)
Take a look: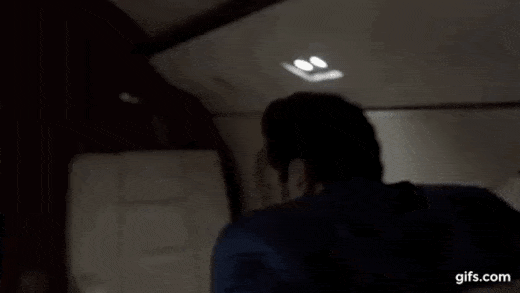 My favorite scene, hands down, came a little bit earlier when Gibbs and Sloane shared their heart to heart discussion and confessions.
Long-time fans know all about Gibbs' wife and daughter and their murder, but this dialogue put a rather unusual shade on the topic.
Sloane: Once he's dead, I'll feel a whole lot better.
Gibbs [softly]: I doubt that.
Sloane: What are you talking about?
Gibbs: My wife's birthday was yesterday. Shannon. She and my daughter, Kelly, they were killed together. The man who did that, I hunted him down and I shot him in the head. And I really thought that would ease the ache in my heart. Nope. Not to this day. And you're the only one I've told.
It was, I think, the first time Gibbs ever admitted aloud that killing Pedro Hernandez didn't make him feel any better. His vigilante justice tasted bitter; after all, his wife and daughter are still dead.
It's too bad that Gibbs' heart-baring reveal did nothing to dissuade Sloane from her course. One possible interpretation of this could be that despite her justification (Nigel was the Monster, obviously), her obsessive crusade still led to pain and tragedy.
After all, who knows what Mr. Torture-happy will do to Vance, the man who killed many of his brothers and stole his favorite plaything?
Related: 13 Ways NCIS's Abby Scuito Changed the World
Sloane's storyline was so powerful, though, that the token Case of the Week came across as entirely extraneous and distracting from the more interesting and meaty action.
Had the writers chopped it out entirely, no one would have missed it, leaving more room to develop the cat and mouse between Sloane and Nigel.
As it was, they left zero explanation as to how Nigel managed to kidnap Vance and get him onto his plane to his secret overseas torture room.
This last-minute kidnapping elicited my chief complaint about the villain: how stupid is he?! Up until the end, Nigel played a very cool, patient game, not blowing his cover for a moment.
Then he decided to throw caution to the wind and kidnap the director of a federal agency, thereby proving to all and sundry that he is, indeed, the complete psycho Sloane claimed him to be.
It's not like Sloane made herself to be a very reliable witness, after all, with her continually losing her cool throughout the installment.
The only person backing up her identification of Nigel as the Monster was a man suffering from Alzheimer's. Basically, all Nigel had to do was calmly continue to deny everything.
He could have gotten away completely free and clear. Instead, we had the Dramatic Cliffhanger Kidnapping. Clearly, Nigel never read the Evil Overlord List. If he really wanted sweet revenge on Vance, he should've just shot him.
A few final thoughts before I turn the discussion over to you:
Diplomatic immunity is a cheap plot device to throw in as an obstacle. And, frankly, it made no sense here, as it only applies to diplomatic agents and administrative/technical or service staff. Nigel was none of these.
Sloane is a lousy wall painter. Given her state of mind at the time, though, it's pretty understandable!
"Date with Destiny" boasts not one but three writers. Does that explain how disjointed it felt at times?
So pointless was the Case of the Week that I identified the ship's commander as the relevant subject in his first scene. Also, congrats to his kid, who's graduated from school to felony!
How did Vance manage to convince the restaurant employee not to press assault charges against Sloane, anyway?
Can you believe the season's over, and we have to wait until the fall to find out what happens next? Until then, you can watch NCIS online to comfort yourself!
Related: Enjoy UNLIMITED access to thousands of Movies and TV shows with Amazon Prime Video. WATCH ANYWHERE. CANCEL ANYTIME!
Now it's time for you to add your thoughts, fellow NCIS fans! What did you think of "Date with Destiny"? Were you excited by the peek into Sloane's past? Let us know in the comments section below!