Supergirl Season 3 Episode 17 Review: Trinity

Stacy Glanzman at . Updated at .
Wow. That was ... unexpected. 
Who would have thought that by the end of Supergirl Season 3 Episode 17, we'd already be down two Worldkillers?
It all started with Sam, and it looks like it's going to end with her too.
Sam is fighting as hard as she can to remember who she is and to keep Reign from completely taking over. Julia succeeded in regaining control, and she managed to take out Pestilence before succumbing herself. 
Sam has shown she can regain control as well, but it's only temporary. If we're going to get a happy ending, they need to figure out a way to separate them. Now that Lena has made it through the threshold of the DEO, maybe she and Brainy can work together to perfect her findings. 
Related: Supergirl Season 3 Episode 16 Round Table: Whose Side Are You On?
Of course, that all hinges on the Legion choosing to stay in the present time a little while longer. 
Pestilence is dead, which means the future is saved, and their mission is complete. They could return home if they want. 
Obviously, it's not going to happen. There's no way Mon-El would peace out in the middle of a big fight without seeing it through. 
But, we also know that's not the only reason he'll choose to stay behind. 
Brainy: Once I induce transmission, your minds will be immediately beamed into this dark valley.
Alex: Is it gonna hurt?
Brainy: The chances are better than 50%.
Alex: That's comforting.
Brainy: Really? I didn't think so.
He'll use the fight against Reign as his excuse for now, but what will happen with the Legion when it's over? Will they all return home? Will Mon-El end up choosing to stay behind with Kara?
He says he doesn't want to hurt his wife, and I believe him, but staying with someone out of duty is not a great option either. He needs to figure out how he feels about the women in his life. 
He's struggling so much with wanting to do the right thing, but who knows what that even is anymore. If he doesn't love Imra anymore, then he's not doing her any favors by staying with her. But if he does, he needs to start talking to her about how he feels. 
As much as I enjoy the little moments between J'onn and Mon-El, the one he should be opening up to is Imra. 
At least one couple has decided to stop keeping secrets. It's all out in the open between James and Lena now. 
Did James do the right thing by not breaking into Lena's vault? It showed that he trusts her entirely, which is essential because if he was wrong, he was gambling with Kara's life. 
Related: Get Comic Con HQ via Prime Video Channels to Stream Original Series, Past Comic Con Panels, & More!
Up until now, Lena has been completely trustworthy, even against her mother. I'm proud of James for having faith in her, though I don't think he should have lied to Winn (and by default, Kara) about it. 
But now he has a new secret to keep from Kara. Lena admitted to him that she knows how to make Kryptonite. That is huge, and I don't know how he can keep that from her. 
Honestly, it begs the question of why Lena felt the need to learn how to make it in the first place. 
Lena: Oh right, you don't like secrets.
Supergirl: Nope, I don't.
Lena: Good, what's your real name?
I know we bring this question up every so often, but is it time for Lena to know Kara is Supergirl? All the secret keeping is starting to get downright dangerous. 
There's always this back of the mind fleeting thought that Lena's a Luthor, and no matter how trustworthy she continues to prove she is, that thought may never completely go away. 
That thought could also be there about Kara or Kryptonians in general. 
We've seen the results of Red and Silver Kryptonite, not to mention attacks by actual evil Kryptonians. The argument for having access to Kryptonite will always be there. 
Kara revealing her identity to Lena could be an enormous leap of faith. It would prove to her that she trusts her as completely as James does, and it would create a stronger bond between them.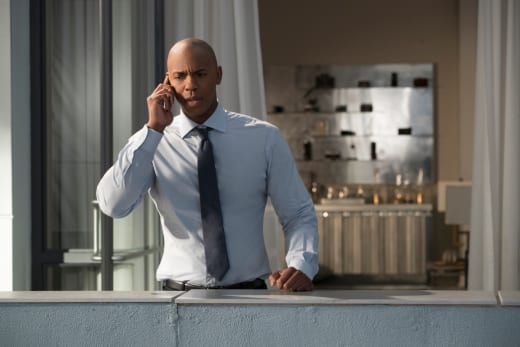 While there's always the issue that not everyone can know her secret identity, it just doesn't make sense for Lena to be in the dark anymore.
Kara felt betrayed that Lena lied about her Kryptonite stash, but now she trusts her again. If she finds out that she synthesized her own Kryptonite, their relationship may be irreparable. 
Related: The CW Renewals: Riverdale, Dynasty, The Flash, & 7 More!
If Kara makes the first leap and tells Lena her secret, Lena would probably come clean about hers too, and then maybe they have a chance to keep their friendship alive. 
Plus, let's not forget that James begged Kara to be able to tell Lucy when they were dating. You would think he would feel the same way about telling Lena. 
Some final thoughts:
Alex's new suit is awesome and way overdue. But, what happened to her alien gun? Did she lose it, and I forgot? 
 
Lena assured Alex that Ruby is safe, but I think we all know foreshadowing when we see it. 
 
Brainy had me in stitches again with so many great lines, especially this one: 
Brainy: Are you all right?
Winn: Yeah, why wouldn't I be?
Brainy: Well, you spent an exceedingly long time in the bathroom.
Winn: This isn't a bathroom.
Your turn! What are your thoughts on the fact that both Pestilence and Purity are dead already? Is it time for Lena and Kara to lay it all out on the table? 
Don't forget, you can watch Supergirl online any time! 
Stacy Glanzman was a staff writer for TV Fanatic. She retired in March, 2019.