The 100 Season 5 Episode 5 Review: Shifting Sands

Yana Grebenyuk at . Updated at .
Remarkable, stunning, and terrifying is only the tip of the iceberg when describing the emotions that this episode managed to elicit from us.
"Shifting Sands" had it all but its true essence was the way that it wasn't scared of pushing limits. Sand storms featuring glass? Missiles aimed right at our favorite characters? Horrifying monsters crawling around inside people's bodies? Cathartic scenes between a wide selections of characters?
The 100 Season 5 Episode 5 truly had it all, but above all that it delivered in all those aspects with pure perfection. The fact that this episode written by Nick Bragg was his first to air is very telling of the talent that he possesses.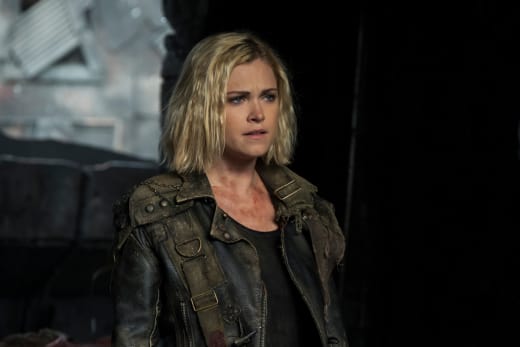 There was an exploration of Bellamy, Clarke, Octavia, and her bunker crew trying to make their way across a desert with missiles pointed at them and weird creatures crawling inside of them. Meanwhile, Raven and Murphy met not Zeke for the first time and hatched a plan.
Abby and Kane reached that point in their relationship where they decided to double date. Also, the Space Crew was back in action and better than ever before. 
Related: The 100: Bellamy and Clarke's Platonic Soulmate Reunions Examined
The Trees See All
I was starting to think that the space group got lost or something with the way that we haven't heard from them in a while.
Regardless, having Murphy reunite with them kickstarted their adventure that in a genius way ended up in two places at once.
Murphy's feelings for Raven called for some concern, not only because of their relationship but also because of Emori.
Could have used you in the bunker Clarke.

Jackson
Luckily things took a turn or two because The 100 is never one to be predictable. Now Emori and Murphy are on their own, and it is a wonderful storytelling attempt.
Murphy and Emori are on their own which gives us more time to pay attention to who they are as characters, yet it also opens the door for their relationship to be touched upon once again.
The truth is that Emori would have done this for anyone that had the shock collar on, her loyalty is to that entire group which is another reason why she deserves all the love in the world.
But yet it was Murphy who ended up in this situation, this throws them right back into each other's lives, and it is soon.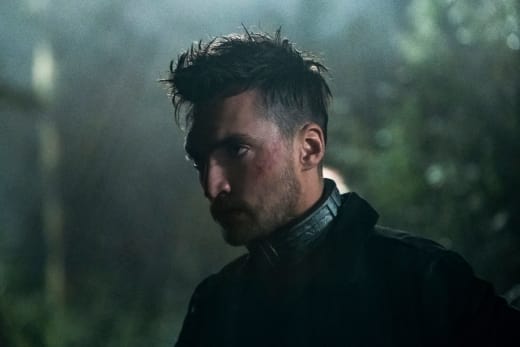 Obviously, Murphy is on their radar which puts Emori in danger as well, so all I ask is for them to be alone against the world for a little bit again. They deserve to talk about where things went wrong and where they go from here, especially now that Murphy has felt the fire that pushed him to finally do something. 
As for our lovely group in the rover, Madi is a gem. She is everything I thought she would be, and her interactions with her favorite heroes are the perfect comedic relief. 
Now that everyone is together again, at least in terms of our favorite delinquents, it would be nice to see the Space Crew have a more prominent role to play again.
Their story couldn't really start again until they were back with everyone else, so fingers crossed that things are only getting started.
Related: The 100: Bellamy and Clarke's Platonic Soulmate Reunions Examined
Eligius Is Here To Ruin All Our Lives
Kane and Abby found themselves separated, which only really means one thing. Charmaine and McCreary are in an open relationship and have chosen Kane and Abby as their new couple with which to double date.
But really, Kane and Abby stumbled into learning more about Charmaine and McCreary on different levels. There is no way of knowing which is more dangerous, although something tells me that Kane might do something stupid.
That is very vague but the way that he is trying to get Charmaine to see his side of things reminds me of a theory that a fan had. Essentially Kane wants to get on her good side, so there is a chance he will use information that could bring Octavia down as a way of making that happen.
Also, call me crazy, but Charmaine is interested in Kane already, right? And not just interested, but curious on another level. 
You have everything you need right here. Diagnose and treat Vinson, then we can talk about your pills.

Charmaine
Speaking of which, McCreary and Abby are characters I didn't think would interact but the way that she stood up to him was utilized extremely well. 
Abby has to figure out a way to treat them, but for now, I am kind of wishing she would share more scenes with McCreary. Vulnerable is a strange word to use for someone who is pure evil, but he is sick, and it seems like him trying to find a cure is where we see him at his least terrifying.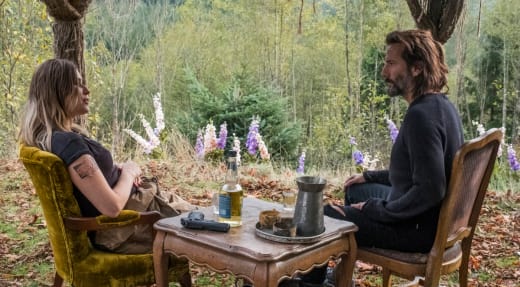 Now let us get to the main event, Pilot Mechanic has sailed or flown or soared. Really, though, Raven has met not Zeke, and she is not messing around.
We could never forget that she is a resilient woman that screams strength and intelligence, but we still get little reminders and this time Zeke is there for it too.
Raven was never going to trust him right away after she saw who he was hanging out with, yet there is already a sense of awareness that not Zeke isn't one of them.
They aren't crazy, they are fanatical.

Charmaine
I appreciated that not Zeke continued just to be a good guy who is with a bad group of people, he wants to help and that is all there is to it. 
Now Raven and not Zeke are trapped together on the ship so they probably won't interact at all ever again. Or they will begin a lovely but dangerous romance because it is about time.
But really, who doesn't want to see more of not Zeke trying to explain that he has a plan and Raven putting him back in his place?
Related: The 100 Renewed For Season 6 at The CW!
Has Anyone Seen The Real Bellamy?
There is not like having a brand, which is why mine is discussing Bellamy and Clarke's progression. Now that they are back in each other's lives they have found a way to take another trip, only this time it was more about that night aesthetic. 
During this trip though we explored even more about who Bellamy is now and how Clarke fits into it. Or how she doesn't fit into it.
It can't be shocking for me to say that Bellamy is a bit cold. There are still hints of the Bellamy Blake we knew and loved, but there are also plenty of moments where we don't feel anything.
His moments with Octavia and Clarke give us a peek into what we know is still there, but it isn't even about that. Bellamy stills cares, yet he has a different way of showing it.
It is as if he knows that showing emotion and letting it control him is where things go wrong, so he doesn't allow them to be exposed. He thinks before he feels and that is a vast contrast to what Clarke was used to six years ago. 
This entire episode it was Clarke being around people she knew before, and yet she can't find her place. Even when she talks with Bellamy who is watching here, something is missing for her.
Clarke has had nothing but time to think about her people and how things would be when they came back.
If only it were the way that she envisioned. 
In her absence Bellamy stepped up, becoming emotionally distant in the process.
Which is why it is such a parallel up against Clarke who feels so much it is threatening to spill over. 
And that is why her reaction to Bellamy and Echo is critical as well. She finds herself endlessly happy when she sees Madi, then she witnesses Bellamy and Echo, and it is like Finn and Raven all over again.
Of course, Bellamy meant more to her than Finn could have, and it showed. 
Watching Clarke watch Bellamy was like seeing her understand what was missing. Things felt off for her just like they feel off for us when we are on a journey with Bellamy; this is the reason why.
Things have changed, and Clarke is on the edge of it. She is confused, but it is probably safe to say that she is also a little bit jealous.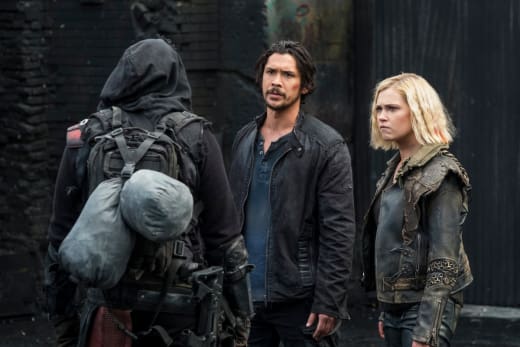 My thoughts on where Bellamy and Clarke might be headed rested in the hands of this "revelation" and the way that Clarke would (or wouldn't) receive the news. 
The camera work pushed the story that we are meant to follow, and at its core, it isn't Bellamy and Echo. They are shoved into a corner, only to then blur out of focus altogether.
It isn't about them seeing each other again; it is about what it does for Clarke and Octavia.
Clarke is shocked and confused, only to then do her signature slight smile because she has Madi and she can pull her happiness from seeing her again.
But keep in mind how Bellamy eases us into this feeling of confusion too. It is hard to connect with him because this isn't truly him. 
He learned to guard his heart more, although the odds are that won't last for long.
For now, though, Clarke's heart leads us through this story and following it is an absolute pleasure. 
Related: Enjoy UNLIMITED access to thousands of Movies and TV shows with Prime Video. WATCH ANYWHERE. CANCEL
Aren't You Glad That Octavia Doesn't Have Twitter?
Whatever my issues with Octavia may be, I feel for her. This is like her Eden moment, and she wishes she could tweet at Jason Rothenberg right about now. 
Leading up to Bellamy and Echo's reunion, I was divided on my Octavia thoughts. On the one hand, she is so clearly structured as a well-written villain, on the other she is naive, and she would be the one on Twitter using that The 100 hashtag to rage vent. 
This is setting up a fascinating arc for me, not with Bellamy but with Echo vs. Octavia. Those two did not leave off in a good place, and as much as this could mean for the Blake relationship, they are already going through other stuff, so this was the icing on the cake.
There is no question in my mind that Bellamy and Echo aren't going to make it, but there is still the question of how this all goes down.
Kara: Miller your orders were -
Miller: I know my orders.
Octavia is in a place where her sanity slips as quickly as her love for Bellamy, one second she gives him hope for their old bond and the next she is cutting him with her words just like the glass in the desert cut their people. 
The desert sequence though. That moment when the missiles were sent their way, and they were trying to cross while Clarke looked after Octavia was actual TV gold.
It was chilling and perfectly showed what The 100 is all about.
Octavia's behavior though was what continued to rub not only me the wrong way, but everyone around her.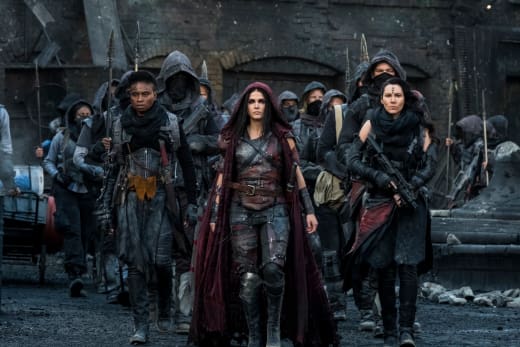 Even Indra couldn't stand this recycled The 100 Season 2 motto about love being a weakness, which says a lot because Indra looks out for Octavia no matter what.
Enough is enough though, Octavia is at a place where there are no more excuses for her. She is blaming her brother for all the things that were out of their control, not to mention the way that she is yanking him around.
Messy doesn't begin to cover their relationship, which is why it is interesting to see Bellamy come to realize it on his own.
Clarke is of course there to smooth over every way that Octavia finds to blame Bellamy for something new, but he isn't excusing it as he did before.
There is something in Octavia that is difficult to watch on an emotional level, yet is entertaining on a villainous level.
Being written as someone that we aren't meant to root for isn't bad, when done correctly it can be a great thing for the character and the show.
Having Octavia genuinely shocked at the sight of Bellamy and Echo is turning those wheels even more. Bellamy is eating his words from The 100 Season 5 Episode 1, and we all are having a lovely time watching that.
We are at a point where I sincerely have no idea where things may be headed, and it is both terrifying and perfectly fitting for The 100.
Stray Thoughts
Where the hell is Niylah? Day 15: I am starting to grow concerned, and Niylah's girlfriend isn't showing signs of even looking for her.
Miller has developed a little bit of an attitude since his time with Octavia, and I am not here for it. Especially when it comes to Clarke, what is he trying to achieve with this?
McCreary is still creepy as hell, but he has nothing on Vinson. Someone get him a crossword puzzle and some peace and quiet. Did anyone else wonder what McCreary was trying to accomplish by stripping in front of Abby? No one is buying what you are selling dude. 
Clarke "Conceal Don't Feel" Griffin has awoken, and this is only just the beginning.
 Bellamy has come a long way from not having enough rations to now getting more than usual. Thanks, Clarke, you are the real hero. 
Shut up Kara is the new Shut up Murphy.
What did you think of the episode? How much did you love the different stories that it managed to cover? Where are you when it comes to rooting for Octavia? Have Bellamy and Clarke wrecked you yet?
What did you think of the way that Charmaine and McCreary are using Kane and Abby? Where do you see things going from here? How much did you miss Madi? 
Let us know what you think below!
And don't forget that you can watch The 100 online, right here at TV Fanatic. 
Yana Grebenyuk was a staff writer for TV Fanatic. She retired in April 2021.