Pose Season 1 Episode 2 Review: Access

Abbey White at . Updated at .
Everyone connected to the House of Evangelista is looking to the future, and some are met with resistance while others become the resistance in Pose Season 1 Episode 2. 
For a show so deeply rooted in a specific time period, it's interesting how dedicated many of the characters are to what happens after the immediate now.
Following the reveal of Blanca's HIV status on Pose Season 1 Episode 1, she's made it her goal to think about those left in her community once she's gone.
In "Access," that reflection takes the form of resistance when, following her first big win against Elektra in a ball competition, she's denied access to a gay bar.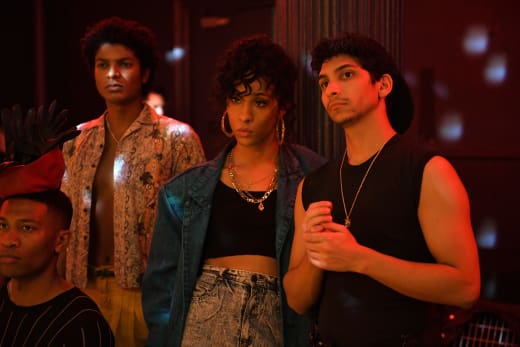 While trying to celebrate her win, Blanca and Lulu go to a gay bar that they are not so politely thrown out of because they aren't white, gay or men. The event leads to several verbal spats between her and members of the House of Abundance.
At first, it's Lulu who offers a rather rousing monologue on the realities of being a brown transperson in 1980s New York City. The second is directly from Elektra, who bails Blanca out of jail when she is booked for "disturbing the peace" after refusing to leave the Boy Lounge.
Lulu encourages Blanca to disengage with the communities who "don't want her." And Elektra reminds her that unless you can pass, you won't get a pass before doing the same as Lulu. 
Related: Pose Season 1 Episode 1 Review: Flawless and Fiery
The argument from Lulu and Elektra is that black and brown transwomen will simply and, more importantly, must create a space of their own. These ideas are perfectly embodied through the heart and competitive nature of ball culture.
During competitions, they attain access to the things they are denied off the floor. And they do it their own way, which includes stealing dresses from museums.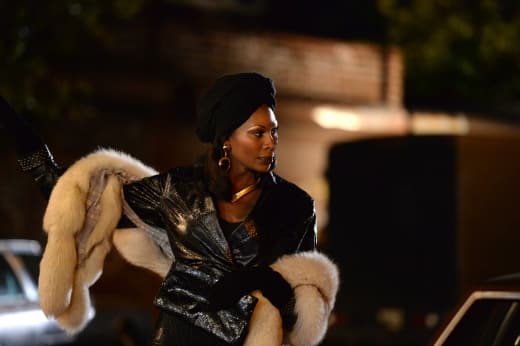 Blanca, however, is looking towards the future, and what will ultimately be the main argument in the fight for queer rights in the present day. She believes that creating space isn't enough and that gaining access to spaces is just as important. Even if that means being jailed to get it. 
As I mentioned in my premiere review, at times the writing can feel a little "preachy," and while actresses Dominique Jackson and Hailie Sahar delivered some affecting punches, "Access" is no exception to this label.
It works, however, because the writers are dedicated to building characters than can comfortably embody and explore the messages of this ideological fight. These opinions aren't thrust upon these characters. They are at the core of who these women are and how they came to be.
It's an admirable effort in exploring something in the mainstream that is often only learned about in queer history college courses. Not to mention, it's a clever way to stir drama without having to make any up.  
Blanca also considers the future of Damon who shortly after her win against Elektra has his first gay dating experience. Damon and Ricky seem to catch each other's eye, and the two hit it off. 
Related: Transparent's Judith Light Speaks on Role, LGBT Education & More
So much so Damon misses his curfew and Blanca has to have a sit down chat with him about the house rules and safe sex. The scene might seem awkward and silly, but it's actually quite groundbreaking. 
Much of the sex education taught in schools or by our parents doesn't address ways to engage safely with a partner if you aren't straight, and it certainly didn't in the 1980s.
The scene illustrates not just a shared experience of gay men but also helps explain how one single thing – a lack of education – helped play a part in an epidemic that killed nearly an entire generation of one community. 
Blanca: Did your daddy ever give you the talk?
Damon: The talk?
Blanca: The birds and the bees.
Damon: Yeah, he did. It was really awful. He was sayin' all this stuff about women's anatomy, and things like that. The whole time I was thinking this is not the information I need to get. Like sweet baby Jesus, this is not helping me. But I couldn't ask him the questions I really wanted to know, which was about what men to together and stuff. Or I'd be found out. I was afraid he'd kill me.
Blanca: Well, here's what no one will tell you but me. Gay life is hard. Here.
Damon: I don't need these. I don't plan on having sex with Ricky.
Blanca: Oh child, no one ever plans on having sex. And I can't be your mother and your conscience. I'm not always going to be here to protect you. You are a good looking young man. And soon, you are going to want to start exploring. But you gotta make smart choices.
Narratively, it's a glimpse at one possible future for Damon – one with boyfriends – right before he gets another glimpse from his ballet school teacher. After being offered a ticket to attend a show with other students, Damon passes on a date with Ricky. 
The experience has a profound impact on Damon, who seems to have a renewed interest in pursuing a dance career. 
Ricky isn't as excited about being stood up, feeling like he's been left behind. After learning how Ricky feels, Damon reaches out to him several times and eventually, offers to attend a show with Ricky. 
Related: Get Walter Presents via Prime Video Channels for Original, Exclusive, Hit Series from Around the World!
He's trying to prove to Ricky that he's just as important as his dancing, but much of it feels off. Not because Damon doesn't seem genuinely interested in Ricky, but because Ricky seems demanding. Too demanding for someone who has only spent one night with Damon. 
Meanwhile, Stan is also having trouble getting over the one night he spent with Angel. So much so he follows her to her new job, takes her out for a meal and then offers to get her an apartment. Simply because he can't stand anyone else to have her.
Stan: Why are you here? This place isn't right for you.
Angel: I make $125 a night here, and no one touches me. Don't you want me to be safe?
Stan: I get jealous. With so many men seeing you like this. Does that make you mad?
Angel: Do I look like a kept woman to you? A kept woman would be in a high rise apartment in Riverdale with a refrigerator full of groceries. And a mink coat in her closet.
Stan: Do you ever do things with guys here?
Angel: Sweetheart, a lady never tells. And I'm not appreciating your attitude. Especially considering this is the first time I'm seeing you in three weeks.
Stan: I can't stop thinking about you. At work, when I'm in bed with my wife. I drive by the piers almost every night but I get too scared to pull over.
Angel: Scared of what?
Stan: I don't like you in a place like this.
It's a baffling move considering the drama that played out between him and Patty earlier in the episode. He's completely swept up in the idea of keeping up with the Joneses. For Stan, his future financial prospects override his current financial reality. 
That meant buying a $900 dress and a Cadillac in order to preserve a chance at advancing his career. But when Patty asks for a dishwasher, something she knows is expensive but is actually needed, Stan fights her on it. 
Patty isn't too keen on Stan's new ambitious side, and once you see him offer Angel a place of her own in order to make her a kept woman, it becomes increasingly easier to side with Patty.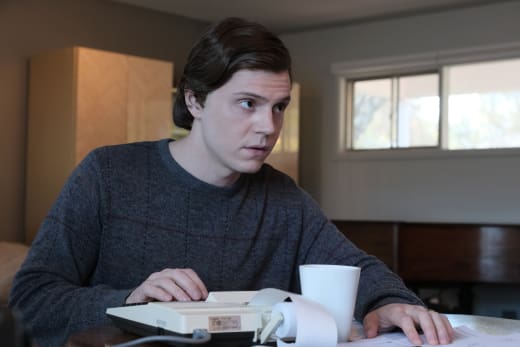 Like his rich fancy life, Angel represents something Stan desperately wants but can't have. But Angel is not an object to be bought and stowed, and it feels like she may have to make that clear again in the near future. 
It also feels like Stan has now entered even more dangerous territory with his stepping out. After admitting to his boss, Matt, that he's been cheating – something Matt admits to doing himself – they cut a deal. 
Stan gets his dishwasher, and Matt keeps Stan's secrets as long as he comes in to work some weekends. The idea seems terrible, and I have no doubt that unlike Blanca's battle, it may actually come back around to bite him in the butt. 
If you have thoughts about Pose Season 1 Episode 2 comment below! And if you haven't caught it yet, you can watch Pose online!
Abbey White is a staff writer for TV Fanatic. Follow her on Twitter.