American Horror Story Season 8: And the Title Is...

TV Fanatic Staff at . Updated at .
American Horror Story is returning later this year, and we could not be more excited. 
And the title is... 
Apocalypse!
Remember the excitement surrounding the upcoming American Horror Story season and its relation to former season American Horror Story Season 1: Murder House and American Horror Story Season 3: Coven?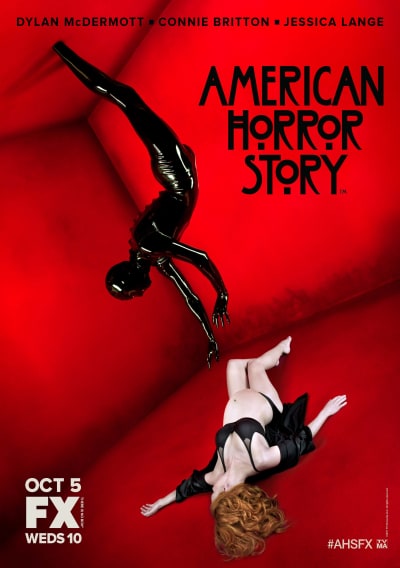 We're about to get our first clue as to how the two might come together.
One of the very first posters for the series is featured above. Keep that in mind as we continue chatting.
Related: American Horror Story Season 8: Emma Roberts Returns!
Between the two offerings that came before the upcoming installments, we had a newborn child being handed over to Satan at the end of Murder House. 
Frankly, there weren't many ways for it to go after its entire family was slain and it was born of less than a mother.
If you watch American Horror Story online, you will know that Murder House concluded with Constance (Jessica Lange) returning home to find her grandson, Michael (the Antichrist) had left a grisly sight before her:
He brutally murdered his nanny. It was an unsurprising conclusion, but the most surprising aspect of it was that Constance didn't seem to bat an eye at it. 
She made her way towards the child and said the following:
"Now what am I gonna do with you?"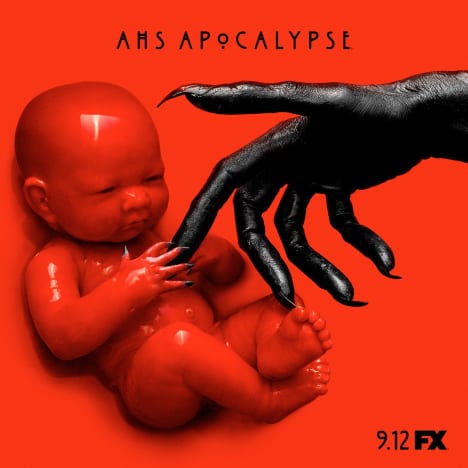 Does the supposed focus on the child mean that Jessica Lange could be staging a comeback to the franchise after several years away?
We think it's fair to say that fans would welcome that news with open arms. That said, we could not imagine what fans would do if we pick up several years later with Constance dead at the hands of Michael. 
Related: American Horror Story: Murder House, Coven Crossover Confirmed!
Then again, Murder House was big on ghosts, so it's going to be challenging to explain Lange's omission from the narrative. 
We know our beloved witches will be back, so what does that mean for the story? 
Does the grizzled black hand mean one of the fire branded witches come into the line of the satanic baby who was left behind?
More importantly, without so many characters playing crossover characters in both installments, how will they work that out within the series?
Will they play past, present, and future selves? Will they dig into the possibilities of reincarnation? What does Armageddon mean in this sense?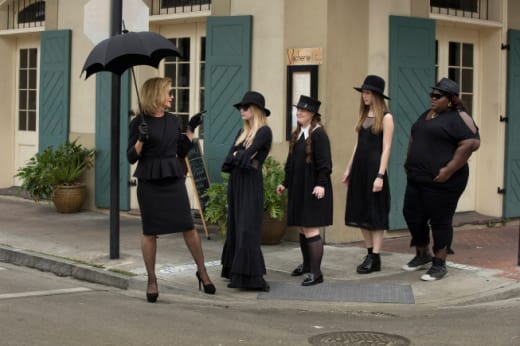 And will there be a clear connection between the series or will it only come back to this ominous quote from Ryan Murphy:
"It's a season unlike anything we've done because there's a big hook to it. There's a huge thing that happens in episode 5."
Sarah Paulson, Kathy Bates, Evan Peters, Joan Collins, Adina Porter, Cheyenne Jackson, Billy Eichner, Leslie Grossman, Billie Lourd, Emma Roberts, Jeffrey Bowyer-Chapman, and Kyle Allen are all slated to appear.
Okay, American Horror Story Fanatics! Let the speculating begin!
How do you feel about this title and first look? Are you on board?
American Horror Story returns September 12 on FX!