Robin Wright Breaks Silence on Kevin Spacey Scandal
Paul Dailly at . Updated at .
House of Cards star Robin Wright has spoken publicly for the first time about the scandal that dunked Kevin Spacey's career. 
The pair appeared as husband and wife Frank and Claire Underwood on the Netflix thriller which was almost shelved indefinitely as a result. 
"I didn't know the man," Wright said in an interview on The Today Show. 
"We were coworkers, really. We never socialized outside of work. [It was a] respectful, professional relationship. He was so great with me. He was never disrespectful to me, so that's my personal experience," Wright said of the allegations against Spacey. 
"That's the only thing that I feel I have the right to talk about." 
The actress goes on to describe Spacey as an "incredible craftsman."
She added: "Kevin and I knew each other between 'action' and 'cut' and in between set-ups, where we would giggle."
In late 2017, there were multiple allegations of sexual assault lodged against Kevin Spacey. 
Related: Netflix Cancels House of Cards After Kevin Spacey Scandal
It all started in October last year when Star Trek: Discovery actor Anthony Rapp went public about unwanted sexual advances from Spacey back in 1986. 
"He picked me up like a groom picks up the bride over the threshold," Rapp told BuzzFeed, adding:"But I don't, like, squirm away initially, because I'm like, 'What's going on?' And then he lays down on top of me."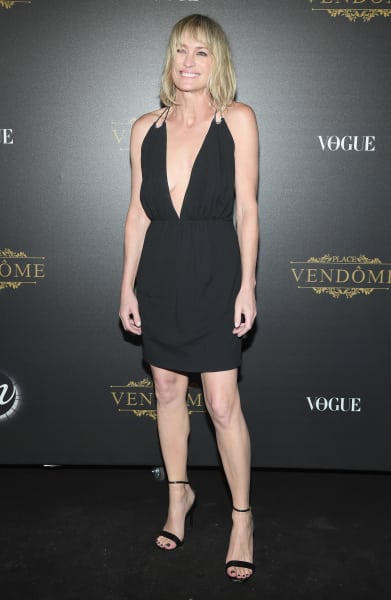 "He was trying to seduce me," Rapp continued. "I don't know if I would have used that language. But I was aware that he was trying to get with me sexually."
Rapp noted that he was coming forward after seeing the stories women have been sharing about their unwanted encounters with Harvey Weinstein.
Rapp also confirmed that he shoved Spacey off of him when the alleged incident occurred.
"I was like, 'What is happening?' I saw on the counter next to the sink a picture of him having his arm around a man," the actor said.
"So I think on some level I was like, 'Oh. He's gay. I guess.' Then I opened the door, and I was like, 'OK, I'm going to go home now.'"
"He followed me to the front door of the apartment, and as I opened the door to leave, he was leaning on the front door[frame]."
Related: House of Cards: Diane Lane and Greg Kinnear Join Revamped Final Season
"And he was like, 'Are you sure you wanna go?' "I said, 'Yes, good night,' and then I did leave."
Spacey released the following statement in response to Rapp coming forward. 
Netflix responded by putting the series on hold just two weeks into production of its sixth season, and there was even word that the show would not return. 
However, it was later revealed that Spacey was out of the show and that Wright would be the focal point of the eight-episode final season. 
A premiere date has yet to be revealed for the new episodes, but it is expected to return this year. 
What are your thoughts on all of this?
Hit the comments below.
Paul Dailly is the Associate Editor for TV Fanatic. Follow him on Twitter.