The Originals Season 5 Episode 10 Review: There in the Disappearing Light
Paul Dailly at . Updated at .
Just when it seemed like the sorrow was starting to subside in New Orleans, we were thrown for a loop and lost two more key players. 
The biggest shock of all on The Originals Season 5 Episode 10, is that Josh was killed off, and I have mixed emotions about it. 
When the man in the bar showed some interest in him, I thought to myself, "Finally, Josh is getting a storyline that does not involve others asking for much of him."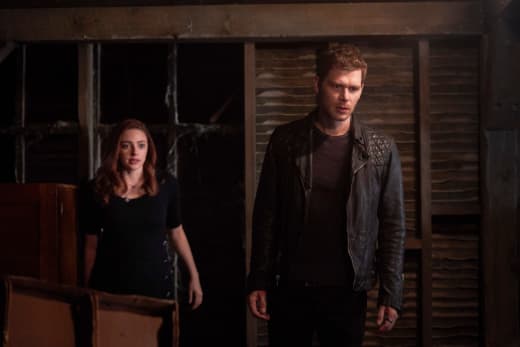 In all honesty, Steven Krueger getting promoted to a series regular ahead of The Originals Season 5 was a mere formality. He was never given very much to work with, and his role diminished as the show has progressed. 
The decision to kill him ahead of the series finale was a bold move, but if The Originals Season 5 has taught us anything, it's that every single character is expendable. 
Related: The Originals Boss Warns: Multiple Deaths Are Coming!
The sad thing for Josh is that he never really got to move on after the death of Aiden. Heck, it's crazy, but his death occurred way back on The Originals Season 2 Episode 19. 
The show's timeline is difficult to follow because of the time jumps, but my best guess is that Aiden died around twelve years before the events that transpired on "There in the Disappearing Light."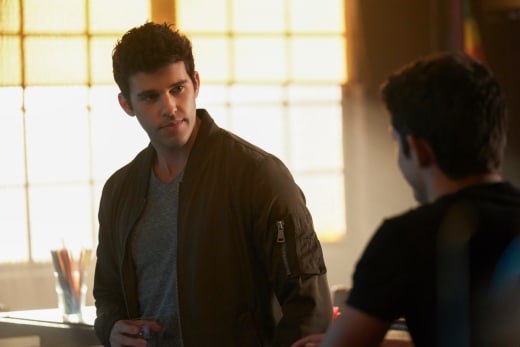 If you watch The Originals online, or even Twatch The Vampire Diaries online, you know that most of the immortal characters managed to rebound after the death of a loved one. 
But for Josh, there was always something missing. While he never mentioned Aiden over the past few seasons, opening up to the man who looked a little too much like Tyler Posey for me to take him seriously confirmed that not a day goes by that he doesn't think about the love of his life. 
But it was an incredibly beautiful scene of the lovers reuniting and reminiscent of the peace many characters on The Vampire Diaries series finale found, which was also fitting for Josh and Aiden. 
While it may seem like a stretch for Josh to perish with three episodes remaining, in hindsight, I'm glad he didn't die in a throwaway scene in the series finale because we probably wouldn't have gotten to see him with Aiden in the afterlife.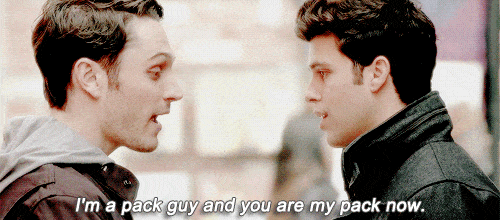 Josh making his way into the warehouse and evading the witch was too easy, but I did not expect Josh to be dying a few scenes later. 
If anything, I thought we would be losing Marcel during this hour. The machinery used by Emmett to extract his venom reminded me a little too much of The Dread Doctors from Teen Wolf. 
Related: Enjoy UNLIMITED access to thousands of Movies and TV shows with Amazon Prime Video. WATCH ANYWHERE. CANCEL ANYTIME!
I'm sorry if it seems like I'm comparing everything to Teen Wolf, but some of the similarities were uncanny. Given that Charles Michael Davis moved on to Younger and is now a series regular, I figured that he would be out of The Originals before the series finale. 
Marcel's decision to remain quiet about Josh's death was an odd choice at first, but seeing him have one final drink with his best friend was another beautiful scene that proved they were closer than Josh thought. 
It's amazing how one decision can change everything in life. What if Marcel hadn't spared Josh's life all those years ago? The possibilities are endless. 
Related: Steven Krueger Reacts to Josh's Death on The Originals
Then there's Hope, who is struggling more than ever to keep her rage in check. That's what happens when you absorb some of the most potent evil around. 
Hope: It's not working.
Klaus: You're holding back.
Hope: You really think I want to feel this way? No matter how hard I try to get it out, I don't feel any better.
Klaus helping her channel her rage into attacking people who have wronged her was oddly satisfying. It was the closest thing to father/daughter bonding we're ever going to see between them now. 
With that said, I wanted Hope to rip Roman to shreds. If he were not part of the equation, Hayley would probably still be in the land of the living. 
Hope wanted to kill him in the moment. That was crystal clear, but when it was all said and done, she realized that he was under the spell of his mother and that it was not his fault. 
Yes, he duped her into thinking he was in love with her, but Hope knows first hand the lengths her family would go to save one of their own. 
Hope wiping out Emmett and the other villains in the church was one of the best moments of the entire series. Hope started her life as a child who had to be whisked out of the town for her safety, and now she's one of the most powerful people in existence. 
Related: Legacies: The Originals Spinoff Key Art & Synopsis Revealed
I forgot all about Declan being upstairs rummaging through all of the belongings. It would have been easy for Klaus to murder him and make his daughter think she was the one who did so, but Klaus needed to ensure that the werewolf curse was not triggered. 
Elijah: I need you to fix this.
Vincent: I don't know how to fix this, Elijah!
Hope may be able to get over killing Emmett and the band of Nazi vampires, but there's no way she would be able to come back from killing the final man her mother loved.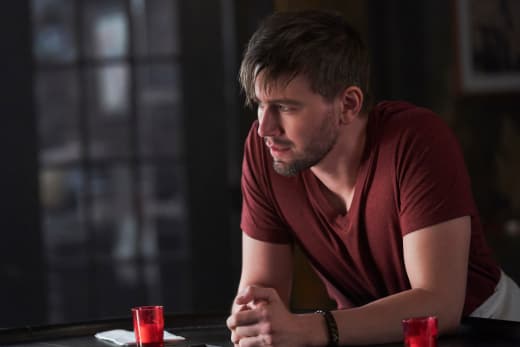 I breathed a sigh of relief when he survived, but I immediately started worrying about the priest ... not because I cared about a character I met two scenes earlier, but because of what it would mean for Hope to bring this other part of her existence to light. 
It's going to change the game going forward that Hope is now two-thirds of the way there to becoming a full-blown tribrid. Will she be able to control her urges, or will the family have to find a way to suppress that part of her? 
On top of that, Declan is going to emerge as the villain we've been expecting him to be since we learned that he has a connection to Cami. 
The trip to the other side aka the place Ivy thought she was going to be existing in happy conditions in her family home was eye-opening.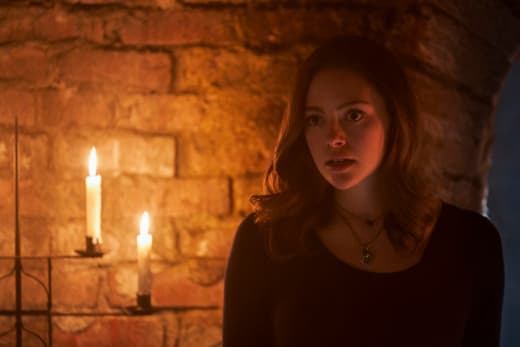 I was surprised enough that all the witches started waking up after being poisoned, but them being dead and transitioning into vampires?
Ivy: Vincent?
Vincent: I'm here.
Ivy: What happened?
Vincent: Emmett poisoned you.
Ivy: I thought I was dead.
Vincent: Ivy, you are.
That twist blew my mind. Ivy is one person I could not imagine as a vampire, and I must admit, I could care less about her becoming one when there are so many other storylines I care more about. 
Related: The Originals Spinoff Legacies Picked Up to Series at The CW!
However, Vincent opening the ancestral plain was yet another big shocker. I'm not really up to speed on how the magic works, but I'm sure this is only going to spell bad things as the final episodes play out. 
Did anyone else seriously believe that Elijah had turned against his family? In a season with sub-par writing, the character had already been butchered enough for me to know that there was no way he would turn against them again.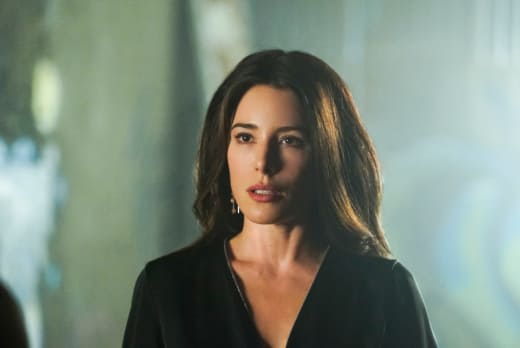 The only positive that came out of this was that Antoinette escaped unscathed. She's the woman we were all expected to hate because, well, she was the first one Elijah loved after Hayley. 
There are genuine feelings between Antoinette and Elijah even though they bonded while Elijah had his memories wiped. It makes the memory wiping plot that bit more bearable. 
"There in the Disappearing Light" was a solid episode that successfully upped the ante as we approach the series finale, which is coming our way very soon. 
Okay, The Originals Fanatics! 
What are your thoughts on those deaths? Are you on board with what happened to Hope? 
Hit the comments below. 
The Originals continues on Wednesdays on The CW.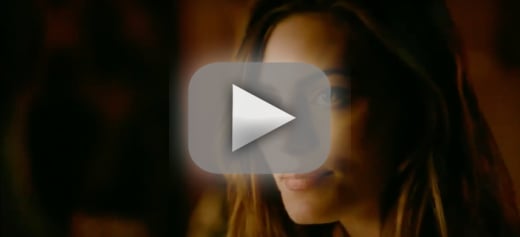 Paul Dailly is the Associate Editor for TV Fanatic. Follow him on Twitter.