Everybody was considering new directions.
Accepting true selves was the theme of Claws Season 2 Episode 9.
All these life choices should make for an explosive season finale.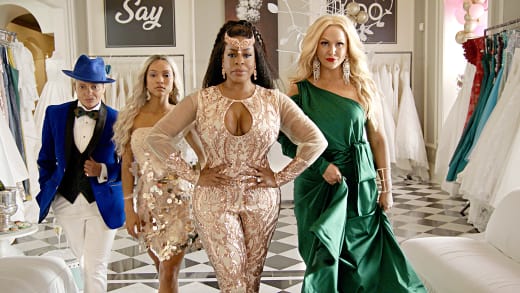 Desna came ready to pay a hefty price to get out from under Zlata's thumb. She would get revenge on Gregory and be free at the same time.
To that end, she was planning her "fake wedding" to Gregory, and apparently everyone except him and his mother Matilde knew about it. So the expectation is they will find out at the perfectly wrong time.
That being said, Desna caved on her choice of wedding outfit, choosing the traditional gown favored by Matilde. But that was after she and her crew thoroughly offended Matilde with their garment choices.
Related: Claws Season 2 Episode 8 Review: Crossroads
Unfortunately, dress shopping made her realize how she felt about getting married, making this sham ceremony all the harder for her.
Gregory's bragging that he owned the hotel where he was planning their wedding caused Desna to have second thoughts ... about her plan with Zlata.
Being Gregory's fiancee gave her easy access to his office, and a nail file, her constant companion, gave her entrance to his secret files. That's when she found out about all the properties he owned about which Zlata was ignorant.
At least her Wedding-palooza preparations allowed Desna to mostly duck Zlata's partnership proposal. I have to wonder why Zlata seemed hellbent on keeping Desna around when she was so ready to double-cross her earlier in the season.
By episode's end, Desna seemed to think that she will be the last gangster standing. Based on how some of her past schemes have worked out, such as setting a wounded Roller afire or setting up her former foster parents, I'd say that's a stretch.
But if Uncle Daddy, Roller, and Bryce can do it, why not try?
Related: Watch Claws Online: Season 2 Episode 8
Speaking of Roller, it looked like he has distanced himself from the Russians after learning that Bogdan wasn't his son on Claws Season 2 Episode 7.
It also seemed that Dumb Roller has returned, which is disappointing. As Bogdan's dad and Olga's husband, he appeared more mature, more responsible.
Now Roller is back to chasing after Desna at a time when she can least afford an appearance of impropriety. She is an engaged woman, after all.
He also knows her well enough to know she's up to something, as is he.
Desna also nailed it when she said that Roller was jealous of the admiration that Uncle Daddy was giving to Ted's son Clem. That's because Clem had a good idea of going into the drug rehab business, while Roller came up with the bad idea of buying a building near a school and a playground.
However, Hank's place was the perfect location. With their records, how do they expect to be approved to operate a drug-rehab unit?
Also, how was Hank still out and about, after stalking Jenn? I guess that never got reported.
Related: Animal Kingdom, Claws Renewed at TNT
It was evident that Hank had gone around the blend when he made that crude comment about Jenn in front of Bryce and his kin. Talk about suicidal.
Bryce proved once again that, despite his efforts to go straight, he's a Husser at heart. What a perfectly Elmore Leonard moment that was when he stabbed Hank in the neck with the bank flamingo pen.
Bryce and Jenn so wanted to forget their past and become a normal family. Unfortunately, the banking system isn't concerned with redemption, as they so harshly discovered.
Since Uncle Daddy and Roller gave him a home loan, will he and Jenn leave for Tampa? Something will happen in the finale to derail that idea. Probably, Bryce won't survive this time.
Dean and Virginia were the only ones to escape the Life, it seemed. Virginia was there for Dean in his time of need, even cleaning up that filthy motel room, so he felt more at home. Above all else, Dean deserves a happy ending.
It was heartwarming that he and Desna made up somewhat, and that he's going to walk her down the aisle at her fake wedding.
Then there was poor Polly Pol.
Related: Enjoy unlimited access to thousands of movies and TV shows with Amazon Prime Video. Watch anywhere. Cancel anytime!
First, she broke up with Dr. Ken on Claws Season 2 Episode 8. Then Marnie went back to her drug-addict mom. Then her twin sister Lillian arrived.
It was obvious there was something off about Lillian since no one else could see her. At least, Polly cleared her conscience with her confession to Desna. Then came the bittersweet dance routine to "True Colors" at the end, when Polly let go of her guilt about Lillian.
So what gets wrapped up in the finale? Gregory, for one, I bet. Also expect a cliffhanger with Claws Season 3 already approved.
To catch up before the finale, watch Claws online.
What will Desna do? When did you catch on to Lillian? Who won't be around after the finale? 
Comment below.
Dale McGarrigle is a staff writer for TV Fanatic. Follow him on Twitter.