Hawaii Five-0 Season 9 Episode 1 Review: Ka ʻōwiliʻōkaʻi (Cocoon)
Dale McGarrigle at .
Well, we're off to an interesting start.
Steve and the gang joined forces with the CIA on Hawaii Five-0 Season 9 Episode 1.
Make that some of the CIA, those that hadn't thrown in with a group of renegade Chinese spies.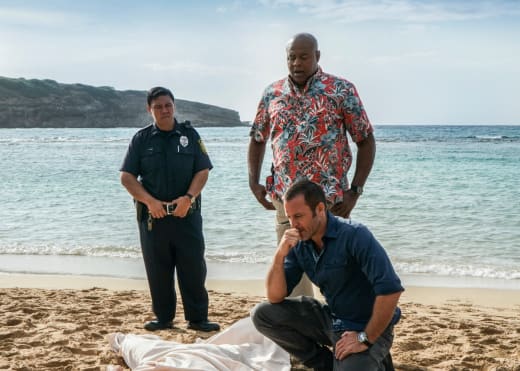 I truthfully didn't follow the geopolitical happenings that led to CIA agents around the globe suffering "accidental" deaths.
Short version: Something well meaning that McGarrett has done in the past has come back to bite him in the ass. A "no good deed goes unpunished" kind of thing.
Does the why really matter? It's merely a call to action for Five-0.
Related: Hawaii Five-0 Season 8 Episode 25 Review: Ancients Exposed
It was a promising start. McGarrett and Junior digging a pit in which to hide Kamekona's investment in Steve's, err Kamekona's Italian Bistro (neither name actually sings). A reformed convict investing in a restaurant being opened by two cops. Nope, nothing sketchy about that.
And Tani was doing what she does best: cracking wise. She isn't Kono, but is a diverting replacement, blending Steve's aggression and Danny's sarcasm. 
Then McGarrett got the call that sucked all the lightheartedness out of the episode. (You know it's a serious episode when we see Kamekona's money but not him.)
Hennessey, a CIA agent, had been killed. Apparently, Hennessey and Steve went back to Afghanistan, and later Hennessey helped him track down Victor Hess, his father's killer.
It's never a bad idea to tap McGarrett's Naval Intelligence connection for narrative fodder. And a cameo by the late, great Wo Fat was enough to make viewers sit up at the beginning.
Steve owes Hennessey, so naturally, he looked into his "accident,' which no one was buying. And he and Danny getting attacked by a hulking Chinese spy kind of sealed the deal.
Related: Watch Hawaii Five-0 Online: Season 8 Episode 25
Further entangling McGarrett was Greer, yet another who got away while he was heeding the call of his country during his youth.
Of course, she and her tightly wound partner showed up just after the battle with the brute. (Does Jack Coleman play any characters that don't spit out the term "need to know"?)
Danny seemed to be pushing Steve to rekindle things with Greer since he'd been a monk since his breakup with Lynn. Not that I blame Lynn since he only has eyes for danger.
I did like Kray, the CIA boss. He provided the necessary exposition for McGarrett and the viewers so that everyone was somewhat on the same page. He seemed to understand that there was no reason to be cagey since he needed Steve's help.
Since no one inside the CIA could be trusted, it was necessary to bring in outside law enforcement, in this case, Five-0.
I agreed with everyone on Steve's team that using him as bait was a bad idea. His choice of careers has taken a toll on his body, so why offer up his mind to brainwashing? Just ask Jerry, who can cite chapter and verse on the subject.
Related: 15 Shows That Will Inspire You
So let's review the plan. McGarrett memorizes a bunch of fake yet realistic information and allows himself get captured. Time in the sensory-deprivation tank softens him up, so he spills his secrets. Then Five-0 tracks the intel back to Greer and her fellow spies.
But let's face it. All the intrigue was secondary to the firefight.
It's good to see that the trend of letting Jerry out of the office continues. Even though he was supposed just to hang back and surveil, he did some nice work ramming with that SUV.
Another highlight was Junior's slicing the rope of the crane, causing it to trash onto Kang's ship and creating a gangplank for Tani to use ... in heeled boots, right? That must be part of any female TV cop's training: how to run in stylish footwear.
Finally, there was Danny saving Steve when Kang got the upper hand on him, reminding McGarrett that even an action hero has to pace himself and needs help ... occasionally.
Related: Get CBS All Access via Amazon Channels for Hit Shows, Exclusive Originals & Live TV
In case anyone had forgotten, we did get one scene of Tani and Junior debating about what she should do with the gun she discovered at Adam's house, which suspiciously is the same type as the gun that killed Adam's newfound sister.
I wonder when Ian Anthony Dale got freed from Salvation and was able to return to Hawaii. That would determine when Adam's storyline gets picked up again.
I frankly wasn't up for a two-parter right out of the gate. I'd have preferred something self-contained, so we could catch up on what everyone had been doing. But instead, the CIA storyline will continue in Hawaii Five-0 Season 9 Episode 2.
To follow the struggles of Steve, watch Hawaii Five-0 online.
How soon did you figure out that the mole was Steve's ex? Did you wish Wo Fat was still alive? How about more levity?
Comment below.
Dale McGarrigle is a staff writer for TV Fanatic. Follow him on Twitter.