Shameless Season 9 Episode 2 Review: Mo White for President
Paul Dailly at .
Poor Liam. 
On Shameless Season 9 Episode 2 the child paid for the sins of his father, and it resulted in his ouster from the lucrative private school that gave him the start in life all of the Gallagher children never got. 
What I've liked about Liam's growth over the last few years is that he's different from the rest of his family; he's trying to be a good person and knows that if you don't play by the rules, you can find yourself in prison. 
The kid was out of his depth in the private school, and that's because he never got enough time to grow on his own without everyone branding him the same as his father. 
Frank's decision to sleep with the mothers of the school while stealing some silverware from them allowed Liam the opportunity to get kicked out, and that's not fair. 
Related: Shameless Season 9 Episode 1 Review: Are You There, Shim? It's Me, Ian
The moment Fiona realized he was out of the school, I figured she was going to engage in a shouting match with the principal, but Fiona herself has changed things up to forget about her humble beginnings. 
If you watch Shameless online, you know that she always aspired to do something more with her life than work six jobs and look after her siblings.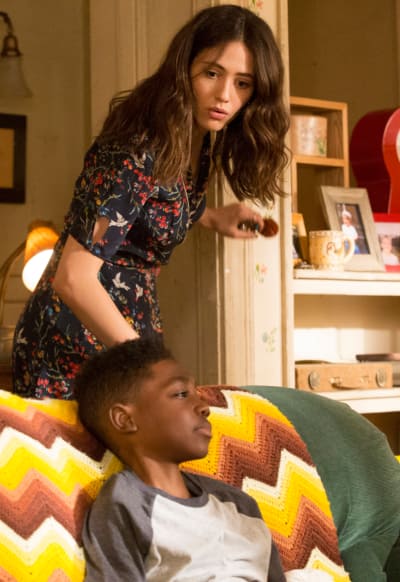 Now that she has some success under her belt, she wants to elevate that to the big leagues, and that's why she was so desperate to get herself into the property deal. 
Every single time she's wanted o shake things up as far as her grip on the South Side's real estate goes, she comes up against people who think she came from nothing and hasn't got the faintest clue how things are done. 
That's why I loved how tenacious she was to get in on the deal. As ridiculous as it was that Liam was posing as her intern, it was great to see these two on the screen together again. 
I'm sorry, but we already have a black kid.

Receptionist
In the back of my mind, I can't shake the thought that Fiona's career is going to take a downturn and that it's going to set up Emmy Rossum's departure from the series. 
While the show is still decent, it's probably time to start the process of wrapping it up. Showtime does not want to part with it because Shameless Season 7 raked in around 8 million viewers with delayed viewing factored in. 
Some of the storylines are starting to flounder, and losing one of the strongest characters is going to do more damage than good. 
Related: Get Showtime via Prime Video Channels for Award-Winning Original Series, Hit Movies, Sports & More!
Ian's storyline is genuinely terrible. The Church of Gay Jesus storyline was one of the weaker ones on Shameless Season 8, but knowing the show is in it for the long haul with it is frustrating. 
I can get on board with the $50,000 bail being crowdfunded. That's not out of the realm of possibility in today's social media savvy world. 
I'm thankful that Ian is beginning to see the light, and this had better signal the end of this storyline. Ian was in a great place as an EMT. 
He had his days, but as a whole, it was the best Ian's ever been. Hopefully, after this latest bump in the road, he can return to Shameless Season 7 Ian. 
As for Debbie, Emma Kenney is killing it in the acting department on Shameless Season 9. Debbie has always been a character who questioned the injustices in this world and was vocal about them. 
I am a welder with a vagina, and I am here to stand up to patriarchy.

Debbie
It was fascinating to see her go from building site to building site with the aim of getting signatures from females to overthrow the patriarchy. 
The biggest twist in the tale was that one woman was posing as a man to get all the benefits of being a man. It's horrible that someone had to resolve to this, and I'm looking forward to seeing where the story goes.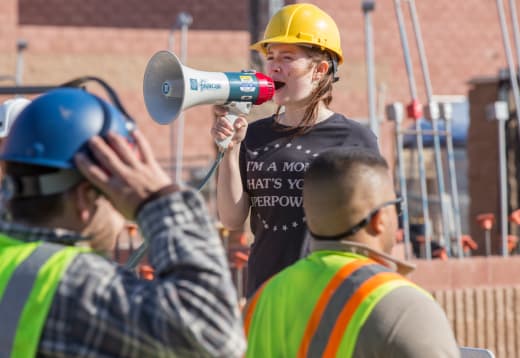 Given the way the woman was eyeing up Debbie and yelling "it's a date," it seems like Debbie might find herself being romanced by someone of the same sex. 
After Frank's storyline fizzled out in a heartbeat on Shameless Season 8, I'm fully prepared for history to repeat itself once again. 
Related: Shameless Shocker: Emmy Rossum Leaving!
He's always trying to find a way to swindle people out of money, to the point I don't think there's a genuine bone in his body. 
Every fiber of his being has been about stealing something, getting drunk, sleeping and restarting the whole process. 
The tide is changing too damn fast. Let's make Chicago white again.

Frank
It was predictable that he would find a way to turn the stealing of everything related to the campaign for $5 a piece in his favor. 
The moment he noticed all of the money that was to be made by being in the world of politics, he got thinking about how he could abuse it in his favor.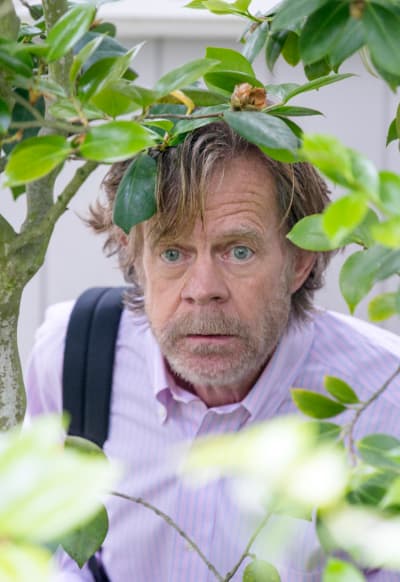 Despite the fact that Frank looks and smells like a drunk, he can talk his way out of anything, and he throws in some buzzwords to grab attention. 
Whether he'll find himself in jail for the whole Mo White political campaign or not, remains to be seen. 
"Mo White for President" was a decent installment of this Showtime dramedy. While the show is starting to repeat itself, there is still a lot to like about it. 
Other tidbits from the episode:
Is anyone else living for Kev and V's daughters swapping out to get the nursery for the price of one child? 
My heart broke the moment I learned what Soothing Hearts was. I figured Carl would take some of the dogs on, but it probably won't last for very long if he gets many pooches from veterans. 
Is anyone else missing Svetlana? She brought a lot to the table, and all of the bar scenes without her are starting to fall flat. 
I rolled my eyes at the whole plot with Xan. Why would the kid steal the purse in full view of its owner?
It was about time Lip became a sponsor. This should keep him on the right side of the path as he witnesses first-hand how awful life has been to some of the others. 
Over to you, Shameless Fanatics! What are your thoughts on Liam being ousted from the school? Is Fiona setting herself up for disaster? Which storyline is dragging the most? 
Hit the comments below. 
Shameless continues Sundays on Showtime. 
Paul Dailly is the Associate Editor for TV Fanatic. Follow him on Twitter.