Arrowverse: Elseworlds Crossover Poster Reveals Role Reversal for Two Heroes
Paul Dailly at . Updated at .
The CW has dropped the official poster for Elseworlds, this year's three-night Arrowverse crossover, and it teases one huge change. 
Stephen Amell and Grant Gustin will be taking on different roles during the crossover. 
Amell is leaving his Green Arrow costume behind in favor of suiting up as The Flash. As you can probably expect, Gustin will be taking on Green Arrow's costume. 
Leading with the headline, "Destiny Will Be Rewritten," we're sure the event that brings the world of Arrow, The Flash, and Supergirl together will be filled with twists. 
But don't expect much, if any, to carry on over to any of the above post-crossover. 
Related: Batwoman Series in Development at CW
"Elseworlds" was a comic imprint that gave fans storylines that were not part of the regular narrative. In a sense, they could be described as fan fiction. 
With the event carrying the "Elseworlds" name, it's highly likely that it will be a self-contained storyline with a "what if?" scenario.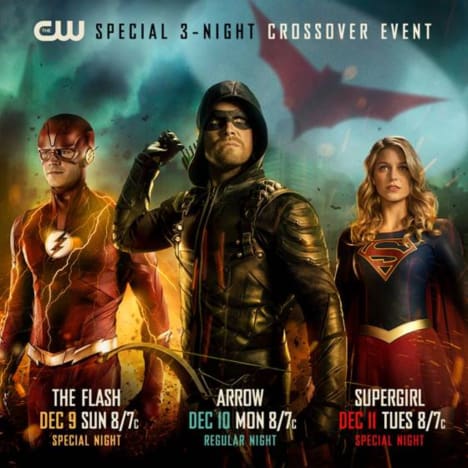 Could you imagine if, for some reason, Gustin took over for Amell on Arrow, and likewise for Amell on The Flash full-time? 
It would be quite the twist for sure!
As previously revealed, the event which airs this December will also introduce fans to Gotham City and Batwoman. 
Ruby Rose will take on the iconic role, and we even got our first glimpse at her character last week. 
What's more, a full-fledged series featuring Rose as Batwoman is in development at The CW, so there's every reason to believe we'll be seeing a lot more of Gotham City. 
"Armed with a passion for social justice and a flair for speaking her mind, Kate Kane soars onto the streets of Gotham as Batwoman, an out lesbian and highly trained street fighter primed to snuff out the failing city's criminal resurgence," reads the official logline for the proposed series.
Related: Ruby Rose Cast as Batwoman!
"But don't call her a hero yet. In a city desperate for a savior, Kate must overcome her own demons before embracing the call to be Gotham's symbol of hope."
The poster reveal comes just a day after Stephen Amell took to Twitter to share a new look for Tyler Hoechlin's Superman. 
Okay, Arrowverse Fanatics. 
What's your take on the poster? 
Hit the comments below. 
Paul Dailly is the Associate Editor for TV Fanatic. Follow him on Twitter.