Game of Thrones: Peter Dinklage Addresses Tyrion's Fate
Paul Dailly at .
The long wait for Game of Thrones' final season is becoming quite the chore for fans of the hit HBO drama.
Thankfully, the cast and crew are still addressing the final season in interviews. 
The latest of which is Peter Dinklage who has played Tyrion Lannister since the show debuted back in 2011.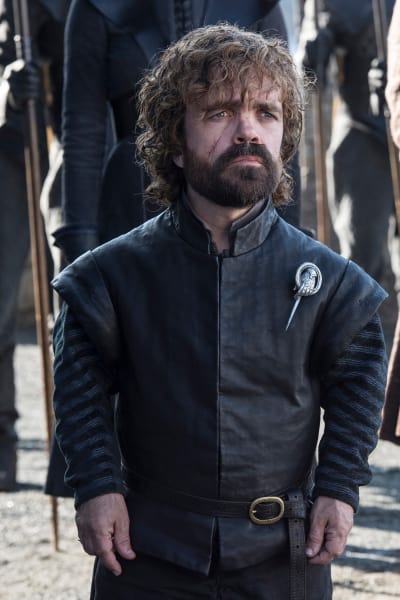 In a Q&A with Vulture, the actor opened up about his alter ego's conclusion. 
"I feel very, very — I'm trying to find the right word. I think he was given a very good conclusion," Dinklage dished.
"No matter what that is — death can be a great way out."
While this by no means confirms Tyrion will die at the end, it does suggest that Dinklage was happy with the conclusion for his character. 
Related: Game of Thrones Spinoff: When Does It Film?
What's more, the part about "death" as a "great way out" is merely him saying that for some characters, that could be the best way to end their arc. 
The actor went on to chat about the way his character has grown since Game of Thrones Season 1 Episode 1. 
"He certainly developed a deeper sense of responsibility over the course of the show. He was a pretty irresponsible character to begin with. He used his position as the outcast of his family like an adolescent would," Dinklage says.
"The beauty of Tyrion is that he grew out of that mode in a couple of seasons and developed a strong sense of responsibility. Not morality, because he always had that, but what to do with his intelligence."
Related: Game of Thrones Final Season Delayed!
There's still no definite premiere date for Game of Thrones Season 8. HBO has been open about it being during the first half of 2019. 
With True Detective scheduled to run for eight weeks from January 13, it could mean that the fantasy epic could return on March 10 to unspool its final six installments. 
Either that or Big Little Lies could step in following True Detective; meaning GOT could return April 28. Alas, we should get more clarity soon. 
But in all likelihood, the series will be back in March or April. 
What are your thoughts on Dinklage's comments? 
Hit the comments below. 
Paul Dailly is the Associate Editor for TV Fanatic. Follow him on Twitter.