Shameless Season 9 Episode 5 Review: Black-Haired Ginger
Paul Dailly at .
Ian Gallagher is on the right path. 
He had a lot to work out because of his part in the Church of Gay Jesus movement on Shameless Season 9 Episode 5, and for the first time in a long time, his actions were true to his character. 
He was so proud of himself when he tipped the hat to both Geneva and Fiona in the courtroom.
Ian was tired of Fiona being so overbearing, and it wouldn't have been out of the realm of possibility for him to do the opposite of what his sister wished just to show that she's not got as much control as she thinks she has. 
Fiona means well, and wants the best for her siblings, and I'm sure if she were not around, they would have all been split up at a young age, put in the system and moved to different cities. 
Related: Shameless Season 9 Expanded
It makes sense that Fiona would want the best for these kids because she's the one who raised them when her parents wanted to do anything but look out for their children. 
It's difficult when someone in your life is so overbearing, but I have a lot of respect for the way Ian managed to tie it all together in those final scenes. 
He was looking at a considerable stint behind bars and knew he needed to make a decision and roll with it, or he ran the risk of doing something he didn't want to do. 
Pleading insanity due to being off his medication was the best foot forward for him. He managed to make the judge aware of the reasons for his actions, while also letting her know he was not in the right state of mind. 
Blowing up the van was a deplorable action, but there have long been questions about Ian's mental state, and he struggles to be open about it because he thinks everyone is out to get him when they question him. 
Mental illness is no laughing matter, and I hope that Ian gets the help he requires before returning to his family. He seemed back to himself when he knew time was running out, but there's no telling what would happen if he's headed for prison. 
Related: Get Showtime via Prime Video Channels for Award-Winning Original Series, Hit Movies, Sports & More!
If this whole case is about to conclude, then can we please get rid of the tired old storyline that is the Church of Gay Jesus? 
It's diluted the show of late, taking up too much time, and it's not that interesting. 
It wanted to highlight the pitfalls of being an overnight celebrity thanks to the power of the internet. It accomplished that. Ian's been through the mill. Now let him move on with his life. 
As for Fiona, she was tenacious in her attempt to make her brother see sense despite pushback from her siblings and even her boyfriend. 
She walked the streets until she concluded that her brother no longer required her care, and it made her realize that she needed to take a step back. 
She was right to lash out at Ford for going on about her missing the exhibit. What is she supposed to do when something goes wrong? 
The world doesn't stop for an art exhibit, and he should have known there had to be a valid reason for why she missed it.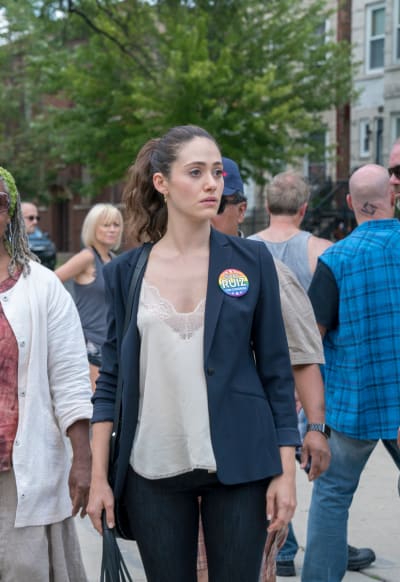 The pair has distinctly different views on how they perceive the world they live in, and it's because they come from very different backgrounds. 
Ford doesn't have siblings and left the only semblance of a family back in Ireland, so he's not as reliant on his family as what the Gallaghers are on theirs. 
Fiona made a great point when she picked up on the fact that he's been impregnating women all over the world without having any connection with the children. 
They say that opposites attract, and that could be Fiona and Ford have a lot of chemistry. They both have some things they need to work out, but they have all the makings of an endgame couple.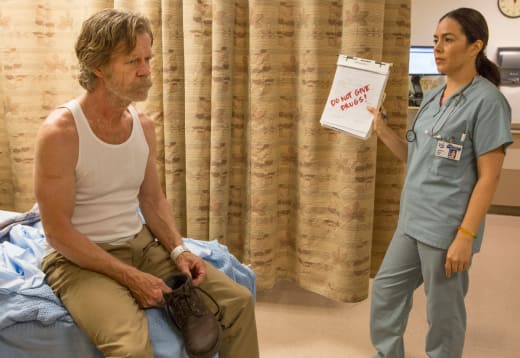 Frank's storyline finally picked up the pace with the reminder that his liver is in a dire state. At this point, another transplant would get wasted on him. 
Related: Emmy Rossum Leaving Shameless After Nine Seasons
He's already had a replacement but somehow always winds up back on the drink and drugs. There's a line, and he crossed it long ago. 
He's resourceful, however, and that's why he successfully found himself getting closer to Katey Sagal's character with the aim of getting some drugs. 
Despite almost breaking his nose, and dry humping him, Frank found something about her that he liked, and that explains why he managed to get an erection. 
It was a mere few scenes earlier that he was being told he ran the risk of never getting one again. Was it the electricity that helped fix things, or was he that attracted to this fascinating new character?
In true Frank fashion, he's going to go all out in his plan to get closer to her. If there are some drugs thrown in along the way, he'll like it. 
"Black-Haired Ginger" was another solid installment of this Showtime drama. Shameless Season 9 got off to a rocky start, but it's all shaping up rather nicely. 
Other tidbits from the episode:
Did anyone else laugh when Debbie left Alex to pay the bill in Patsy's after talking about herself for eight hours? 
Carl sure knows how to pick the crazies. He should have had some restraint when that woman offered him the absinthe. 
Poor Liam. Sissy was a master manipulator who apparently did not think her plan all the way through. 
It seriously seemed like Lip was going to hit the drink, and I'm so happy he turned to the cigarettes instead. 
Over to you, Shameless Fanatics!
What are your thoughts on all the latest twists and turns?
Remember you can watch Shameless online right here via TV Fanatic. Get caught up on all the Gallagher family drama now. 
Shameless continues Sundays on Showtime.
Paul Dailly is the Associate Editor for TV Fanatic. Follow him on Twitter.