A Million Little Things Season 1 Episode 8 Review: Fight or Flight

Jasmine Blu at . Updated at .
When it comes to which character is the most loathsome on this series, it rotates between Eddie, Delilah, and Ashley. 
That didn't change during A Million Little Things Season 1 Episode 8  but topping the list was Ashley, hands down.
At least Eddie has charming moments, and Delilah still needs work, but Ashley was the absolute worst.
She was so deliberate making moves on Gary. She knew Gary was upset, and she went to him after his outburst bringing him his belongings and brought up her birthday and drinks.
She knows about Gary and Maggie's relationship. She knows about all the other messiness happening in their friendship circle because she collects information and files it away for future use, so why take advantage of Gary like that?
Related: A Million Little Things Season 1 Episode 7 Review: I Dare You
Before anyone brings up Gary's reputation for sleeping with his support group members, it isn't the same. His actions were not exploitive because he understood the women he was with since he was also sick. He didn't prey on them.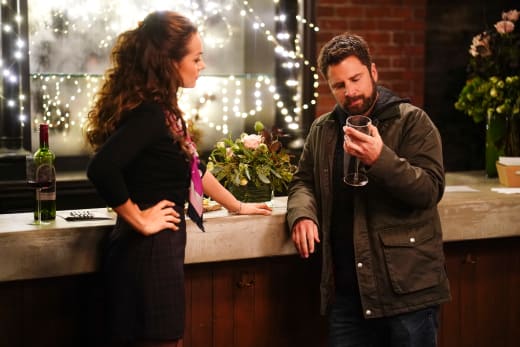 Gary is self-conscious about his scars. He's equally as reluctant to open himself up to someone who hasn't experienced cancer as the women in his support group. He isn't taking advantage of them, and their relationships were of mutual benefit.
Ashley came across as an opportunist taking advantage of Gary, and it freaking sucks. It sucks more knowing that at that exact moment Gary and Ashley were hooking up, Maggie had collapsed.
When Gary finds out about Maggie, he will have a hard time forgiving himself. Gary sleeping with Ashley was a mistake, and he did it because he was in a heightened emotional state, and he was upset with his friends.
Gina: She didn't tell us because she was afraid we would treat her like cancer girl, and she didn't want us to push her into treatment.
Delilah: We should push her into treatment it's --
Gina: No! Its why she and Gary broke up.
Rome: We all blamed Gary. He was just protecting her secret.
Delilah: She shouldn't be pushing us away when she needs us most.
Gina: No, she shouldn't.
Rome: We're not gonna let her.
One of the worst parts about it is his friends were quick to believe that he and Maggie's break-up was all his fault; it was Gary being Gary. It speaks to Gary's character that as frustrated as he was that they thought he was the screw-up, he never betrayed Maggie's confidence by sharing with them that she was sick.
Gary is not doing well with this situation with Maggie because of the real feelings he has for her. It has only been three weeks apparently, but he loves her. Everyone can see it.
While some of Gary's actions throughout and his outburst at the party when he realized everyone knew the truth, were less than ideal and unfair to Maggie, my heart went out to Gary.
He's a genuine and decent person, and he has been trying to hold all of this stuff in and cope, but he was due for a breakdown. As usual, Roday nailed it.
He can't accept Maggie's decision, but he can't stay away either. Finding out that everything that has transpired thus far has happened in a three-week span put a lot of things into perspective.
Everything is catching up to Gary, and he cannot bear the thought of losing Maggie after just losing Jon. He is desperate to avoid that and even resorted to flying out to enlist Tom's help.
Gary feels guilty about not seeing the signs and saving his friend, and given how he has become the person everyone depends on in Jon's absence, his guilt makes sense for his character. He feels betrayed by his friends for accepting Maggie's decision.
Maggie: What are you doing here? I don't want you to get hurt!
Rome: I got you. We are in this together.
He doesn't know that they are also unhappy about it and would love to change her mind. They are trying to respect Maggie's wishes, but they also can tell that she is struggling with her choice, and they are subtle about persuading her.
Related: New Amsterdam Season 1 Episode 9 Review: As Long As It Takes
We saw that most with Rome, which I'll get to in a moment. What was frustrating though, is that even when they figured out what was going on with Maggie, no one went out of their way to check in on Gary.
Eddie tried to call him a few times after their fight. What about everyone else though? Gary wouldn't have ignored a call or a text message from Rome or Delilah.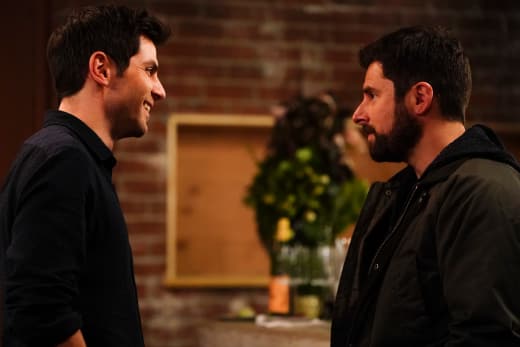 Gary had that outburst at the wine tasting, and Ashley was the only one going after him. Why? Does no one else notice that he's barely holding on? You would think they all would be hyper-aware with each other in the aftermath of Jon's death.
Gary was a standout during one of the most balanced installments of the series to date (kudos to the series for properly utilizing every main character effectively), but this was Maggie's episode to shine.
The friendship between Maggie and Rome was the best part of this installment. Miller and Malco sell their chemistry so much that it's not as jarring as it should be that these two have become so close in such a short period of time.
Eddie: I have seen porn flicks with more plot twists than your love life.
Gary: You watch porn for the plot?
Eddie: The point is Gary, you find problems with these women, but maybe the problem is you.
Gary: Oh says the drunk adulterer living on his best friend's futon.
Eddie: You know what man, maybe you should stop taking shots at me and get Maggie back. Or is your plan just to stand there and do nothing and lose her forever?
Gary: How about this, how about instead of telling me what to do, try having my back. I'm the one who gave you another chance after you screwed Delilah. I'm the one who took you in after Katherine put you out. You're always so fast to assume that it's my fault, but guess what? You don't know!
Gary is known for his blunt force, wise-cracks, and brash approach. He can be the most overwhelming. Rome, on the other hand, is quieter, subtler and has more finesse. He's unassuming and unimposing.
It was beyond poignant that Rome was who appeared in Maggie's dreams and helped her take control. I loved the use of the airplane analogy from A Million Little Things Season 1 Episode 1 during Maggie's dream sequence.
Rome, in many ways, represents her brother and other depressed patients she couldn't save. He could get through to her because he spoke as a depressed person she helped. Rome was careful and deliberate with his words and approach, and it made a world of difference. They carried more weight and hit the mark.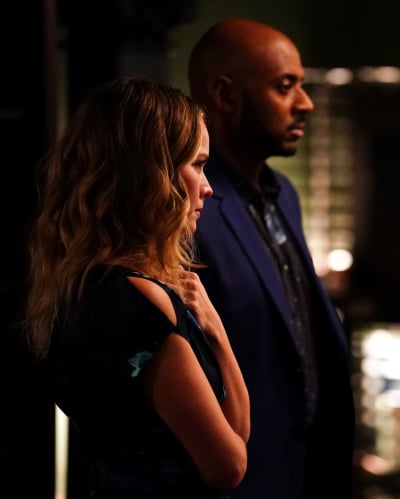 He knew she was packing her house up for a different reason but chose not to say anything about it until later when they were alone, and he didn't try to persuade her not to do it; he just helped.
The quiet way he posed as her therapist and asked her if Chad was the reason she wouldn't save herself was brilliant. He told her that Chad's death wasn't her fault, but he pointed out via that question that she was punishing herself for something out of her control.
Maggie's response was spot on too. It's often easy to guide other people through their issues, but it's harder to apply the same logic to yourself even when you know better.
Last night you mentioned someone you lost that you couldn't save. I just want you to know whoever it was, you might not have been able to save them, but you sure as hell saved me.


Rome
Poor Maggie was not prepared to meet all of these supportive new friends, and it terrifies her that she is putting them in a position to care about her and then lose her. Maggie pushing them away was inevitable, but it was beautiful how  Gina and Rome especially wouldn't let her.
Related: The Resident Season 2 Episode 9 Review: The Dance
Katherine and Gina's friendship was refreshing. Katherine's position in the group of friends remains confounding. There are times when she seems distant from them, but then there are other times when we're led to believe she was an integral part of the group and close to both the women and Jon.
It was ballsy of Gina to work so hard to get Katherine there, and it was gutsy of Katherine to go, even if part of it was to make Eddie jealous.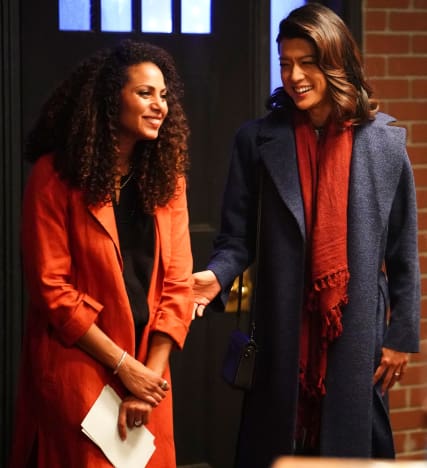 The show is better when Katherine has screen time. Showing her at her job removes any negative feelings that she is some self-consumed workaholic who doesn't have time for her family. Katherine is normal as anyone else at work, and you can tell that her family and Theo stays on her mind.
But it's much better when Katherine is brought into the fold with the other characters because that is where she can get the most screentime, and those dynamics are the most interesting.
Katherine isn't ready to start dating, but she and Hunter can build a friendship until she is ready.
Katherine: So those are my friends. I owe you an apology.
Hunter: Not at all. They seem cool. They just happen to be dealing with a lot right now.
Katherine: If I'm being honest, I used you tonight. I felt rejected by Eddie, and a part of me liked having him see me with someone else. A very smart, good looking someone else.
Hunter: Apology and compliment accepted. I know that divorce can be complicated. Wanting to make your ex jealous doesn't make you a bad person, just a human person
Hunter seems like a decent guy, and he's willing to wait for Katherine. Katherine could not have been cuter on their date, especially when she apologized for her friends and kissed him like a blushing schoolgirl.
I am rooting for those two. I also like that despite Eddie's jealousy, he wants Katherine to be happy. They got along well considering the awkwardness of it all, but Katherine finding out about Delilah's pregnancy may change things.
It had to sting when Katherine heard that because it was a reminder that she falls low on the totem pole of their friendship circle since she didn't know anything about it, but she has to suspect Eddie is the father despite Gina's reassurances.
Eddie still confuses me with how he goes back and forth between Katherine and Delilah. He's in love with Delilah and wants to be with her, but he is comfortable and safe with Katherine and wants her to avoid being alone.
He was happy for Katherine, but he also was jealous of Hunter. He wouldn't commit to an apartment because he didn't know if they would work things out, but he also envisioned getting an apartment with Delilah.
He wondered if he and Katherine might get together, but he kissed Delilah. At some point, I blocked most of that out, but he stopped that because the baby daddy secrecy is too much for him.
Does Eddie even know what the hell he's doing? He also proved yet again that he's the man-child friend of the bunch. I say that with affection.
It's evident that he doesn't know how to be on his own. It wasn't surprising that he needed so much hand-holding during his apartment hunt, nor that he needed approval from Katherine, Gary, and everyone else.
It's starting to make sense why Katherine ended up being the "adult" in their relationship and having a fun, almost child-like lover may have been fun and a nice contrast when it was just them, but once Theo came along, she probably was exhausted trying to deal with two children.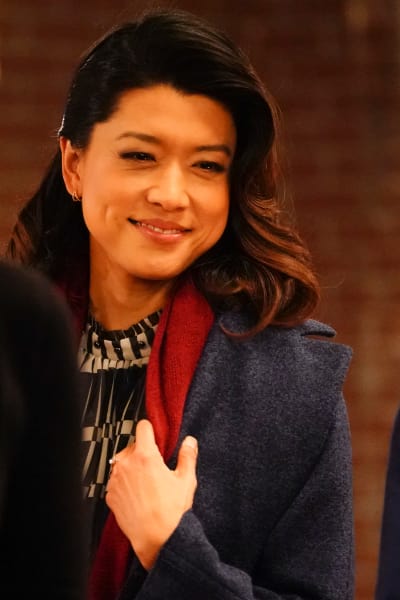 Again, that is an observation more than an indictment (although I'll admit to laughing at Gary, Rome, and Regina taking potshots at Eddie a few times throughout the hour. If your friends can't pick fun at you, who can?). I'm curious about Eddie's background though.
What was he like before Katherine and the others? He has moments of depth (his assessment of Gary came from a genuine and mature place despite not knowing all the facts), and he's a great dad (his moments with the inquisitive Theo are some of Eddie's best moments), but he's also such a mess, perpetually lost, and immature.
He's afraid to be alone. That apartment terrified him. Fortunately, Gary saw through that but didn't comment on it and opened his home to Eddie for however long he needed it. You know, for that sweet Asian kid who Eddie insists is his. Gary is hilarious and has the best lines.
Eddie: Its hard to sign a year lease when you're still kind of living day to day.
Gary: Here's an idea, why don't you live day to day with me for as long as you need to. Not because I would miss you, but I would miss that adorable Asian kid that you keep insisting is yours.

As enjoyable as Gary's jokes about Eddie were, will Eddie return the favor when he finds out that Gary slept with Ashley?
What is Ashley up to and do you think she had ulterior motives sleeping with Gary?
-Related: Get Shudder via Prime Video Channels for Spine-Tingling & Provocative Films, TV Series, & Originals! -
Did the background information about Chad help you understand Maggie better? Will she stick with her decision or will she cave now that everyone knows?
There is so much to discuss. Hit the comments below!
You can watch A Million Little Things online here via TV Fanatic. 
Jasmine Blu is a senior staff writer for TV Fanatic. Follow her on Twitter.