American Horror Story Season 8 Episode 8 Review: Sojourn

Yana Grebenyuk at . Updated at .
It is Michael Langdon's world, and we are all just living in it. 
Not for long though, if Michael's involvement with this new cult gathering is meant to foreshadow exactly how destruction started for the rest of the world.
During American Horror Story Season 8 Episode 8, Michael found himself lost when all the power that he had disappeared. From there he stumbled upon a cult that is planning to bring about the end of the world and found a way to bring Mead back at the same time.
This all circled back to American Horror Story Season 8 Episode 1, our formal introduction to the present day characters and situations, by allowing us to see how some people had ties long before Outpost #3 existed.
There were also teases of how the end of the world came to be, specifically the role that Michael found himself playing because of other people's expectations.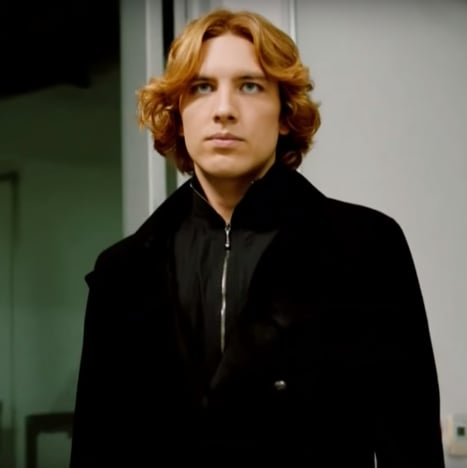 "Sojourn," was written by Josh Green and properly served the purpose of slowly creating that bridge between the past and the present.
Michael's journey is far from over, and this episode highlighted significant points that got him even closer to the apocalypse, all while throwing some Easter eggs for fans. 
The most effective way of breaking down an episode like this, one that is so far along in the season, is to frame it as productive and not as much.
There is an argument to be made about how much time we are spending in the past.
Michael is an essential part of how things got the way that they did in the present time. He is the key to most of the destruction, and it is becoming more and more evident the connections he shared with many of the characters.
Plus there is this sense that Michael is an icon, a part of Tate Langdon that can't be explored like a one-off. His journey is rich enough that the layers could be spread out from episode to episode because he is the true evil.
Everyone keeps saying that I'm special, that I'm the only one who can bring about the end times, but nobody gave me a fucking instruction manual.

Michael
The end of the world may be what pushed everyone together and is influencing what they do know, but it was Michael that caused it supposedly, and he could do it again.
Perhaps the real value in this season is connecting the dots along the way of how things got as bad as they did in the beginning.
There is also room to assume that nothing will change. Michael is still very much in power after the apocalypse, he controls the Outposts, and this sanctuary that he promised is all up to him. 
Whether that will get revisited or not, the bottom line is that the cycle hasn't ended.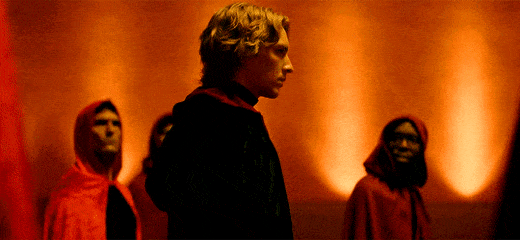 This pattern of control that Michael has conquered is still allowing him to come out on top. All these visits into the past aren't giving a glimpse into his weaknesses if anything they are proving how he got as strong as he is now.
So in defense of the way that the story is unraveling through the creation of Michael, it is plain and simple that all roads lead back to destruction.
There was nothing done to take him down before and even if he loses the only person he cares about most, he is just the beginning.
The Cooperative is still calling the shots somewhere out there, and Michael is only one obstacle that would have to be destroyed to bring about any hope to the world again.
Related: American Horror Story Season 8 Episode 5 Review
The Necessity of the Future
There is also a case to be made that dwelling too much about what happened before isn't doing the present any favors.
Why introduce this new normal only to remove everyone from it and focus on one singular character?
Yes, there are other people that come and go, but they don't bring the same relevance to the season that Michael does. He owns it, and that is fine if there was a clear-cut understanding of what that is.
Some way, I am going to bring her back. And then I am going to kill every last one of you.

Michael
Expecting answers from American Horror Story during the season is ridiculous, but it doesn't do the show any favors to keep the audience clueless the entire time.
There need to be some signs of necessary development or world building that matters to the story being told.
It is starting to come off as if the beginning of the season didn't have the value we all thought it would, and this is almost a separate show than what it usually is.
The apocalypse is far from important right now. Instead, it is this need to connect previous seasons even if it doesn't do anything for the current one.  
It is ambitious to try to form lines that connect correctly, but if there is no need for it narratively, then it just becomes a huge waste of time.
Michael's backstory was interesting at first, but now it is growing tedious. The character is fascinating, but the expectations for Apocalypse didn't include a singular character getting all the focus.
Some way, I am going to bring her back. And then I am going to kill every last one of you.

Michael
If this were a separate show or season that promised this, then it would be a different story.
But if the apocalypse is promised, then it should be delivered. 
Related: American Horror Story Season 8 Episode 4 Review
Where Are We Now?
There are only two episodes left this season, and somehow they need to wrap up how Michael was connected to the end of the world and confront whether there is any way to stop him in present time.
There is also the tiny detail of exploring whether the world itself will somehow be redeemed or if these people are it. 
You can't blow everything up and not try to build it back up, or so we expect.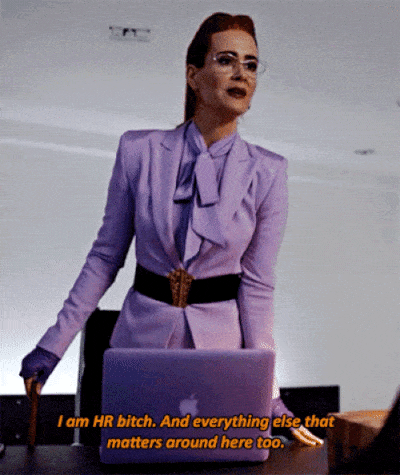 For now, though, Michael is making connections that all look familiar in the understanding of the Outpost.
This could be the bridge that explains why those specific people were chosen and what had to happen to make that possible.
Some of them played a part in trying to take Michael down, while some crossed his path more positively. All of them don't remember it though, a reminder that they couldn't have mattered that much if their memory was wiped. 
There can also be the idea that this is a game to Michael.
He was able to wipe everyone's memory to play with them in that Outpost, or maybe even he isn't aware of the fact that this was done to them.
Don't ever call me babe.

Venable
Michael met some of these people and either he is an outstanding actor or doesn't remember their shared history.
The only person he has made clear he knows is Mead, a person who this episode was dedicated to even though in the present time frame she isn't a significant portion of the story.
It begs the question of how the past might not matter in the future. 
There are plenty of questions to be answered, but knowing the show, that won't happen any time soon. 
Related: Enjoy UNLIMITED access to thousands of Movies and TV shows with Prime Video. WATCH ANYWHERE. CANCEL
What did you think of the episode? Are you enjoying the background information that is shaping the apocalypse? Or are you perpetually confused why the past if taking over for the present day stories?
How much are you loving (or hating) Michael? Did you enjoy the possibly strange appearances by all the familiar faces before the apocalypse? 
Where do you see the story headed now? What are some theories of yours that you are hoping will get played out before the finale arrives?
Let us know what you think below!
Don't forget that you can watch American Horror Story online, right here on TV Fanatic. 
Yana Grebenyuk was a staff writer for TV Fanatic. She retired in April 2021.