Chilling Adventures of Sabrina Season 1 Episode 10 Review: The Witching Hour

Yana Grebenyuk at . Updated at .
It gets worse before it gets better, although in Sabrina's case it is like there is no silver lining left.
In an almost ironic turn of events, everything that Sabrina feared is brought to Greendale, and she has no choice but to accept what she was trying to escape this entire time.
During Chilling Adventures of Sabrina Season 1 Episode 10, the Dark Lord finally found a way to get Sabrina to sign the Book of the Beat. Madam Satan manages to convince her to do it in the name of her family and her friends, with the witches threatening the lives of everyone at Greendale. 
But the aftermath of Sabrina's decision ends with her cutting off all communication with her friends and with Harvey. The future of many characters was left up in the air.
More importantly, though, the possibilities for the next season seem endless now, with Sabrina's sudden shift leaving not only Nick surprised. 
"Chapter Ten: The Witching Hour," written by Roberto Aguirre-Sacasa and Ross Maxwell, did a full circle back to the beginning, mimicking Sabrina's worries about signing her name away. In true twisted fashion, everything that was predicted when she bit into that apple was a glimpse into the future that no one saw coming.
It is even more enlightening when you consider how Chilling Adventures of Sabrina Season 1 was a continuous build-up to Sabrina's breaking point. 
Every problem that came up, every decision she was forced to make, it was all a domino effect that pushed her closer and closer to the Dark Lord's side. 
Chilling Adventures of Sabrina Review: A Burial and a Ressurection
Sabrina's Season Twist
Is Season 2 here yet?
Sabrina having to sign her name away was traumatic enough, especially when it was something she predicted from the very beginning and none of us were able to connect the dots fully.
It is confusing why Sabrina was so worried about what this "newly awakened" dark side would do to her and the ones she loved. To be fair, most of the season was spent on her making the exact decisions she was worried she would be forced to do.
I know you're scared, Sabrina. Because all women are taught to fear power. Own it.

Madam Satan
And in a way, Madam Satan truly was manipulating her every step. But Sabrina didn't need to partake in half of the things she chose to, the most chilling was Harvey's brother's resurrection and trying to find his soul to return to him.
This was all Sabrina, and when we meet her during Chilling Adventures of Sabrina Season 1 Episode 1, she is onboard with torturing her principal without much worry.
This isn't to say that she didn't make choices that made sense, just that the Dark Lord proved to her that he didn't need to literally force her hand. With the right manipulation and enough stakes on the line, Sabrina always had the potential to cause this chaos.
Sabrina never denied that side of her, but it is difficult to agree with her choice to stay away considering how it is hurting everyone she loves in Greendale.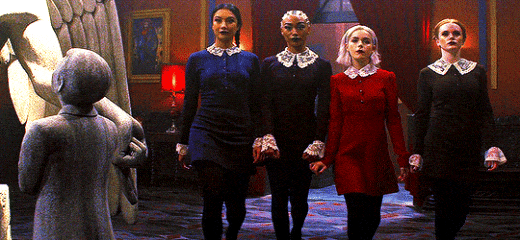 It doesn't feel like she is looking at the bigger picture, and maybe even the way that she is now hanging out with The Weird Sisters is also a question of how much she is trying not to be a danger.
The way that she left Harvey teased Sabrina trying her best not to become what she disliked the most, that being The Weird Sisters and the decisions they made before.
Instead, she is now with them, and we know they aren't that bad at all, the exact opposite even. But for Sabrina, this is still a huge shift from the girl who loved her human friends so much she was willing to risk crossing lines that would never be uncrossed fully.
It's not a tornado that's coming. It's something much much worse.

Sabrina
This is a successful cliffhanger, and it leaves everyone questioning how this adjustment period will be like for Sabrina now that she has accessed her powers fully.
But the reminder that everything she tried to turn away from is everything that she became is haunting. 
Chilling Adventures of Sabrina Review: A Feast of an Exorcism
Harvey, Roz, and Susie Now
As upsetting as it is that Sabrina had to leave her friends behind, in a way this was necessary for their progression as individuals.
They were introduced as an extension of the lead character, and throughout the season all of them came into their own. Not having Sabrina with them while they try to grasp all this new information is a way for them to grow as this version of the friend group. 
I'm done being a coward.


Harvey
Harvey has grown the most in some ways, he has gained control of his life and in his own words is finding his courage. His relationship with Sabrina defined him, and now he needs to take that step back to figure out where he fits in on his own.
Their relationship was also unfortunately rooted in Harvey not knowing a lot about the person he was with. As much as he thinks they can be together now, even more, has changed and even if they grew in that direction together, they couldn't be farther apart.
It isn't a great detail to accept, but it forces Harvey to find himself outside of Sabrina. He has his family history to figure out, and his role in the friend group has shifted. 
This will raise the expectations for when he reunites with Sabrina after their separation, something that will have to be at least base level emotional.
There there is Roz and Susie, their connections to Greendale becoming stronger as they themselves got wrapped up in the supernatural. 
While the jury is still out on Susie's plot involving that spirit, they keep seeing, their self-discovery is still a journey they need to continue.
A lot of the realizations that they made though have been tied to the urgency that Greendale presented everyone in town, from the exorcisms to the possible end of the town's existence. 
WIthout Sabrina, in their life, Susie will be readjusting as well, but they have been written as a full-fledged presence that can now stand on their own. 
Their story doesn't need to be tied to Sabrina for us to care, which is a necessary detail if separating the main character from most of the others. 
As for Roz, with her grandmother passing, there was that ceremonial passing of the gift of sight.
Roz is now the only one in Greendale (that we know of) that has this potential to see what will happen, aiding her and the others she trusts to possible stop harmful situations.
There is still plenty she doesn't know though about her place in the supernatural world and how all of this works, but once again with Sabrina not being there, Roz will be thrust into this role significantly.
And this is no place for a man. And that very much includes you.

Zelda
It felt from the very beginning as if Roz was the second part of the group that looked out for everyone else, so it could even be assumed that she takes over in Sabrina's central role. 
Looking forward, Roz has plenty to deal with, and she can branch out because of her connections with things far bigger than her. Her sight is still a problem; she is going to continue losing it before our very own eyes.
Seeing that losing battle that will be replaced with her connection with her other sight is the main driving force that seamlessly managed to come out of Chilling Adventures of Sabrina so far. 
Related: Enjoy UNLIMITED access to thousands of Movies and TV shows with Prime Video. WATCH ANYWHERE. CANCEL
Stray Thoughts
Is now the time to draw up my wishlist for Season 2? For starters, Prudence deserves even more screentime than she got. Double or triple or even quadruple it because there is a reason she is such a fan favorite for all of us. 
Luke is becoming even more of a suspicious dating choice, which is really just a way to hint at more Ambrose as well. He got Ambrose involved in everything Chilling Adventures of Sabrina was fighting against, a bunch of self-centered men.

It almost felt like an obvious conclusion because Father Blackwell just made it too easy for Ambrose. But maybe this will be a way for him to break out of that house and battle his own issues at least.
More Harvey and Nick bonding time is necessary.
Hilda getting an admirer helps make her grab independence and have it define her. Plus having Sinclair from The 100 only makes it that much better. But what about the supernatural aspect to him?

He must be hiding something from her, and the smart choice in this scenario would be Hilda moving out and focusing on herself. A new boyfriend is great too, as long as he can be trusted.
So was Susie seeing their ancestor because of Madam Satan? Or was this all small hints being dropped at us about where their storyline will be going further on in the show?
We all deserved a warning about that Harvey and Sabrina goodbye scene, I am still pretending that didn't happen. Those two came so far and were finally at an honest place where everything was on the table, only for Sabrina to be worried about the danger she could pose. It makes sense, but yet it doesn't. 
As someone who thought Zelda deserved better than Father Blackwell and his inability to accept any strong woman, this Season 2 setup is interesting.

It allows Zelda to explore her maternal side, similar to Hilda exploring her independence. But it also puts her at odds with everything she vowed to commit to, allowing her to get out of tradition and maybe do what Sabrina has been doing this whole time.
Madam Satan is very evil, and it is extremely satisfying watching her play a part in all this chaos. 
What did you think of that ending? Is Sabrina embracing the dark side or is this all a trick that is meant to save the humans that she loves? 
What about Madam Satan? Will her plan to become the Dark Lord's second work or does she have to worry about Sabrina? Did you see that twist with Zelda and the baby coming? And what about Hilda and her intriguing new boyfriend that has her rushing to move out?
Is everyone still Team Harvey or is Team Nick the winner? Is Ambrose doomed in that strange meninist fan club? Let us know what you think below.
Don't forget about the Chilling Adventures of Sabrina Christmas special to premiere on Netflix!
Yana Grebenyuk is a staff writer for TV Fanatic. Follow her on Twitter.