Empire Season 5 Episode 8 Review: Master of What is Mine Own

Jasmine Blu at .
Think about the children! 
Everyone is fighting and a few things happened on Empire Season 5 Episode 8 to push the story forward, but the lasting images that will stick with most fans are the opening scene and the closing one. 
I can't shake the image of Bella aiming the gun at her bickering family before pointing it at herself. Hopefully, the gun isn't loaded, or someone will take it from her before anything serious happens.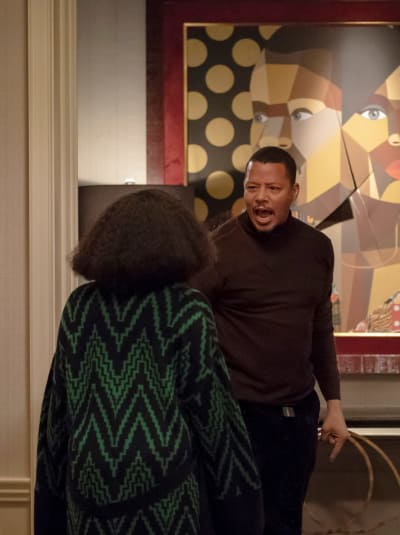 Hakeem is a certified idiot, but maybe this incident with Bella will knock some sense into him. He needs to squash this ridiculous beef with Blake. It's long overdue for them to put their issues to bed. It's affecting too many people now, including Hakeem's children. 
If the image of Bella cocking that in the same way he did during his stupid confrontation with Blake doesn't get him, then he can't be saved. It's understandable that he has dealt with a lot and is struggling, but all of his antics are getting old. 
Related: Empire Season 5 Episode 7 Review: Treasons, Stragems, and Spoils
The flash forward at the top of the hour revealed that Cookie isn't the one in that casket. Not that there were doubts about that. Lucious was shown washing his bloodied hands, and Cookie came in to tell him that someone was in surgery, and then she asks him whose blood he was washing off. 
Lucious, I just got a call that he was in the hospital. Is that blood? Lucious, what did you do? What did you do?!

Cookie
Of course, it cut away before he ever gave a real answer. So whose blood was on Lucious' hands literally and figuratively? Who are your guesses as to who may be in that casket? 
Kai is someone who comes to mind now. He was on the periphery of the Lyon family, and there was some tension for a bit, but you're only as good as what you can contribute to the family. 
Lucious sought Kai's help as a journalist after they realized Kingsley is working with the Feds and spying on Empire fans, patrons, and supporters via apps. Lucious, Thirsty, and Andre knew they couldn't be the ones to drop the dime on this story; it had to come from a legitimate news source.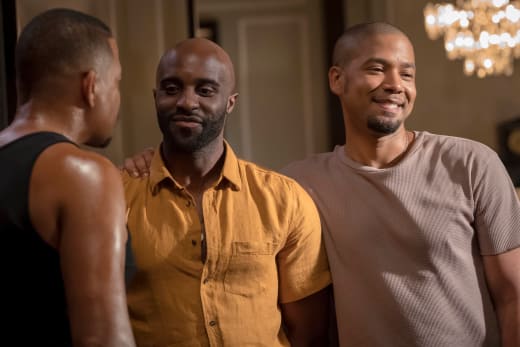 It's like an unspoken rule that Jamal cannot be happy for long on this series, so nothing good can come from Kai being drafted into the Lyon's Den. Jamal tried to keep Kai apart from Lyon business, but the lure of a breaking story is like catnip for a journalist. 
Kai also felt he had something to prove after he faced some repercussions and blowback from Jamal professing his love for him to the public. I get both sides of this. Jamal is happy and in love, and he shouldn't have to hide that from anyone. 
On the other hand, Kai worked hard to get where he is, and he didn't want his relationship with Jamal overshadowing his career and his reputation. He deserves to stand out on his own -- for his work, not because he's dating a pop star. 
Jamal, I love you. I just didn't think I would go from telling the story to being the story.

Kai
Kai told Lucious that once he started looking into things he wouldn't stop regardless of where it led him, so what if it led him to his death? He is becoming close enough to the family where his death would matter, and if Lucious is the one that enlisted his help, him feeling guilty would make sense. 
Speaking of family, after the Kingsley reveal, it was disappointing that nothing major happened there. Lucious went to confront Kingsley and found out that Kingsley was locking down all of Lucious' songs and therefore keeping him from collecting residuals.
It tipped Lucious off that Kingsley coming after him was personal because he was shooting himself in the foot to spite Lucious. 
Related: The Resident Season 2 Episode 9 Review: The Dance
It was the same tit for tat though. All of it just built up to Giselle's private investigator finding out the connection between Kingsley and Lucious, which didn't seem that difficult to find out.
It wasn't surprising that Giselle used the information as leverage against Kingsley, but Giselle is hard to place, so it's hard to say whose side will benefit in the end because Giselle puts herself first.
Is anyone else starting to think that Kingsley may not be Lucious' son? Sure, he's an asshole (the manner in which he fired Lavar was reminiscent of a spoiled brat throwing a tantrum), but what if he only assumes he's Lucious son because of Lucious' history with his mom and their physical features? 
When Cookie finds out, all hell will break loose. She and Lucious are already on the outs because of Candice's vindictive behavior. The Lyon marital bliss was too good to be true. 
What exactly did Candice expect Cookie to do during that Franklin situation? Did she expect Cookie to let Franklin kill her, or for her to put up with his attacks too without doing a thing about it? 
You turned my family upside down. I came to return the favor.

Candice
Candice doesn't have to like it, but Franklin needed to be in a facility. She attempted to go low by comparing Franklin to Andre, but Cookie is right, it's not the same. So when that didn't work, Candice had to drop the condo bomb on Lucius, and the fallout was epic. 
The argument between Lucius and Cookie that ensued felt like they were airing all the things that they thought about their relationship but didn't dare say to one another.
-Related: Get Showtime via Prime Video Channels for Award-Winning Original Series, Hit Movies, Sports & More! -
All of the pain, insecurities, and their past came to light. Neither of them can let go of their turbulent past even though they convinced themselves that they have moved on. 
Cookie needed that condo as a safety net because Lucious has screwed her over. It's hard to expect someone to have faith and trust when it involves a past like their past.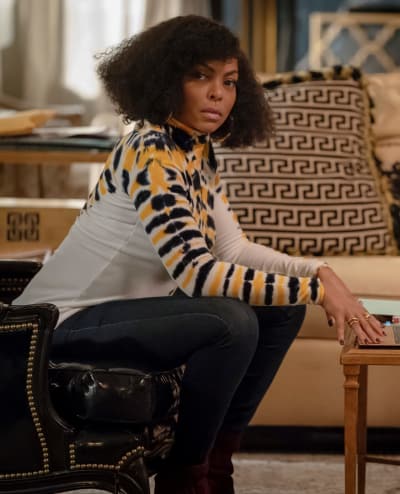 For all of his bluster and outrage, and given the state they were living in and how hard of times they have fallen on, his anger was somewhat reasonable. But Lucious has been lying and keeping secrets too. He fessed up about the painting but only after the apartment bombshell, so how can he be pissed off at Cookie? 
They are such a mess. 
Lucious: Why do you keep firing people at your staff meetings? What are you afraid of? I wonder what Steve Jobs would think of your bitch ass moves?
Kingsley: You know why I did that Lucious? Because I'm going to wipe you from the consciousness of an entire generation. I'm going to make you extinct.

Other Notes: 
Becky is the worst at planting anything. She lacked finesse, was awkward, and painfully obvious. She got that raise though. 
What was with the flashback to Cookie getting stuck in an elevator with Damon?
Maya is living with Cookie, and she's her new assistant. There is something ominous about her presence there. 
Thirsty asking if Andre's girlfriend was real this time was LOL funny. 
Carlito and Devon should have known better than to pick an argument with Cookie on a good day, let alone when she has been this on edge. It was entertaining as heck though. 
Over to you Empire Fanatics. What did you think of the installment? To catch up on the season before the Fall Finale airs, you can watch Empire online here via TV Fanatic!
Jasmine Blu is a senior staff writer for TV Fanatic. She is an insomniac who spends late nights and early mornings binge-watching way too many shows and binge-drinking way too much tea. Her eclectic taste makes her an unpredictable viewer with an appreciation for complex characters, diverse representation, dynamic duos, compelling stories, and guilty pleasures. You'll definitely find her obsessively live-tweeting, waxing poetic, and chatting up fellow Fanatics and readers. Follow her on Twitter.