Grey's Anatomy Season 15 Episode 6 Review: Flowers Grow Out of My Grave

Jasmine Blu at . Updated at .
What a beautiful hour.
Grey's Anatomy Season 15 Episode 6 was a stunning and unexpected observation of Día de Los Muertos, and while I cannot speak to it in its entirety, it seemed like one of the most respectful observations of the holiday on television. 
The show managed to weave it throughout the entire hour from Mer's kids dressing up to the family celebrating at the hospital, to the marigolds Jackson gave Maggie, to a Spanish rendition of "Chasing Cars," and that breathtaking scene of the ghosts of Meredith's loved ones in the halls. 
As I said, it was beautiful.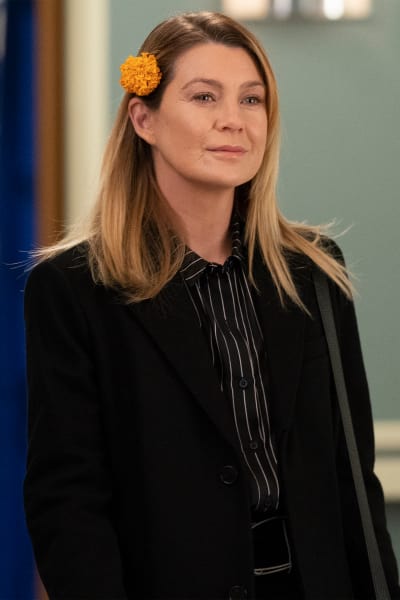 I would be hard pressed to find anything wrong with this installment. It had a bit of everything going on during the hour, and despite a focus on grief and death, there was nothing sad about the hour. It captured the essence of the holiday that inspired the hour. 
Meredith has experienced a lot of loss throughout her life. Is there ever a question that when facing the inevitable loss of someone else, she barely seems to react to the news? 
The nuance of this show can be of another realm. Without having to rely on exposition, the poignancy of Richard, Meredith's surrogate, no, her real father telling her that her birth father was dying spoke for itself. 
Richard: Can we talk?
Meredith: Is everything OK?
Richard: When is the last time you spoke to your dad?
Meredith: Thatcher? Um, when Lexie died. I think. Why?
Richard: He's sick Meredith.
He was concerned about her reaction, but what type of reaction did he expect out of her? Meredith and Thatcher were estranged. He bailed on her when she was a kid and started another family elsewhere. 
He never made a real attempt to be her father, and when he did, it was only at the behest of Lexie. She gave the man a piece of her liver, and she hasn't seen nor heard from him since Lexie died. 
Now he's dying, and she's supposed to react to it and grieve in some way? I loved how stoic Meredith was during that scene. It sucks when you appear robotic to outsiders for not openly emoting the "proper" way.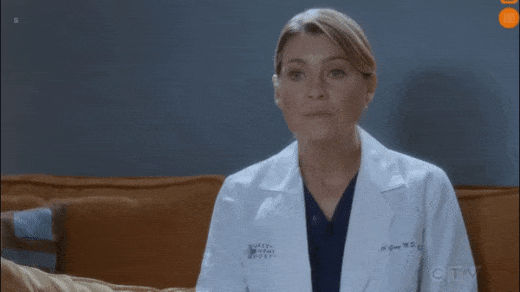 What's the proper way? Meredith was processing the news, and she spent the rest of the hour trying to sort out how she felt versus how people thought she should feel. She didn't let it faze her nor did it interfere with how she carried on with the rest of her day. It was on her mind, but so were many other things. 
Related: A Million Little Things Season 1 Episode 6 Review: Unexpected
Meredith going to Maggie first was a lovely moment. It highlighted how close the two of them are. Meredith spent a great deal of time indifferent or not being as close to Lexie before they eventually found their rhythm. Meredith learned not to do that when it came to Maggie. 
The sisters have a special bond, and they each play a specific role in their relationship. It's the same when Amelia is factored in.
Maggie is the confidant. She's the sister you go to when you need to talk or have a problem. She's a good listener. 
I opened the door for him. I gave him a piece of my liver. I opened the door for him to get to know me and he didn't walk through it. The only time we spent together was when Lexie forced us to be together, and when she died he completely disappeared. I don't really need to grieve him because he's been a ghost for years.

Meredith
She doesn't pretend to understand, but she's always sympathetic.  
Despite how brief it was, one of the best moments was when Meredith asked Jackson how he would react. In addition to being the Legacy Kids, they are both card-carrying members of the Dead Beat Dad club. Some of the best moments of the back half of this series are when we're reminded of the similarities between Jackson and Meredith. 
Their friendship is one of the most underrated and underappreciated of the series. 
Alex offered feedback too because he lost his father after he came back into his life. It was nice that everyone gave their opinions, but no one forced anything on her. They let her figure it out for herself.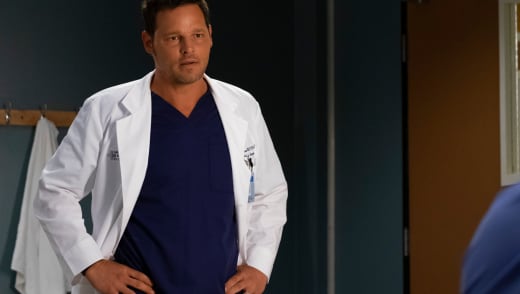 I also love that Meredith was unapologetic in her feelings or lack thereof to the news that her father was dying. The installment let it play out during the hour, and she got her feelings off of her chest. The funniest was when she was on her blind date asking the guy about his father and ranting. 
Related: 21 Mentors with Feet of Clay
Ranting aside, she was never portrayed as angry or bitter. She was speaking her truth and being honest about her experiences, and she was most relatable.
The scene where she walked down the hallway of the hospital that has become her home and saw the ghosts of all of the loved one she lost over the years was mesmerizing. It was a beautiful tribute, and one of the best scenes to date.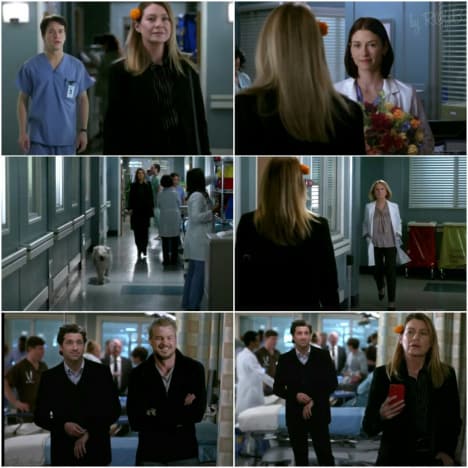 No matter how many years have gone by, Grey's Anatomy knows how to honor and tribute characters of the past. Tell me I'm not the only one who got misty-eyed at the sight of George, Lexie, Derek, Mark, Ellis, and Doc? I'm emotional just writing about it. 
Those are the souls of close people who meant something to her. They are the ones who mattered and who she holds dear. It's neither good nor bad to state that Thatcher wouldn't have that same impact on her. 
It could have sent her down a dark, sad path thinking about them, but before she could allow herself to entertain the darkness, she went to Alex and Jo's to avoid being alone. 
We all have different ideas about how to honor the dead. Different ideas of how to grieve. Different ways of moving on. But I do have some experience with losing people I love. And I say the right way to grieve ... is to however the hell you want.
It remained lighthearted when she got there because she spent the evening cutting surprise visitor Link's hair. Are you guys warming up to Link yet? The man revealed he had cancer as a kid, and he cut his hair to make his young patient feel better. You can't possibly dislike the guy after that!
The backstory on Link made up for the fact that he's a thirsty son of a gun who thinks he's supposed to date all of his co-workers.
Link was so very compassionate, supportive, and tender with his patient and Michelle, the patient's mother. Up until now, most of his cases didn't afford him the opportunity to show off the full extent of his bedside manner. 
Link is likable, and he's blending in nicely with the other characters. He barely feels like the new guy anymore, but he shouldn't be with Meredith. DeLuca shouldn't be with Meredith either. However, it was amusing when both guys held the elevator opened for her and were being flirty. 
Meredith is amused by this, but it doesn't seem like she's into either of them that way. She's a smart woman who had enough experiences in that elevator to know her best bet was to take the stairs. The love triangle teased may not be that bad if nothing comes from it on either side and it's a flirtation more than anything. 
Nevi, or Shmico, on the other hand, needs to happen. The two of them made progress in their flirtation in the form of a hot kiss in the elevator of lust. There is a small pocket of fans out there rejoicing over this. 

Related: Stream your favorite British shows anytime, anywhere, commercial free with Acorn via Prime Video Channels!
Grey's loves to play the "baby gay" card. It was Levi's first experience with a man, and he loved it. Unfortunately, Nico is not looking for a relationship nor is he interested in teaching or breaking in a newbie to the LGBT lifestyle. 
He sounds like Arizona, and we all know how that turned out, so do you, Nico. You won't be able to resist that adorable dork with the glasses for long after that kiss.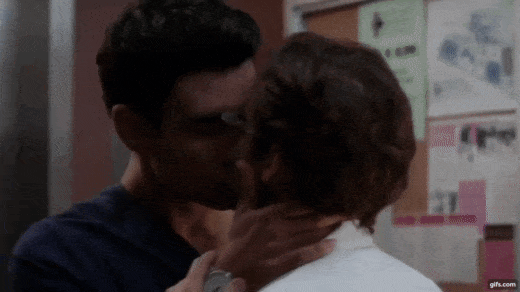 Can we commend DeLuca for doing the right thing and resisting the urge to run into that little girl's surgery because he figured out she had a crush on him and didn't want him seeing her exposed? First, who wouldn't have a crush on DeLuca? Second, DeLuca has been killing it as a doctor this season, and it's the best. 
The holiday affected Maggie as well as she spent the hour thinking about her mother. Before she died, Diane asked Jackson to look after Maggie. The circumstances are different than she may have intended, but it's touching to know that he kept his promise.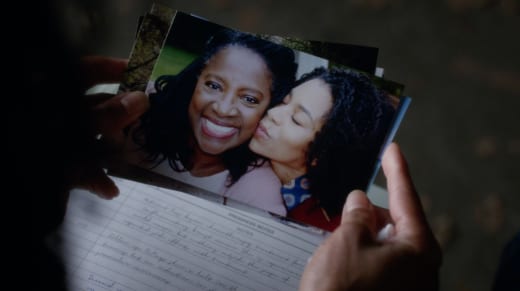 Jackson is putting his all into making things right with Maggie, and he's smart enough to know that it was necessary. Their relationship aside, he did a fantastic job making her day a little easier to deal with while she had her mother on her mind. They are an adorable couple. 
The Owen, Teddy, and Amelia storyline is less frustrating than it was. Teddy made a real attempt to tell Owen the truth, and they had a conversation that they needed to have. Owen acknowledged how crappy he was, and he acknowledged that Teddy was right in what she said. 
Owen: I wanted to be a dad my entire life. You know that.
Teddy: I know.
Owen: And Leo turned into Leo and Betty, and Amelia.
Teddy: Owen.
Owen: Yeah?
Teddy: Are you happy?
He was gushing about Leo, and fatherhood suits him. Teddy can tell that fatherhood suits him, but she also sees his happiness. Owen doesn't come across happiness often. He's like a ginger Eeyore most of the time. 
It's understandable that she wouldn't want to disrupt that, so this time when she backed off, it wasn't as grating. She can't put it off forever though. 
Related: Grey's Anatomy Round Table: The Best Version of Amelia
She witnessed the family that he has formed with Amelia, Betty, and Leo. They are as real of a family as it gets. Betty's disappearance sent Amelia into a fit of worry, and she freaked out with good reason. Owen was much calmer, but you can tell he was worried. 
Teddy jumped right into the fold helping them search for Betty. It was a promising sign that showed that they would be fantastic co-parents, and there is room for her to be a part of their unorthodox family too. This show is masterful at portraying bonds and families in all of their forms. It's enough to make one emotional.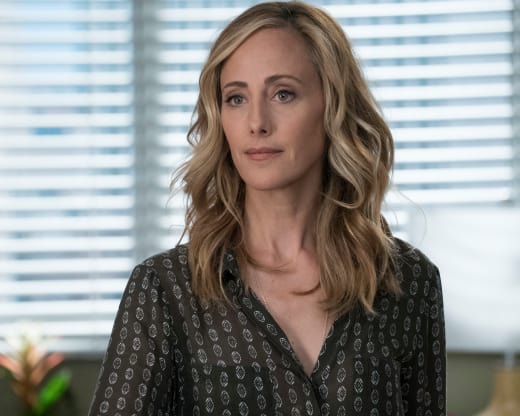 The Jo and Miranda partnership continues to be a fantastic dynamic for the series. Miranda Bailey is such a badass. She used the 5-second (minute) rule on a liver and brought it back from the dead to put in her dying patient. 
There were a few times where it seemed as though the woman would die, and the two friends had a vibe that was reminiscent of something from the movie Beaches, but it's a relief that she lived. 
Jo is quite the rebel challenging her Chief husband, but it suits her. Alex is proud of her for it. They are in the honeymoon phase, but Bailey and Ben's relationship is causing distress. 
Jo: I don't know if Alex will ever forgive me for this.
Miranda: If Roberta dies, and you could have saved her, you'll never forgive yourself.

The two of them have been the epitome of #RelationshipGoals forever, so the idea of their relationship coming to an end is unfathomable. 
Over to you, Grey's Fanatics. Did you love that nostalgic moment with Meredith's ghosts? Where the heck is Betty? 
Which new 'ship teased during the hour intrigues you the most? Hit the comments. 
You can watch Grey's Anatomy online here via TV Fanatic. 
Jasmine Blu is a senior staff writer for TV Fanatic. Follow her on Twitter.