It's almost worse watching other people making poor decisions than it is to make them yourself.
When you're doing something stupid, being in the thick of it is all-encompassing. You lose sight of everything else and focus on what's right in front of you, forgetting your stupidity.
The volume of poor choices is rising as of Tell Me a Story Season 1 Episode 3, but there are still a few times when reason sets characters straight before there's no turning back.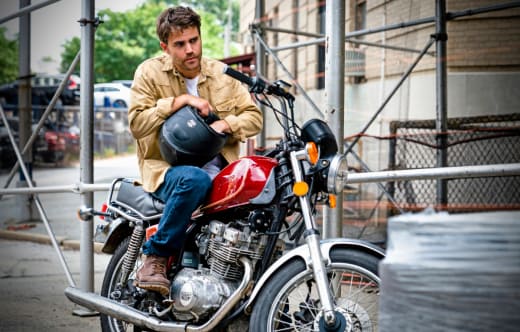 Jordan cannot get Eddie out of his mind, and who can blame him? 
All he can see are visions of his dead wife telling him she loved him -- when he's not seeing visions of people in pig masks, anyway. Losing someone like Jordan did Beth has to mess with your mind in ways the rest of us can't even comprehend.
I went in for a voice lineup. I identified one of the pigs.

Jordan
The funeral haunts him, his friends can't console him, he wants justice by way of the detective reeling in Eddie and finding more evidence.
Related: Tell Me a Story Review: Standout Performances Strengthen New CBS All Access Drama
As we see with pretty much everyone on canvas, lack of communication is a killer. 
Jordan calls the detective over and over again when he's drinking to try to get answers. Eddie and Mitch try to pry them out of Sam when they don't hear from him about the sale of the rough diamonds. Hannah can't take being in the dark about Dan Simmons and lights up his phone. Even Kayla imagines hell without her phone.
Maybe the lack of money isn't the root of all evil, it's the lack of communication, instead!
Look what it did to Jordan. He took to stalking Eddie and almost blew his brains out on Eddie's couch. That would have left plenty of evidence behind to ruin Jordan's life.
Hannah followed clues to a storage locker leading to a huge bag of money and stole it. She's decided that her early life was so terrible she deserves what isn't hers. It wasn't Dan's either, she counters, but she's in too deep. She's lost all reason.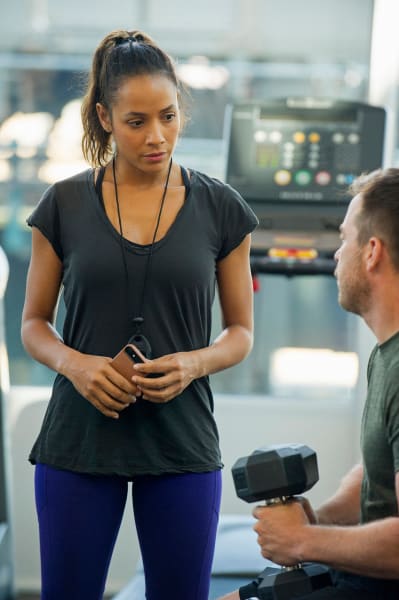 As a result, HER DNA is left all over her apartment along with a bashed up and dead thug. That was incredibly implausible, but I guess we have to roll with the idea that working out makes you a mini super-heroine.
Colleen is still trying to reach her granddaughter via traditional methods, but the more she talks about being mean, the more convinced I become there will be more to her story than I've been willing to allow into my head so far.
Related: Tell Me a Story Season 1 Episode 1 Review: Hope
Colleen wants Kayla to work her way into her good graces, and it starts to mean something to Kayla. She begins to admire Colleen and what she's accomplished over the years.
It's like we're a triangle on one of those teen shows on the network I don't watch. In dramatic terms, it's what's known as a trope.

Ethan
But that little shit, Ethan, won't stop messing in Kayla's life, and by doing it he keeps pushing Kayla toward Nick.
Ethan: This really is one of those teen shows.
Kayla: This is not some triangle.
Ethan: I'm talking about the part where you're fuckin' your teacher. Oops. Another trope.
And like the very trope Ethan pointed to when being the snotty trope that should be killed first in the horror film, Nick cannot keep his hands off Kayla even if it isn't in his DNA to use them.
Oh -- can you believe he's a writer? GROAN.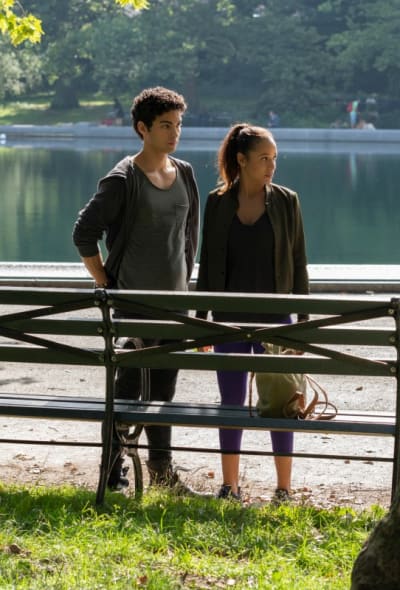 It's hard to believe I was initially convinced Hannah was the good sibling and would get Gabe in trouble. Gabe is staying cool despite being the first of the two to kill. They went from being hard-luck kids to murderers and thieves. 
Now they'll be on the run from the same guy who just threatened to kill Mitch and Eddie if they turned up again asking about the money. 
Related: Get CBS All Access via Prime Video Channels for Hit Shows, Exclusive Originals & Live TV!
Sam has the hardest of the little pig houses for the big bad wolf to huff, puff, and blow down, but Jordan is going to do what he can to put an end to that trio and send them away for murdering Beth.
If Sam is the villain in Hannah and Gabe's Hansel and Gretel story, how will Jordan's huffing and puffing affect it?
Other than Tim's connection to Jordan and the pigs getting costumes from Colleen, the thread through Kayla's little red riding hood is also rather thin. How will they all collide?
The issue of trust between Colleen and Kayla will come to light, and it seemed too easy for Colleen to allow Kayla the two hours to herself with a new gender-free friend, especially once Nick's door closed and the framing of the shot included what appeared to be an empty stairwell next to his apartment.
Was it empty, or did Colleen follow her granddaughter to test how far that trust stretched?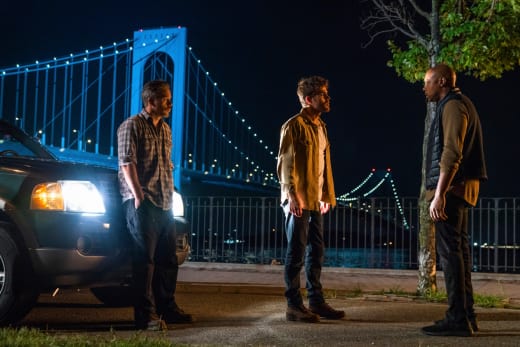 If Jordan doesn't harm the three pigs but only shakes them down so they turn themselves into the authorities, the story could turn in another direction and bump into the both Hansel and Gretel and the red hood.
With only ten episodes and a lot of characters making some pretty awful decisions, it doesn't seem like there will be a lot of time to get to know them all before they start cracking under the pressure of just trying to live long enough to make another crap decision.
Related: Tell Me a Story Season 1 Episode 2 Review: Loss
It seems like the connections and coordination of the stories are only beginning, and there will be a lot more surprises on the way.
Do you have any theories on what lies ahead?
James Wolk was the performer of the week, and honestly, he's been getting the juiciest material with all of the grieving and loss. 
It's not as captivating cheering for people without a more pure motivation making questionable moves. Davi Santos has done a nice about-face as Gabe worrying about what's left of his family and wondering why Hannah changed on a dime (ironic).
Kim Cattrall's performance as the woman who has no desire to be the "cool" grandmother exactly why continuing Sex and the City wouldn't be any fun without her in the role she originated and doesn't want to talk about. She offers something nobody else does. We need her around more often.
The writing is getting more clever and in tune to the production, where it's airing and its cast. If it continues, the remaining episodes should be all uphill from here.
Carissa Pavlica is the managing editor and a staff writer and critic for TV Fanatic. She's a member of the Critic's Choice Association, enjoys mentoring writers, conversing with cats, and passionately discussing the nuances of television and film with anyone who will listen. Follow her on Twitter and email her here at TV Fanatic.