A Million Little Things Season 1 Episode 10 Review: Christmas Wishlist

Jasmine Blu at .
Well, that's going to be enough to have you eagerly awaiting the show to return. 
A Million Little Things Season 1 Episode 10 dropped a couple of bombshells on us at the end of the hour, and it made the last 10 minutes of the hour worthwhile. Prior to that, I was getting a bit antsy.
How about you?
For months we have speculated that Jon isn't the perfect guy that he came across as being. There was more to him, and as much as we know about the effects he had on everyone around him, we didn't (and still don't) know very much about him. Jon is a mystery. 
But after discovering that he was having some serious financial issues, we now have that "shocking" final scene between him and Ashley. Jon was having an affair after all, and he was having an affair with Ashley. 
Related: A Million Little Things Season 1 Episode 9 Review: Perspective
How are you guys feeling about that twist?! I don't know how to feel about it. It was such an obvious conclusion that I hoped it was something more creative and complex. Perhaps that was the point. 
I'm a bit disappointed, and not because I bought into Jon being this perfect guy. That part wasn't shocking at all. 
I dislike that it was another case of an affair and it involved a character who is already irritating enough as it is. Ashley needed something to make her more likable not more loathsome.
It's bad enough that she has been keeping things from this family, and she has kept the blue envelope from Jon's wife. She has more answers than anyone right now, but she's keeping Delilah in the dark about things that affect her and her family. 
She knew about the eviction notice, and she was there to see it delivered to Delilah on freaking Christmas Eve, but at no point does she think she should fill someone in on any of this?! 
Process Server: Delilah Dixon?
Delilah: Yes. What's this?
Process Server: You've been served.
Delilah: What?
Process Server: You have 21 days to vacate this house.
Ashley hooking up with Gary, while irritating as hell, was the perfect time for her to bring him in on some of this, but she didn't. She spent time in that office telling Gary that it wouldn't matter or change things if he knew why Jon killed himself. 
Now it's evident that she could be walking around thinking Jon did it because of his financial woes, Delilah's affair, or their affair, but she's still unfazed by it all. It's like she doesn't care that she's playing with people's lives. 
Related: ABC Midseason Premiere Dates:  A Million Little Things Interrupts TGIT
She's messy, and there is nothing shown so far that justifies it. 
It does make the insurance policy stuff interesting. Jon did not want Ashley to access his Rutledge file. Not only was his suicide note strictly for Delilah, but some of the other papers were for her alone too. He stated that Ashley didn't know something and implied that he didn't want her to know. 
I want to know why. Who is Ashley? We know she's his mistress and assistant, but there is more to her. 
Did Jon trust Ashley with everything? Why did he leave her out of the insurance policy? Why was he keeping things from her? 
The Jon and Ashley affair is also agitating as hell because it's supposed to make us feel differently about Eddie and Delilah. For some reason, the series is pushing this love story between these two barely tolerable characters. They had a plethora of "special" moments throughout the hour. 
The only way the series could get more people on board with this particular 'ship was to change our perception of Jon and the situation. First, it was the cryptic phone call he left Eddie where he said: "take care of each other." The implication was that he found Eddie's necklace and gave his blessing before he died. 
Eddie: I'm going to be outside.
Delilah: No, stay. You're the father. You need to be here. You were such a great dad today.
Eddie: I just want everybody to be OK.
Now, we know that he was having an affair of his own, so it's supposed to make Eddie and Delilah's actions less reprehensible, I presume. For those of you who weren't fans of this pairing, did it work? 
Are you OK with Delilah and Eddie now that you know Jon was also carrying on an affair? 
Related: Grey's Anatomy Season 15: What Worked and What Didn't!
That's a hell no for me. For one, that still doesn't change the fact that Eddie cheated on Katherine, and she has only improved and become more sympathetic and likable since the pilot. Second, everything that relates to Delilah and Eddie as a couple still sucks. 
Delilah hiding her pregnancy from her kids reached the point of discomfort. All of the adults attempting to keep this secret and behaving strangely around the Dixon children was reminiscent of a bad skit. There were so many cringe-worthy moments.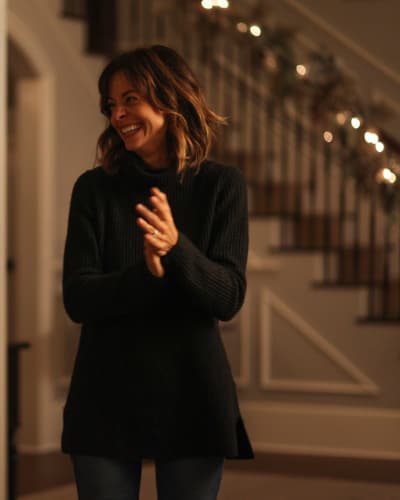 It was cringe-worthy when Delilah put off going to the hospital after that fall knowing the risks. If I'm not mistaken, she would be considered a higher risk pregnancy because of her age, and she was spotting. Go to the freaking hospital! 
The most cringe-worthy of them all was when the doctor, who must have spent time at Grey Sloan Memorial on Grey's Anatomy, told Sophie that her mother was pregnant. 
That secret is out of the bag, but how long before Sophie and anyone realizes that Eddie is the real father of the baby? As irritating as their love story is, it's more annoying that Eddie has to keep this secret at all. It's not fair to him, and it's not fair to their future child. 
Can you imagine what will happen if down the road this kid discovers that their real father was there the entire time, but Jon's honor, or Delilah's marriage, or their siblings' feelings were the priority? 
It's hurting Eddie not being able to claim his child. That's important to him. Eddie is the most confident in his abilities as a father. He was fantastic with Sophie. 
Eddie and Katherine's interactions are more compelling than his relationship with Delilah. He wasn't there for Katherine when she was pregnant, but he can be all of these things he failed to be with Katherine with Delilah. That was awful, and the reminder was painful, but Eddie's self-awareness was interesting. 
Eddie: When you were pregnant with Theo, I could have been better. Katy, I'll never forgive myself for not being there.
Katherine: Thanks for saying that, Santa.
Between that moment where he could acknowledge his wrong there, and that sweet moment when Katherine hugged him and told him not to drink, I'm curious about their story and whether or not it's over. Their co-parenting situation is refreshing, and they get along well now, but sometimes they feel unresolved. 
It makes me curious about their origins, too. They both are changing so much and reevaluating their lives. It would be kind of crazy if they found themselves back to one another. 
Katherine is quite the character. She forgave Eddie and still cares about him. She's civil with Delilah when she doesn't have to be, and now she's helping Delilah with this eviction situation.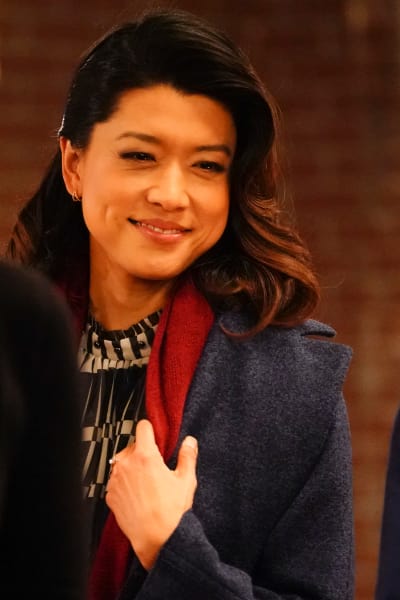 Katherine is a damn saint. The juxtaposition between her and Jon is interesting too. Despite being a workaholic, Jon was idolized and viewed as perfect by everyone around him. Katherine was always demonized for being a workaholic and portrayed as a cold shrew. 
Jon left his wife and kids $18 million in debt and with no home, and Katherine is helping Delilah out, spending time with her son, and will support her ex if he falls off the wagon on tour. 
Gary and Maggie and Rome and Gina are still the strongest couples of the series. They had heartwarming moments during the hour, too. 
You know Gary loves Maggie if he was willing to kiss her after she puked all over him. He was so relieved that she went to chemo, that he couldn't help himself.
Gary: You wanna know why I had sex with Ashley?
Maggie: Oh God, I don't know, Gary. Why?
Gary: Because I'm in love with you!
Did Gary buy a new painting for Maggie's wall? That couldn't have been the one he destroyed. 
Maggie got over Gary sleeping with Ashley, which works for me because she didn't have a reason to be upset when they were separated. Now, the two of them can focus on her treatment. While there is still an ominous tone to her future, the biggest issue for them may be Gary's reaction when he learns more about Jon. 
-Related: Get HBO via Prime Video Channels for Addictive Dramas, Hilarious Comedies & Hit Movies! -
He has idolized Jon and held onto Jon being the guy who was there for him when no one else was. It still makes me curious about his family situation because he puts his all into this friendship group. When Gary finds out unflattering things about Jon, it's going to destroy him.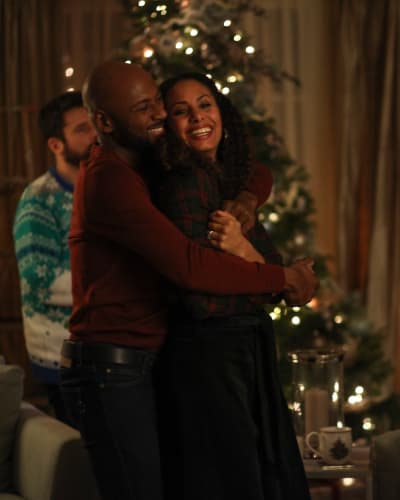 Meanwhile, Rome and Gina are the cutest couples. 
Rome has made progress because he was able to tell Regina that his antidepressants affected his sex drive, which is something many people would be too embarrassed to admit. 
He also was able to share with her that she cares for him so much that sometimes he feels emasculated. That conversation was such an important one that they had, but it also was handled well.
Regina didn't get offended or hurt by his words. She asked him what she could do to change that for him, and it was the best conversation of the hour. 
Regina: I love you, and I'm going to keep showing up for you. You just tell me how.
Rome: I love you. I'm blessed to have you in my life, Gina. All I want for Christmas is us. But before I can get back to us, I have to get back to me, Gina. And I will. I will. I'm going to get off the meds, Gina.
It's disconcerting that Rome wants off of his meds so soon though. They seemed to be working for him. Depression is a journey, and Rome is about to take us along with him for this incredible journey. 
The midseason finale was slow, and it didn't pick up until the standard dropping of bombshells in the final moments of the hour. It was still a solid hour, however, and I cannot wait for the show to return! 
Over to you, Million Things Fanatics!  Was the midseason finale slow? Did you expect that Jon and Ashley reveal? Will Eddie remain sober on his tour?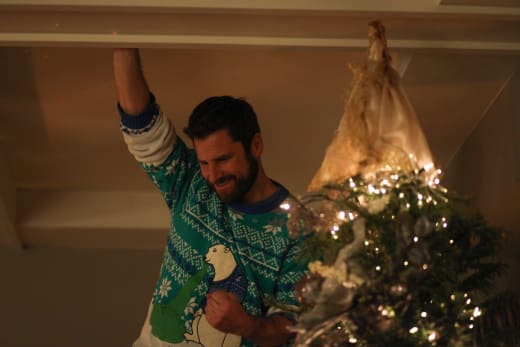 Does finding out about Jon and Ashley change how you view Eddie and Delilah? Do you think there's still something there between Eddie and Delilah? Should Rome go off of his meds? 
Hit the comments with all of your thoughts, theories, and reactions! 
A Million Little Things will return THURSDAYS on ABC at 9/8c. 
Until then, you can watch A Million Little Things online here via TV Fanatic! 
, 
Jasmine Blu is a senior staff writer for TV Fanatic. Follow her on Twitter.