Frank was embroiled in yet another NYPD controversy on Blue Bloods Season 9 Episode 10 but this time it turned into a different family's affair.
I'm not about to defend people who were stealing, but Lt. Harvey's ploy was pretty blatant. 
He had a sneaker truck with a huge basketball logo "break down" on the corner and then had the driver walk away and leave the truck unlocked.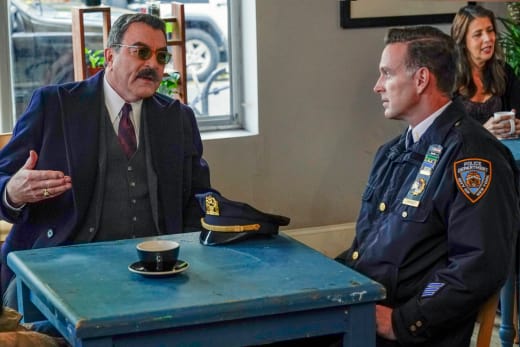 I had the biggest problem with the unlocked part. It would have felt less like a set up if someone had broken the lock on the door. 
I know Lt. Harvey was using this to round up gang members, but would the same thing work to round up white collar criminals if they left an open wine truck on an upper East-side corner?
It was no surprise that Garret saw this as a blow to community policing and Sid adamantly defended Lt. Harvey, but who the heck lets Gormley talk to the press about anything? Sid has a lot of strengths but keeping his cool with the press isn't one of them.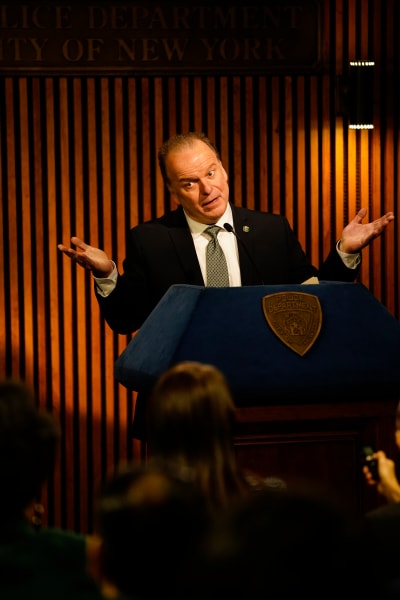 As we saw with this Blue Bloods quote, he can barely keep his cool with Frank:
Frank: This is an internal affair. We keep our own council. We speak as one and only after we've decided where we've landed. You got that Lieutenant?
Sid: Loud and clear. We let Harvey swing in the wind.
Frank: Watch it, Sid.

In the end, Frank let Lt. Harvey off with a verbal warning and the clear message that his tactics were now under scrutiny, and Det. Powell got suspended for leaking the tape. 
Can you imagine what a Harvey/Powell holiday dinner will be like after this incident? Talk about taking family tension to a whole new level. 
Related: Get CBS All Access via Prime Video Channels for Hit Shows, Exclusive Originals & Live TV!
Speaking of dinner, the Reagan family dinner went from making me all warm and fuzzy over Nicky stopping in to put up the Christmas decorations with her great-grandfather to talking about Danny telling his siblings there was no Santa Claus. 
This will forever be my most hated Reagan family dinner because just minutes earlier my young child wasn't feeling well and came out to sit on the sofa and heard every word. There are lots of shows I'd immediately turn off with her in the room, but Blue Bloods was never one of them; now I wish it was. 
I wish shows would either enjoy Santa or just ignore him. I know that this airing occurred when most, but obviously not all, young children would be asleep, but Blue Bloods airs during the day in syndication on several networks. No doubt other young children will watch that scene with unsuspecting parents in the future.
Bah humbug.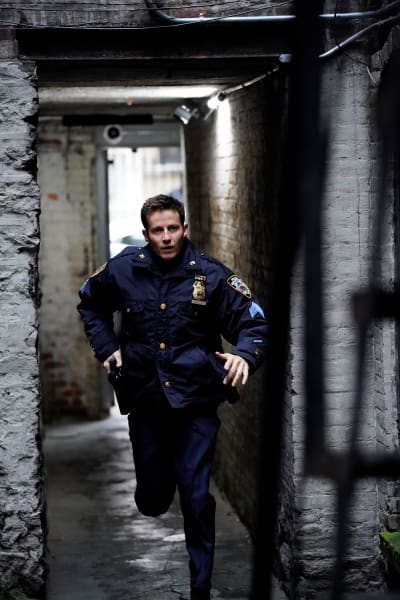 Jamie wasn't exactly having fun on the job either. He was getting pranked by Officer Wallace, aka Tuna, but it seemed to bother Eddie more than it did him. 
I couldn't believe that Eddie locked the guy's cuffs in retaliation. That showed extremely poor judgment as someone could have gotten hurt or even killed as he fumbled trying to get them open while making an arrest. 
Jamie was right to give her a write-up and handle this type of hazing in his own way. 
Eddie transferred to the precinct to have Jamie's back, and as much as I love these two sharing scenes together at the precinct, I think that was a poor decision. 
Related: 17 Mystery-Solving TV Couples
Eddie's partner called her out on sleeping with Jamie and Eddie denied it. How do you think Officer Thomas is going to feel when she learns Eddie lied to her face and has been secretly engaged to her boss?
She'll feel betrayed and like she can't trust her partner, and many of the other officers probably won't take it well either. It's only a matter of time before Jamie and Eddie experience the fallout once the truth comes out. 
Elsewhere, we learned that Danny has a love of hip-hop which didn't seem to amuse his partner half as much as it did me. 
Unfortunately, I didn't find the case all that compelling, probably because it felt like it got short shrift sandwiched between everything else going on in the episode. Having four competing storylines in the hour always leaves one of them feeling hollow.
When Gooding began prompting his partner about Charlotte's murder, I wasn't sure if he was wearing a wire or if he was going to kill the man once he confessed. He settled for smashing a glass into his head and having him arrested. 
Erin had to fire her first ADA, but no one could say it wasn't warranted. 
When Richardson failed to produce one witness in that suppression hearing, it was apparent he had failed at his job purposefully. 
I couldn't believe that he thought he'd still have a job after admitting the defendant had threatened his family but he decided to keep that a secret. If he wanted a career as an ADA, he should know that the first thing he needed to do was report it. 
But Richardson's judgment was poor all around. Why did he think Healey, a career criminal who threatened him, owed him something? And how could he possibly think confronting the man with a gun wouldn't make things worse, or even tragic?
If Erin and Anthony hadn't have been there to intervene, Richardson would have ended up being arrested or killed. 
Related: 13 Minor Characters We Adore
I was relieved when Anthony didn't give him his gun back that night; at least he had a night to cool off which would hopefully keep him from doing something stupid. 
So TV Fanatics, what did you think of the broken down sneaker truck ploy? Was it a great plan or a horrible blow to community policing? 
Did ADA Richardson deserve worse than being fired? 
Are Jamie and Eddie headed for some unpleasant consequences for keeping their secret?
And was I the only one upset by the Santa Claus talk at dinner?
Check back in for my Blue Bloods Season 9 Episode 11 review, and until then, you can watch Blue Bloods online here at TV Fanatic.
C. Orlando is a TV Fanatic Staff Writer. Follow her on Twitter.