Outlander Season 4 Episode 5 Review: Savages

Carissa Pavlica at . Updated at .
Crikey. The books are too long to jam into short seasons. That's the deal here.
The characters don't have any time to breathe and settle into their lives on screen, and the result becomes episodes such as Outlander Season 4 Episode 5, in which Claire is traumatized once again.
The significant issue the series runs into with its cramped pacing is the attempt to log all the seminal moments without the subtle beauty that makes a couple come alive. A couple like Claire and Jamie doesn't become beloved because they touch each other's faces or jump into each other's arms at the first sign of peril.
There are words exchanged, dinners shared, baths, and sexual encounters far beyond a quickie up against a tree in the woods. Slow down the frenetic determination to deliver so much plot in an episode, and allow the characters to revel in each other.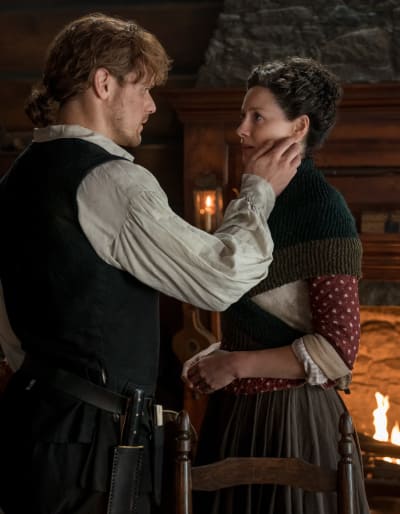 Jamie headed off to the city to find people to join them on Fraser's Ridge. They barely know the lay of the land yet, whether their crops will grow or livestock will flourish, so it seems a little early to start a new neighborhood, but living alone isn't any fun, either.
He soon discovers nobody will join them because their attempts at farming were plundered by the British who taxed and overtaxed until they couldn't afford to live off the land they were trying to cultivate.

Related: Outlander Season 4 Episode 3 Review: The False Bride
It was probably wise of Jamie not to share his in with the governor, but he's going to have to chat with the guy before they can get any other farmers on board and make use of the 10,000 acres at their disposal.
Their nearest neighbor just bit the dust, and it's possible the Indians are no longer interested in pursuing their newly minted friendship.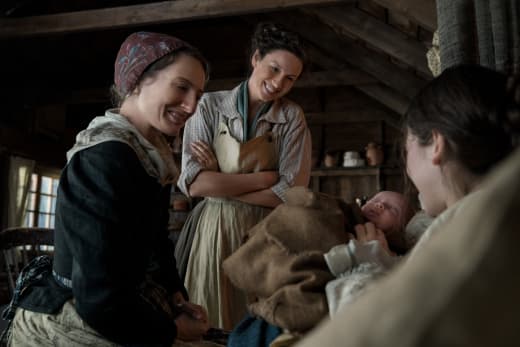 Claire wasn't extremely excited to visit with the Muellers to deliver Petronella's baby, but it was an easy birth, and Frau Mueller was so delighted with how things went she offered to share her granddaughter with Claire.
Petronella even named the baby Clara after their neighbor. The women in the family, at least, saw the benefit of having a healer nearby. 
I'm not sure why I'm negative in any way here. Herr Mueller was also thankful to Claire and pleased with the birth of his granddaughter. The full family appreciated what Claire had to offer.
And it was splendid fortune that Claire happened to be at their home when the Cherokee were passing through and chose to stop right in front of the house to water their horses.
The way the remainder of this story plays out makes sense. Herr Mueller blaming the death of Petronella and Clara on what he witnessed at the water is hardly surprising.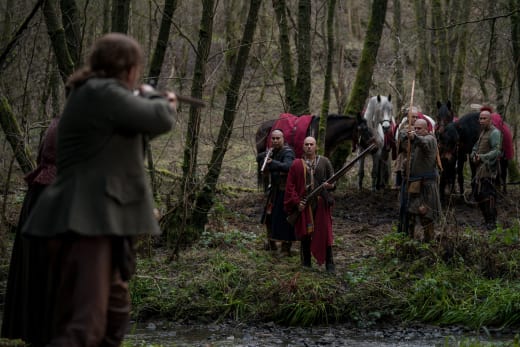 Why would he trust Claire that the Cherokee were placing a "blessing" on the water just moments after the two groups had an argument in which both had arms drawn? Frankly, it's hard to believe.
Would I believe that in general Herr Mueller would think the Cherokee would place a hex on his family due to their many run-ins over the course of their attempts to live side-by-side? I would. But I would also hope that someone could reason with him that he was kind of thinking unreasonably.
Related: Outlander Season 4 Episode 4 Review: Common Ground
But in the way "Savages" played out, we're talking the span of one week and a highly unlikely scenario.
I'm pained by the way this episode was written. The Cherokee are not going to provoke the Muellers by watering their horses right in front of their tiny home when the creek flows in directions far up and down the wooded area. That's a ridiculous notion.
It's also ridiculous that Tawodi would push the issue by waiting another second to exacerbate the situation and bless the water. He would have blessed it after they water their horses elsewhere.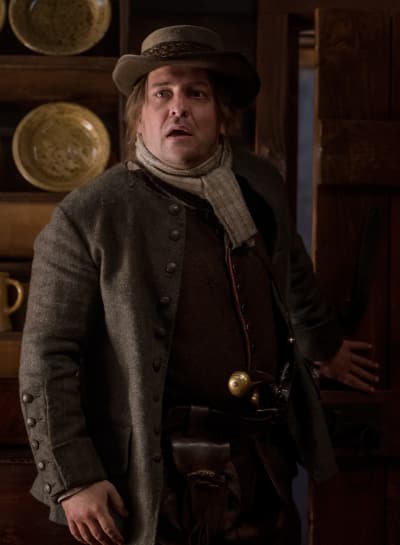 While I realize waiting wouldn't have allowed the situation to play out in front of our eyes, did it have to play out like that for us to believe it could play out? Was it necessary for it to be only a week? Couldn't Petronella and Clara have died of measles further into the season, so it felt more natural to the storytelling?
Pushing the events into unrealistic time frames is one of my beefs with Outlander. Jamie could have gone out of town, and Claire could have continued her friendship with Adawehi for longer than the 10 minutes we got to see of them together on screen. 
I know Petronella had a year with her baby in the book Drums of Autumn before they succumbed to measles, so the blessing of the water shortly after delivery was likely created for the TV series. Less spoon feeding, please and more natural progression.
At least there was good news to come from the city after Young Ian got taken for a ride by the local blacksmith.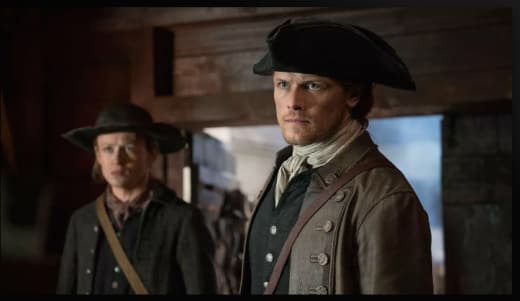 Poor Murtagh is the only of the three friends to have aged since he was last seen, but aye, it's wonderful to see him again!
Jamie ready to tan his hide for overcharging was the angriest he's been in quite some time. That quivering voice must have sounded like music to Murtagh's ears. The two men have been through a lot since they've been together last.
Claire: Murtagh! Jamie said you weren't coming! Is it really you?
Murtagh: Well, it's not the Boogie Woogie Bugle Boy!
Coming up, we should find out a lot more about the years Murtagh was indentured and how he spent his time before the lovely and unlikely reunion.
We'll also be dealing with Brianna's time in Scotland, as she disappeared through the stones at Craigh na Dun. With Roger not far behind in Inverness, how long will it take before he's packed up the necessities he needs to make a similar trip? How do they know they'll all land at the same place and time, anyway? 
Related: Get Starz via Prime Video Channels for Captivating Original Series & Hit Movies!
What does the future hold for the Frasers and the Cherokee after the loss of Adawehi? Do you have any guesses on how long it will be until Brianna arrives in America? What's up with Jamie's dream about her birthmark? How excited were you to see Murtagh?
Drop a comment below and share your thoughts on all things Outlander, and don't forget that you can watch Outlander online via TV Fanatic any time.
Carissa Pavlica is the managing editor and a staff writer and critic for TV Fanatic. She's a member of the Critic's Choice Association, enjoys mentoring writers, conversing with cats, and passionately discussing the nuances of television and film with anyone who will listen. Follow her on Twitter and email her here at TV Fanatic.