A new year means a new rewatch. You can't start 2019 without your weekly dose of Buffy the Vampire Slayer.
We're picking up right where we left off: Faith's cover being blown on Buffy the Vampire Slayer Season 3 Episode 17!
From here on out, the Slayers are at war, and the tone is about to get a lot more frosty. Let's find out how the tides turned by rewatching "Enemies."
Ever since the end of Buffy the Vampire Slayer Season 3 Episode 15, we knew that Faith secretly joined up with Mayor Wilkins.
Her betrayal stayed in the shadows after she turned against Buffy, and she played her part to help the mayor every now and then. The effects of her deception, however, didn't truly make its impact until now once the others discovered the truth.
Related: Get Shudder via Prime Video Channels for Spine-Tingling & Provocative Films, TV Series, & Originals!
Faith took big strides towards hurting the Scoobies. First by stealing the Books of Ascension and then by trying to steal Angel's soul; both moves that would've seriously hurt the group. (And she nearly got away with it if it weren't for those meddling kids.)
Though, her real weapon came in the form of emotional manipulation.
Faith knew exactly what would hurt Buffy the most; that hurt came in the form of stealing Angel. Say what you will about Faith, but she's petty and goes for the jugular. The Angel attack was based on equal parts necessity and pettiness.
Did Faith have true feelings for Angel? It's a question that nags me every time I binge through Buffy the Vampire Slayer Season 3, and further into the Angel spinoff series.
The pair definitely had chemistry, that much we can all agree with. And, they both suited each other based on their predisposition for darkness and what was felt within their core. Almost like kindred spirits in the grand sense.
But, which came first: Faith's attraction to Angel or her jealousy at getting whatever Buffy wanted?
The earliest form of her "crush" came when Angel tried to help her when she spun out of control over the murder. This time the after-effects of that connection manifested in a tender "will they/won't they?" conversation. You could feel the heat in their almost kiss.
Wesley: And you say this demon wanted cash? That's very unusual.
Giles: Demons after money. Whatever happened to the still-beating heart of a virgin? No one has any standards anymore.
Faith wanted to let herself go and collapse into his arms.
Turning Angel to the dark side would've helped the mayor, but deep down she wanted that relationship. Though, from the philosophical question posed above, I would deduce that she did like him ... but her intensity was fueled because of her inferiority complex to Buffy.
If Angel wasn't in this tortured true love situation with Buffy, Faith wouldn't have played with fire so much.
Buffy had a major concern to be worried, especially about what she already knew about Faith. Plus, her gut sent out a lot of flashing warning signs that Faith would do something rash.
She's the Slayer, and she had to trust her instinct on many occasions to save her life. Buffy's instinct told her not to trust her frenemy. That's a great BFF to have.
Related: Buffy the Vampire Slayer Rewatch: Doppelgangland
Though, the scene of Willow comforting Buffy on the couch was peak Willowisms.
In true Willow fashion, she had word vomit with her own thoughts and made the situation even more worrisome. All of this was so adorable too; this was just another reason why we love Willow.
Buffy: I went to Angel's last night, and Faith was there. They looked sort of...intimate.
Willow: No way. I know what you're thinking, and no way.
Buffy: You're right. Faith would never do that.
Willow: Faith would totally do that. Faith was built to do that. She's the "do that" girl.
Buffy: Comfort, remember? Comfort here.
Willow: I mean, please. Does Angel come up to Faith's standards for a guy? Let's see...is he breathing?
Buffy: Actually, no.
Faith's "successful" ploy to steal Angel's soul was a shocking twist. A jaw on the ground, tea spilled over, glass shattering twist that would've changed everything!
Angelus was barely a distant memory when he returned. We never forgot the devastation he caused during Buffy the Vampire Slayer Season 2. Him returning this time brought back all those nightmares.
David Boreanaz thrived in his role as the psychotic killer vampire. He brought out his A-game, and you could tell that he loved every minute of playing the character. He let himself go in the moments with Faith and Mayor Wilkins.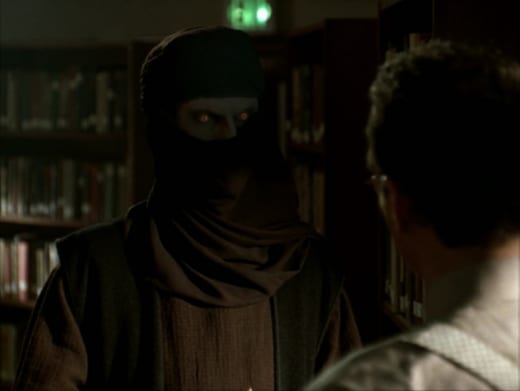 Angel the character, on the other hand, might have had a bit too much fun playing the bad boy.
"Enemies" implied that he did whatever it took to convince Faith and Mayor Wilkins of his villainy. That acting performance would include making out with and sleeping with Faith. Sure, he did it to get the truth, but I had second-hand sympathy for Buffy in all this.
She couldn't be with the man she loved and yet had to let him hook up with her enemy for the cause. Part of this internalized betrayal might've been one of the nails in the coffin of their relationship.
How could you get over the fact that your enemy could hook up with your love but you could never? That would be tough for anyone.
Buffy: I never knew you had so much rage in you.
Faith: What can I say? I'm the world's best actor.
Angel: Second best.
When Buffy and Angel revealed their undercover plan, the tone came off a little too soap opera. Come on, there was even a slow-motion Faith head turn and everything! (All that was missing was the dropping of a champagne glass.)
The scene will forever be one of the best twists, but the dramatics could've been toned down.
Faith totally let her overconfidence blind her judgment. She was ready to trust Angelus wholeheartedly without keeping him at an arm's length distance first. Never give up complete control because you want to hurt a rival.
Related: Legacies Season 1: What Has Worked Through Midseason?
But what really made the unveiling so satisfying was how well the characters sold it.
Angel went full Angelus during his time undercover and even made the Scoobies believe it (minus Buffy, of course). Xander rallied the troops ready to kill him and Joyce loved the compliments that Angelus threw her way. The believability worked well in this favor; we didn't even consider that Angel was lying during his transformation.
These near-reality twists seemed almost too truthful to be doubted. And Faith fell for it hook, line, and sinker.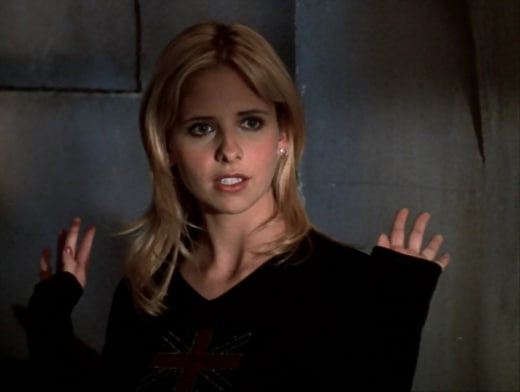 Buffy and Angel used that weakness to manipulate her.
Say what you will about physical strength, but strategic tactical maneuvers delivered the bigger hits. The Scoobies got all the information they needed to work against the mayor, and all it took was playing on Faith's insecurities.
That revelation added a new layer to the power of that scene.
Let alone the moment of Buffy shaking off her shackles and acting like the boss she is. No one would ever have power over Buffy Anne Summers. (And that's a truth to print, read, and save it in your scrapbook.)
No one can stop the Ascension. Mayor's got it wired, B. He built this town for demons to feed on, and come graduation day, he's getting paid. And I'll be sitting at his right hand, assuming he has hands after the transformation, I'm not too clear on that part. And all your little lame-ass friends are gonna be kibbles 'n' bits.

Faith
Buffy the Vampire Slayer Season 3 Episode 17 wasn't just about Faith's cover being blown. New pieces to the season-long plot were unveiled to help connect the web.
Firstly, Mayor Wilkins' played the mayoral game in Sunnydale for nearly a century, so the Scoobies knew they were dealing with a powerful sorcery/demon. And, the mayor would be making his big move during Sunnydale High's graduation.
Related: Buffy the Vampire Slayer Showrunner Hints New Series May Be a Revival
I love whenever an arc sets up a timeline.
The stakes are raised since it gives the characters a deadline to work against, and we as the viewers get a progression to follow as events happened. For all we knew, anything could've happened between now and Graduation Day; the mayor still had plenty to do before his Ascension.
Plus, the Scoobies had their own mini-plots to work within the interim. Like Cordelia's not-so-subtle crush on Wesley and Buffy's relationship woes with Angel.
Though, looking back on hindsight, both ended in typically dramatic fashion. Obviously, one was funnier than the other, but it worked for Buffy the Vampire Slayer's style.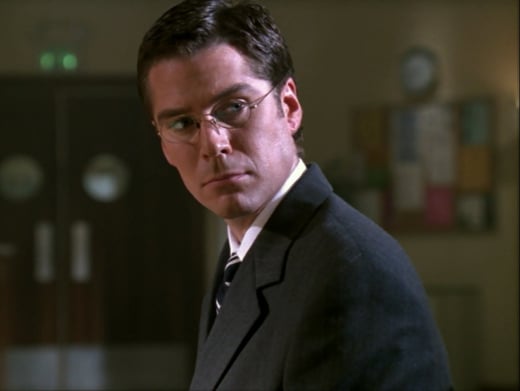 Now, over to you, Buffy the Vampire Slayer fans!
What did you think of "Enemies"?
Did Willow give Buffy the worst pep talk ever? Was Angel somewhat interested in Faith? Why do you think Buffy didn't stop Faith from running away?
Want to join us in rewatching Buffy the Vampire Slayer? We'll be posting new rewatch posts on Tuesdays and Fridays. Come back here and share your thoughts in the comments.
Justin Carreiro is a staff writer for TV Fanatic. Follow him on Twitter.