Arrow Season 7 Episode 12 Review: Emerald Archer

Brandon Vieira at . Updated at .
Lights. Camera. Action! 
Team Arrow was once again under the microscope on Arrow Season 7 Episode 12, being watched by multiple lenses as Oliver Queen dove into danger in an attempt to save Star City. 
However, this time they were invited by Oliver as he and his fellow teammates were a part of a documentary dubbed "Emerald Archer."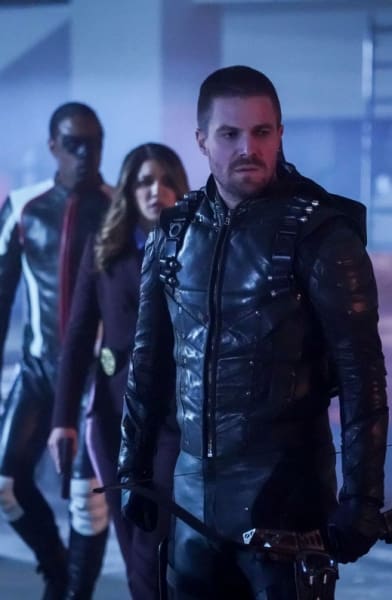 While it had the potential to be more strange than entertaining, the 150th episode of Arrow managed to be one of the season's best. 
It did an excellent job of balancing nostalgia with major plotline developments. A few moments outside of the documentary did answer some lingering questions that had Arrow Fanatics scratching their heads, but I couldn't help but wish that the documentary was the primary focus of the episode. 
He fights for justice and he cares about this city which is no different than any other officer here as far as I'm concerned. He just dresses in green leather and runs around with a bow and arrow. That sounded a lot better in my head, can we do that again?

Dinah
It was something that had never been done in the Arrowverse before, and considering the number of shows and material the Arrowverse produces, that's a pretty big feat. 
"Emerald Archer" gave Arrow the chance to celebrate its past as well as the opportunity to start a new chapter for Team Arrow. 
Related: Arrow Season 7 Episode 11 Review: Past Sins 
Kicking off the documentary style episode with an appearance from Quentin Lance was simply excellent.
He was the heart of the show for so many seasons and played a huge role in shaping who Oliver has become today.
Without his words of wisdom, the "Emerald Archer" documentary would have been incomplete. 
It was also great to see Thea pop up on our screens again. Emiko may be the sister that Oliver is focused on now, but Thea will always be the OG, and will never be replaced. Just like Quentin, Thea shaped who Oliver has become and without her, there would be no documentary. 
The producers of "Emerald Archer" also managed to scrounge some familiar faces many Arrow Fanatics forgot about such as Cindy Simone and Rory Regan, but they were all overshadowed by one Barry Allen aka The Flash. 
Barry on Arrow is sometimes a completely different person than the Barry on The Flash. Anytime Barry makes an appearance in Star City he leaves all his superhero troubles behind and becomes the goofy nerd we fell in love with instantaneously when he was first introduced on Arrow. 
Oliver is an interesting guy, unbelievably damaged...I hope he won't mind me saying that. All I meant by that is he has lived through a lot of darkness and all he really cares about is making sure no one else has to go through what he's gone through. No, no no, I didn't know he was the Green Arrow until he turned himself in. It's you know, like woah, big surprise! You think you know a guy...

Barry Allen
I know he has his own show and all, but I would love to see more Barry in Star City. Anytime he appears on this show, I'm always smiling. 
Related: Arrow Season 7 Episode 10 Review: My Name is Emiko Queen 
The documentary wasn't the only element on "Emerald Archer" that brought nostalgia either. For the first time in what feels like forever, Arrow brought back the old "villain of the episode" schtick the show did in its earlier seasons, and it was a breath of fresh air. 
These last few seasons of Arrow brought on villains who overstay their welcome. Yes, Diaz, I'm looking at you. Yet, what made the show such a hit in the first place was the action-packed episodes that saw Oliver take down villain after villain one episode at a time.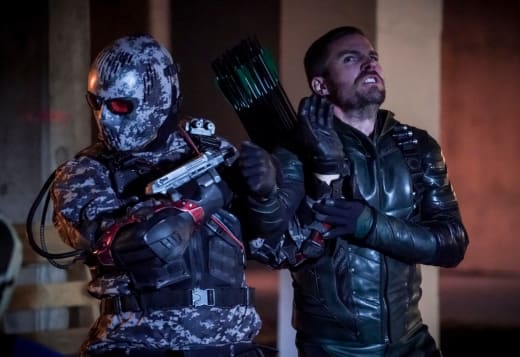 Kymara was a villain who posed a real threat to Star City and Team Arrow, but with solid teamwork and a good plan, they managed to take him down. Simple, yet effective. 
A milestone episode could've been the moment where Arrow decided to introduce a new big bad that would torture Oliver for the rest of the season, but that would've been tired. Kymara's quick pop in was perfect for an episode filled with nostalgia. 
Related: Arrow Season 7 Episode 8 Review: Unmasked 
We should also thank Kymara for his role in proving to that irritating Mayor Pollard that Team Arrow should be considered heroes and not vigilantes. Just like Oliver, Diggle, Rene, and Curtis have been deputized. Team Arrow is back y'all! 
The team's been separated for way too long, and it has been painfully obvious these last few episodes that it was becoming increasingly difficult for the show to figure out new ways to keep all the team members involved in the show without there being an actual team. 
Poor Curtis was almost completely absent for a number of episodes on Arrow Season 7 for this exact reason! Now, this reunion for Team Arrow finally puts to rest that issue as well as the whole hiding from the police story the shows been telling for nearly seven seasons now.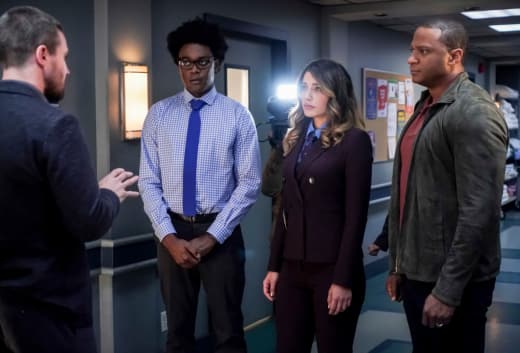 The most intriguing thing coming out of this Team Arrow reunion is where exactly Rene stands. Rene is probably the most loyal member of Team Arrow, and will for sure be excited that the team is back together. 
However, he and Emiko have formed their own partnership, and she doesn't have a badge to protect her from the Anti-Vigilante Act. Will he play for both sides, or will he choose one over the other? 
If he's forced to choose, I imagine he'll choose Emiko. It's clear the two have formed a strong connection over this short period of time, and while I'd be fine if the two remained strictly professional and platonic, I would much rather prefer to see them explore something more intimate. 
Emiko: Robert Queen was my father.
Rene: So when you told me about your mother, you kind of left out a pretty important detail.
Rene: Robert was out of the picture long before. I didn't want to tell you because I didn't want to risk changing things.
Rene: Changing what things?
Emiko: You and me...working together.
Rene: Why would it? Oliver's got his thing and we got our thing. Right?
Emiko: Yeah, we do.
Emiko doesn't seem like the type of woman who will freely share her feelings, but it felt as though she doesn't just want Rene to remain her partner on the field. She wants him as a partner off the field too, and seriously the man should go for it. It's been a long time since Wilddog got some love. 
Speaking of love, William wasn't feeling it from his parents and was definitely not in the mood to show them any either. A lot of Arrow Fanatics wondered what the hell happened to William after they stopped Diaz.
Turns out they thought it would be best to keep their already damaged child at boarding school, and not bring him home for Christmas. Parents these days... 
We know William has some serious daddy and mommy issues in the future, and this must be how they started.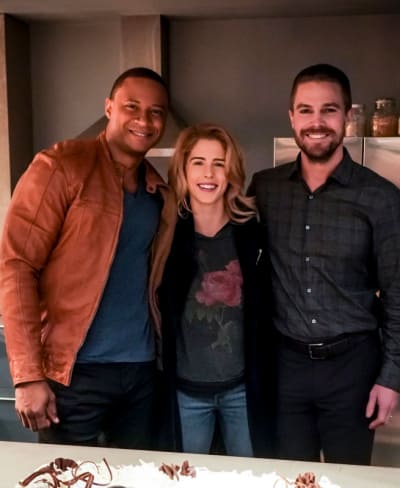 William's dealing with a lot right now, one issue most likely being his sexuality since we know he's a gay man in the future, but that's probably not the only thing he's dealing with.
Hopefully, we get the opportunity to see Oliver and Felicity actually be good parents for a little while before they screw things up again because as of right now, their parenting skills are the equivalent of a dumpster fire.  
Related: Get HBO via Prime Video Channels for Addictive Dramas, Hilarious Comedies & Hit Movies! 
"Emerald Archer" was mainly focused on the past and present, but Arrow Fanatics did get a glimpse into the future, and one thing is certain, Oliver & Co. did not leave a good impression on Maya aka Blackstar. 
Vigilantes were the death of Star City and they got exactly what they deserved.

Maya
As a very recently christened Shadowhunters fan, I am even more excited for Katherine McNamara's character Blackstar. We've seen her kick some serious ass on both shows already, but she remains a big mystery.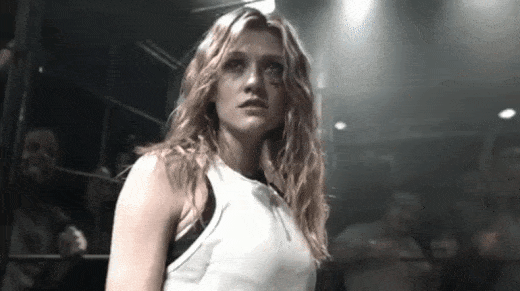 What is her connection to Team Arrow, and what did they do to make an enemy out of her? One fellow Arrow Fanatic posted a theory before that left me flabbergasted.
Could Blackstar be the daughter of Oliver and Felicity? That may seem like a stretch, but Arrow's proven to us before that anything can happen in Star City. 
All I know is, I want to know more about Blackstar! 
What did you think of "Emerald Archer"? 
Which documentary guest appearance was your favorite? 
Rene and Emiko: Do you ship it? 
What do you think Maya's connection is to Team Arrow? 
Let us know in the comments below, and if you need to catch up make sure to watch Arrow online right here on TV Fanatic!
Brandon Viera was a staff writer for TV Fanatic. He retired in May 2019..