Pretty Little Liars Update: Aria and Ezra's Baby Name Revealed!
Paul Dailly at . Updated at .
PLL: The Perfectionists is the latest TV series set in the Pretty Little Liars universe that fans are already obsessed with, but what became of Aria and Ezra from the original series?
Pretty Little Liars Season 7 concluded with the pair finding their way back together. It was about time, right?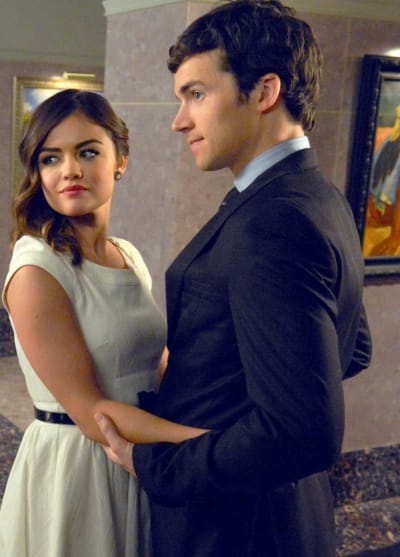 All that back and forth gives fans whiplash as they watch Pretty Little Liars online for seven years. 
Thankfully, there are some "leaked" texts between Alison and Aria that shed light on what became of Ezria after the final curtain call on the OG series. 
Related: PLL: The Perfectionists Season 1 Episode 2 Review: Sex, Lies, & Alibis
Freeform released a video on the social media pages for Pretty Little Liars: The Perfectionists on Thursday. 
It went like this:
Aria: I have exciting news.
Alison: You brought home the baby?
Aria: You weren't supposed to guess.
Alison: I'm so happy for you! Congratulations!
Aria: We brought her home yesterday. We're calling her Katherine Ella.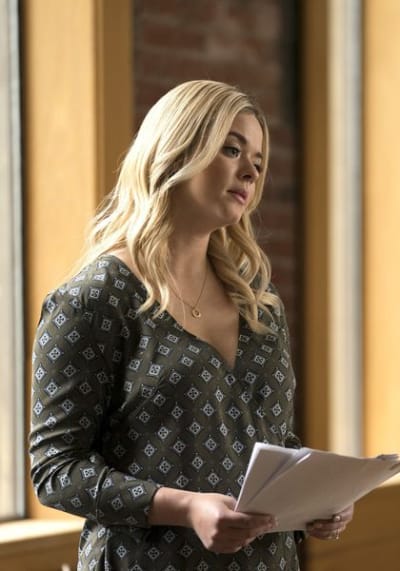 Yikes, right?
Aria and Ezra gave their daughter her middle name from Aria's mom, Ella Montgomery. That's something!
That's not the only bomb that was dropped on Alison. 
The exchange between the two went on to reveal some big developments about Aria's career:
Alison: I love it! I was thinking about you the other day. 
Aria: Aww. Why?
Alison: I was at the bookstore and saw Park Avenue. They only had one copy left. I bought it, so now it's sold out. Your first solo book is a hit! How does it feel?
Aria: Incredible. Did I tell you they're making a movie?
Alison: Yeah.  
Aria: Did I tell you who's making it?
Alison: No...
Aria: Reese Witherspoon!
Alison: OMG! Can I meet her?
Aria: Sure. You're all coming to the premiere in NYC!
Have a look at the full exchange below:
Ezria fans, where you at? Leaked text messages from Alison's phone. #PLLThePerfectionists pic.twitter.com/KUFkgsO6df

— Pretty Little Liars (@PLLTVSeries) March 28, 2019
Earlier this week, PLL: The Perfectionists Season 1 Episode 2 revealed that Spencer and Toby were back together, and it was all thanks to a phone call between Mona and Hanna. 
"What do you mean, Spencer and Toby eloped?!," Mona asked during the call. "Are they registered somewhere? Of course I want to get them a gift!"
And that wasn't the only twist. 
There's another PLL baby. Hanna and Caleb are parents. 
It's great that the new series is honoring the past, but we should probably enjoy these easter eggs while we can. 
The new series is not a hit in the ratings. 
PLL: The Perfectionists Season 1 Episode 1 got off to a disappointing start with just 457,000 viewers and a 0.18 rating in the demo. 
Related: Pretty Little Liars Spinoff: Who's Who?
That put it on par with Freeform's other dramas, and the network did put out a press release confirming the show was pretty strong in young female demographics. 
However, PLL: The Perfectionists Season 1 Episode 2 shed 50 percent in the demo, scoring a 0.09 rating and 235,000 total viewers.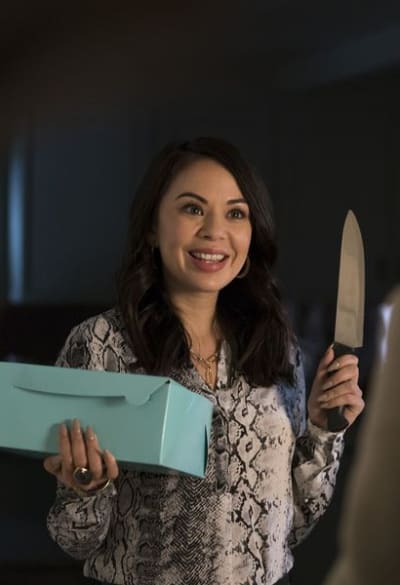 That's a worrying drop. The original series was much stronger, with one early episode pulling in 4.2 million viewers. 
That show was also a magnet for delayed viewing. It's possible that the new series could be scoring big gains with DVR factored in. 
Time will tell. 
What are your thoughts on these new twists?
Hit the comments below. 
PLL: The Perfectionists continues Wednesdays at 8/7c. 
Paul Dailly is the Associate Editor for TV Fanatic. Follow him on Twitter.