Cloak and Dagger Season 2 Episode 5 Review: Alignment Chart

Justin Carreiro at .
Connors is back and he's turned over a new leaf. (Well, that's what he tried to prove at least.)
The resident crooked cop sought redemption on Cloak and Dagger Season 2 Episode 5 for everything he did to Tyrone, but it wasn't going to be that simple. The damage Connors caused left its dastardly marked across the city.
This change required the enemies to work together to achieve a common goal. But did their partnership lead to magic or just more mischief?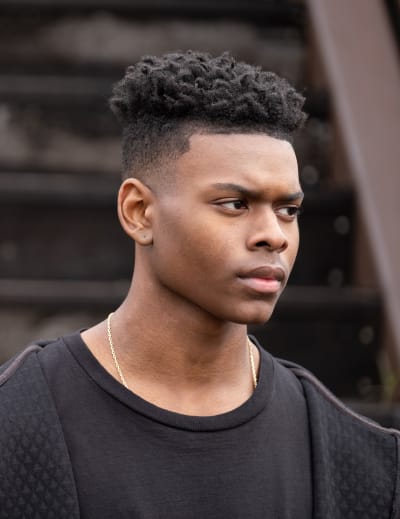 "Alignment Chart" was less of a filler and more of a lead-in episode.
All of the movements made by the characters were done to help push existing plots already in motion. Tyrone, Tandy, and Brigid spent the majority of their time getting side stuff out of the way to bring them to the stage they needed to be. Their decisions were essential to the plot, but it didn't shake things up too much.
Arguably, only Tandy ended up in a situation that differed from where she started. Tyrone, on the other hand, kept getting denied in his pursuit of clearing his name.
Related: Get Comic Con HQ via Prime Video Channels to Stream Original Series, Past Comic-Con Panels & More!
He suffered from the "stop-go-stop-go" plot progression. Just when we thought a breakthrough happened, the reveal pushed him back two steps.
Now that we've gotten the prep out of the way, the group can move on to an exciting conflict or mission.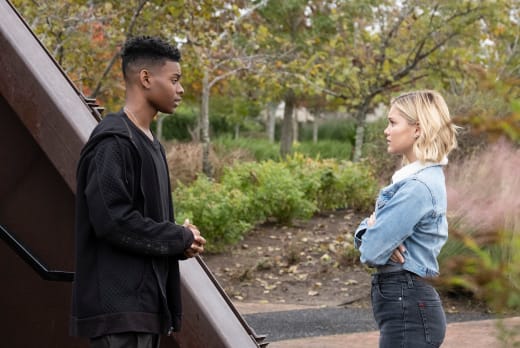 Tyrone had his chance for action plenty of times with Connors on his side. He can taste the freedom now that his enemy returned.
I called it during the review for Cloak and Dagger Season 2 Episode 4 that Connors' time in the Darkforce changed him.
The time away with only his thoughts and emptiness allowed him to self-reflect and change course. Plus, that cloak art piece he created in the mall perfectly summed up the psychological break he experienced. Connors is a completely different person who wants redemption.
Connors: Tyrone Johnson. I've been waiting for you.
Tyrone: Bet you have.
Connors: I ... I want to help you.
Tyrone: With what?
[Connors slides gun to Tyrone]
Connors: By putting me behind bars.
You would think that the criminal who caused everything and wanted to confess would get charged? But nope, the rich and powerful people still control the world, even in Marvel's Cloak & Dagger.
I found it hilarious that Tyrone and Connors' first mission together focused on trying to guarantee that Connors would be put away for his crimes. Even if Connors came clean, the assumption was that he would avoid getting charges. And he probably would be based on the power his uncle has.
Connors has a strange touch of luck. Papa Legba needs to gift Tyrone with some good energy right about now.
The mission at the Promenade Society had all the elements for an intriguing and intense caper.
You had a secret, all-powerful file hidden away in a wine bottle, an exclusive group of powerful people, and a team working together using all their skills. It sounds like a sequel to an Ocean's 11 movie.
Strolling into that patriarchal club and dishing an "I told you so!" about the bomb was a mood-elevator for Brigid. Her face said it all; she didn't have to do anything to rub it in that security team's faces.
Related: Cloak and Dagger Season 2 Episode 4 Review: Rabbit Hold
Tyrone even flexed his secret agent skills by sneaking deep into the basement.
His powers have progressed considerably; his teleportation skills are almost second nature at this point. When he's ready to embrace his superhero side fully, he'll have no trouble during his fights.
I wish that this plot had gotten blown out more. The caper went by quickly, and the goal was achieved within five minutes.
If they had stretched this out further, there could've been more deception tactics added to get the file.
Tyrone being angry at Connors over the failed mission seemed understandable as his go-to reaction.
Connors dangled the possibility of freeing Tyrone, but yet again, his enemy let him down. After everything Connors did to him, this development added another heaping of animosity to Tyrone's outlook. Connors didn't intentionally plan to hurt Tyrone; the group just had bad luck.
Luckily, Tyrone and Otis were able to put away their anger to look at the big picture.
Connors being alive works betters in Tyrone's favor to be his name cleared. If Connors ended up dead, the police would try to pin it on Tyrone yet again. There would be no escaping this neverending hell.
Hopefully, Adina will have the answer to this problem. Without the right piece of evidence, nothing will change for Tyrone's and Connors' future.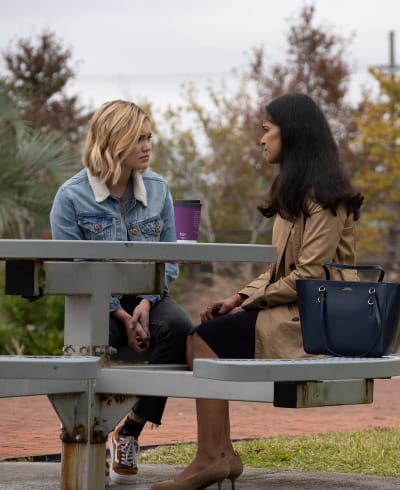 When it came to Tandy's storyline, her progression had the "fakeout" twist. We thought the character was heading in one direction, but the twist changed everything.
Before the villains got the upper hand, her heart had been in the right place.
Tandy wanted to find who kidnapped the missing girls AND get revenge on Leah's ex-boyfriend. It just so happened that both paths led to each other in a very karmic coincidence way.
Tandy: It's all people like him understand. Strength. Resistance. You have to choose to fight back. You have to refuse to be a victim, and you have to take away their power.
[Tandy notices the ambulance; Leah shocks her with a taser and Tandy collapses]
Leah: Sounds like a plan.
I liked that Tandy wanted to do something good for a person in her life.
Sure, the motivation behind it came from her unresolved anger issues toward her father. BUT, she wanted to do good regardless. (It's all about the angle we look at it, people!)
It's a shame that her new friend turned out to be one of the villains involved.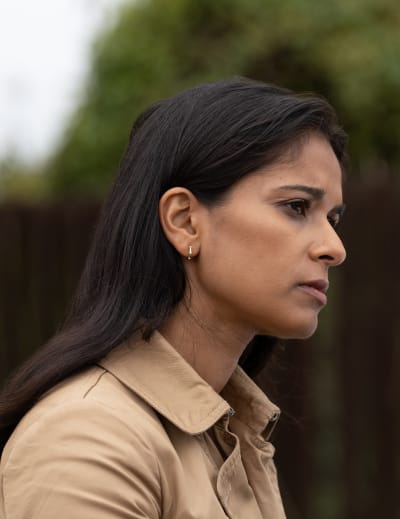 Leah as one of the kidnappers surprised me. She seemed so innocent and disconnected from the situation. In reality, a wolf was hiding behind her mask.
Looking back on the situation, she probably manipulated Tandy in getting her revenge for her.
There's no way that Leah would appear out of the blow outside the grow house without knowing Tandy would go there. Leah preyed on Tandy's personal justice with a story that would pull her in. And it worked!
Tyrone: What is going on right now?
Tandy: Her name is Leah. She can help me find someone, I think her ex boyfriend might know something about the scumbags taking those girls. But, order for her to tell me more, I need common ground.
Tyrone: So, am I your boyfriend or your pimp?
Tandy: I mean either one will do.
Tyrone: So, you called your Black friend?
Tandy: No, I called my best friend! Ty, come on, if it were you, you would do the same thing for me.
Tyrone: I wouldn't use you or lie to you or break a promise to get you out.
Tandy: I didn't break a promise. You cut me loose, and you didn't even need me.
Tyrone: You're right. From the way you're acting, maybe I don't need you at all.
[Tyrone walks away]
Plus, Leah's work as a counselor involved her meeting with people daily. She most likely scouted new targets for the kidnappers, like what happened to Michayla.
Tandy ended up as one of the targets and she didn't even realize it. Hey, we didn't even see it coming!
Throughout "Alignment Chart," Tandy told a story about a farmer and viper. The plot points of her story connected seamlessly to the events that happened through the episode.
This editing choice stood out as a fun inclusion because it changed the story narratively.
Everything had gotten framed around the farmer, the viper, and the trouble that came up during their interactions. The story felt so connected that you knew something had to be off about the mini-scenes intercut throughout.
Related: PLL: The Perfectionists Season 1 Episode 6 Review: Lost and Found
Could it have been a scene from the future? One of Tandy's Lightforce dreams?
The fact that it was a fever hallucination that Tandy replayed on a loop made it a shocking discovery.
Marvel's Cloak & Dagger presented a glimpse into Tandy's mind as she got trapped in the ambulance. The scene looked terrifying as a result. Tyrone and Brigid need to save her ASAP!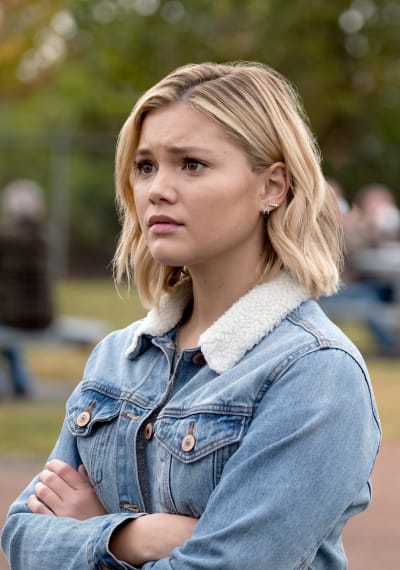 Last Thoughts From The Dream World:
Tandy needs to give Melissa a break. Her mother has come so far in her sobriety; she can't keep holding the past over Melissa's head. That tension will only ruin the progress she's made.
 
Tandy totally should've given Tyrone a heads-up about her using him to lie to Leah. If you're planning to deceive someone, that's the type of notice you give to someone you call your best friend.
Tyrone: How did this happen?
Tandy: Way too quickly. I went in for ... the other Brigid, but Connors was there. She tried to kill him, I protected him, and I was blown back out. I grabbed for her, I swear, Ty.
Tyrone: But instead you freed the man who killed my brother? He could be anywhere now. He could be after Brigid ... my parents.
Tandy: Okay, so we find him!
Tyrone: Look, how could you let this happen?!
Tandy: I got screwed too, Ty. Okay, I went in there to get leads on the a****** responsible for what happened to those girls and I got zero.
It's a shame the hallucination will never come to be. Tyrone as a cop could do so much good to clean up the corruption on the force.
 
Let's face it: even if Tandy or Tyrone are outnumbered by drug dealers, they'll quickly defeat them. Tandy defeated this latest crop with ease.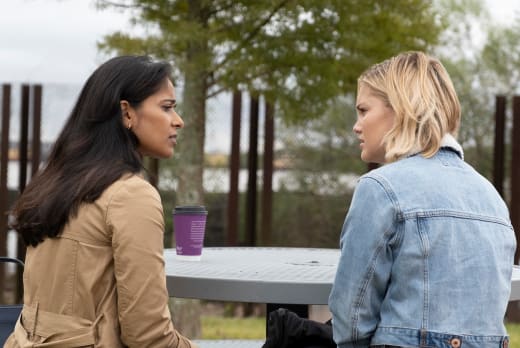 Now, over to you, Marvel's Cloak & Dagger fans!
What did you think of "Alignment Chart"?
Will Tandy be able to escape the ambulance? How will Adina help Tyrone with his case against Connors? Is Brigid starting to miss having Mayhem around?
If you missed the latest episode of Marvel's Cloak & Dagger, you can watch Cloak and Dagger online via TV Fanatic. Come back here and share your thoughts in the comments.
Justin Carreiro is a staff writer for TV Fanatic. Follow him on Twitter.