Review: Killing Eve Season 2 Returns with Renewed Vigor and Panache

Carissa Pavlica at .
Killing Eve is one of the most lauded television series of the past decade.
With only eight episodes the characters and drama unfolding between them captured the hearts of the world thanks in large part to the excellent performances by Sandra Oh and Jodie Comer as Eve and Villanelle, respectively. Their words and direction came courtesy of the talented Phoebe Waller-Bridge.
Only two of those three noted above returns for Killing Eve Season 2, so can it possibly live up to the dramatically high bar previously set?
If it's OK to judge by two of the eight episodes that lie ahead, then yes, we're in for another wild ride during Killing Eve's second season.
You can expect some changes, though.
Related: Killing Eve Season 1 Episode 8 Review: God, I'm Tired
Under the guiding hand of new showrunner and head writer, Emerald Fennell, the dialogue remains whip-smart and surprises still abound. Most importantly, even though they share no screen time during the first two episodes, the relationship between Eve and Villanelle continues to sparkle.
The new season picks up right where Killing Eve Season 1 finished. 
Eve is shocked at her actions against Villanelle and under the impression she may have killed the fascinating woman who proved a worthy and fascinating opponent.
Villanelle, though, escaped with a grievous wound to her abdomen with no place to go.
The style Villanelle uses doesn't allow for a lot of bridges in her wake; rather she burns them freely and with glee. It's part of her charm to be so gloriously carefree about her connections and the lives she destroys.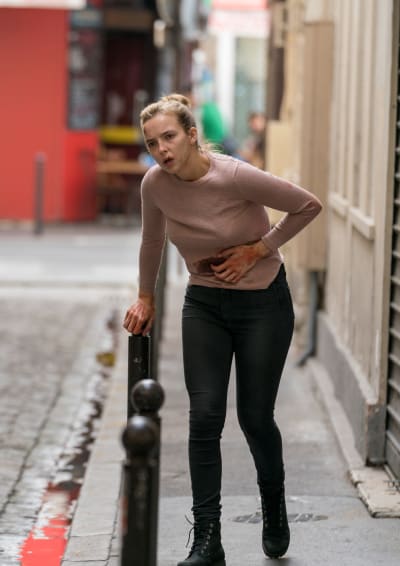 After their encounter, both Eve and Villanelle need a little time to heal. Eve suffers an emotional drain that takes her a while to overcome, while Villanelle is both reeling from the emotional toll of interacting with Eve as well as suffering from her physical pain and distress.
Eve labors under the impression that she will remain jobless and without a resolution to her Villanelle problem, but it's possible she's overthinking the situation.
Related: Killing Eve Season 1 Episode 7 Review: I Don't Want to be Free
It soon becomes evident that assassin hunting won't go on without Eve due to what she offered her team in hunting down Villanelle. In short order, Carolyn calls on Eve again. There is work to be done.
It wouldn't have felt like Killing Eve without the stoically comical presence of Fiona Shaw's Carolyn, especially since so much of the overarching mystery of The Twelve rests with her.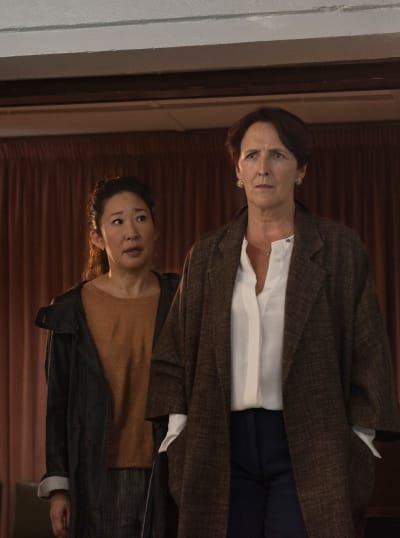 After sharing some time with her Polish Prince Niko (Owen McDonnell), Eve is soon swept up with another team inside of MI6. The new team is just as small as the first and shares equally as stunted quarters, but the mission is the same: to hunt assassins.
To that end, Eve finds it quite amusing that their new target, someone she calls The Ghost, is so contradictory to Villanelle in style if not in substance.
Eve takes a moment to relish the idea that Villanelle might get jealous of her new chase and the woman behind it, who kills with restraint and modesty versus Villanelle's flamboyant boldness.
The Ghost's equally deadly skills make someone wonder if it's time to give up the hunt on Villanelle and focus more clearly on the new target for their research.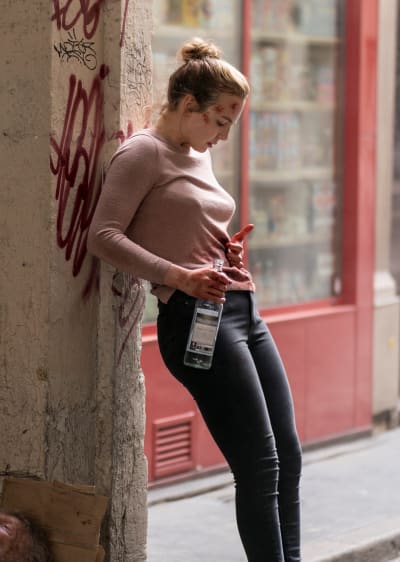 It's then that we know Eve is still just as attached emotionally with her prey as ever. 
The two women are as much of an obsession to each other as they are business, and it's hard to know by the end of the second episode (critics received two out of eight for review) which will take priority.
Related: Killing Eve Season 1 Episode 6 Review: Take Me to the Hole!
Villanelle finds herself in situations to which she is highly unaccustomed. She's not on her game thanks to her physical condition and her emotional instability as a result of her nearness to Eve.
As much as Eve found herself altered by the impact of Villanelle on her life, it's possible Villanelle might have changed even more.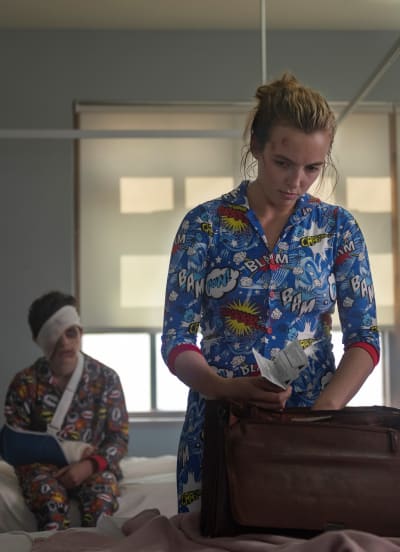 Villanelle remains as vicious a killer as she ever was, but she experiences an emotional jolt as a result of her encounter with Eve that is so profound calling her a psychopath no longer fits.
It's incredibly entertaining for viewers, but not at all beneficial to Villanelle's health and safety as an assassin.
The most exciting supposition as Killing Eve Season 2 unfolds is that the transformation the women have stirred in one another could lead not to their annihilation but to a rebirth of sorts that would find them ever closer as their obsession grows into something more substantial.
Could what have started as painful and antogonistic become something more subtle and life-affirming?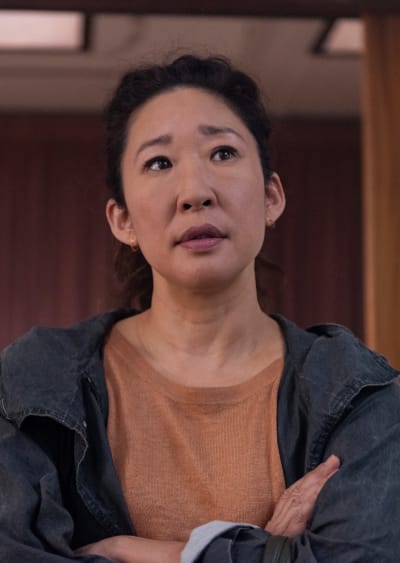 One thing is clear, though. 
Their destinies remain intertwined regardless of what it means for them professionally and personally. Killing Eve Season 2 Episode 2 ends with a heartbreaking scene that sends the mind reeling with the possibility of what's ahead.
Related: Get Britbox via Prime Video Channels for the biggest streaming collection of TV from BBC & ITV...ever.
Killing Eve Season 2 is just as gripping as its previous, but the stakes seem to be changing. What was once hunt or be hunted might have given way to hide and seek, but please don't stop looking.
Killing Eve Season 2 Episode 1, "Do You Know How to Dispose of a Body?" premieres Sunday on BBC America and AMC at 8/7c.
We'll have full episodic reviews after each airing, and if you need to catch up (and you should), you can watch Killing Eve online via TV Fanatic! 
Carissa Pavlica is the managing editor and a staff writer and critic for TV Fanatic. She's a member of the Critic's Choice Association, enjoys mentoring writers, conversing with cats, and passionately discussing the nuances of television and film with anyone who will listen. Follow her on Twitter and email her here at TV Fanatic.