Vida Stars and Creator Share Thoughts on Season 2

Shruti Sadana at .
Vida is a drama series about two Mexican-American sisters from East Los Angeles.
Lyn (Melissa Barrera) has a free-spirited personality and lives in the Bay Area. Her sister Emma (Mishel Prada) is the exact opposite, with whom she has no relationship.
A tragedy; a death in their family brings them back home where they confront their relationship and repressed feelings. They also uncover other secrets including the shocking truth about their mother's identity.
It's clear that these actors not only have great chemistry on screen but in real life as well. Chatting with them feels like you are sitting with a group of friends who have known each other for years.
When asked the question of what's to come with romantic relationships they were certainly ambiguous as they didn't want to give too much away. What they did say though is that this season is going to be filled with more drama, more secrets and more sex.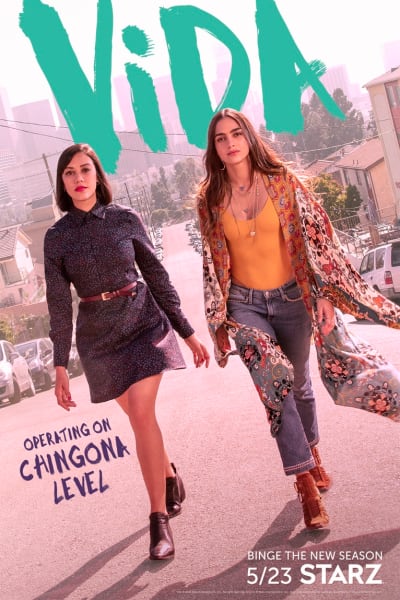 How are we going to see your character evolve in Season 2 vs Season 1?
Melissa: It's a journey for both of them. Now that we have ten episodes this season, we can explore more. I think a lot more happens. Now that sisters decided to stay and made a commitment to try to make this bar work again -- they have too.
Emma is really good at that, but Lyn has never been good at it but you're going to see her trying to make an effort. You'll see her being more of a reliable person.
Mishel: You see them step out of their comfort zones. I think we all go by what's easy for us. For Emma, it's about being organized, having a very specific goal and working towards it because even though it might not be easy to achieve that goal she understands it.
The Rook Gets Summer Premiere Date - Watch Trailer
Lyn has more of an open-hearted view of my life.
She is looking for love, to be loved, to love and all of these things. That comes more easily for her. She's living more of a creative artist type of life. In Season 1, you see that very strongly, but in Season 2 you see them cross into parts they aren't very good at which for Emma is working with another person, accepting love, and also accepting her sister.
With Lyn, you really see something beautiful -- people don't change and she's working hard at finding something real and something worth working towards and sticking too.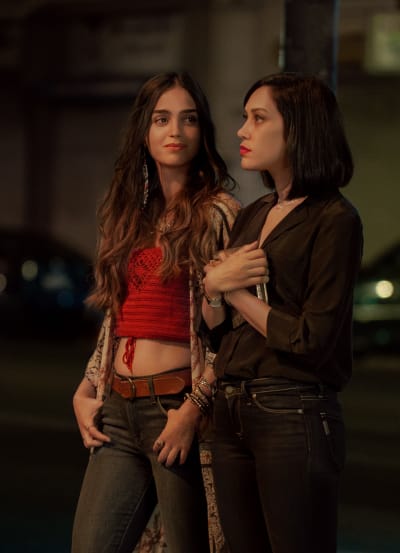 Melissa: She really is making a commitment to herself and her sister to be useful. She wants to help out and not just be a burden. Lyn is actually really smart, and she has some great ideas that she wants to bring to the bar. We are going to see what that means because usually Emma is the one "in control." We are going to see what that dynamic is like between them and how they are both coming together. We have a lot more sister moments this season.
Mishel: Emma really does need Lyn, not only as a friend but as a business partner. Emma thinks she "knows it all." These neighborhoods don't work that way though. You have to have heart and soul. Emma cannot make this bar work without Lyn, but it takes a while for her to really confront that.
Melissa: Lyn still has that sensibility. She understands people's energy, their journeys, and is empathetic which is something that Emma rejects. It's a really cool balance that they provide without knowing it. They complement each other so well, but there is still resistance. Season 2 is all about that journey of how are they going to make this work, how are they going to work together, and how are they going to live together.
Mishel: I think Lyn starts feeling that she has something to prove to Emma but when really she has something to prove to herself. That's where the beauty is. It's not even about getting approval from this other person you care about but it's you looking at yourself saying "you're doing it kid." I think that's a beautiful lesson.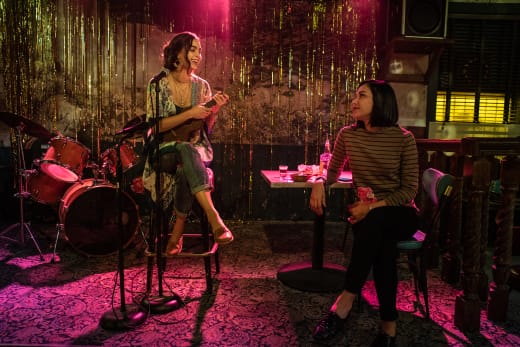 In terms of romantic relationships, what are we going to see in Season 2?
Melissa: There is new people for both of us. I don't know what I can say...
Mishel: I think with Emma and Cruz -- you see the butterflies in the first season. You kind of see the reality with Season 2. No one can ever look up to this pedestal you put them on. Whether it's someone you've loved since childhood or it's someone you've become smitten over in a couple of months. We really delve a little more into the reality of what that looks like.
Melissa: I can say that Johnny is around. They live a few blocks away now. Lyn is here to stay, and that makes things complicated. Things ended roughly in Season 1 with them. Now, they are bound to bump into each other.
Mishel: Johnny is also used to Lyn leaving when things go sour.
Mishel: There is an emotional connection too.
Melissa: Yes, there is an emotional connection, but part of that history is a lot of anger and betrayal. So, I think we're going to see some of that…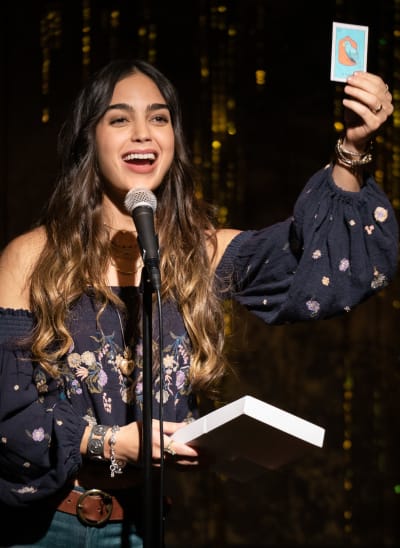 Let's go back to the very beginning. What was your reaction to the script when you first read it?
Melissa: I auditioned for Lyn and that's the character I connected with. It's so funny because I'm actually more like Emma in real life but for some reason on the paper I connected more with Lyn. I could see myself being this woman. We've all been "her" at some point in our lives.
We've all given value to ourselves based on who we're with. We've all been lazy, wanted to party, enjoy life, and not have any responsibilities. All of us have been selfish, and I think that's what made me connect to her. I saw how relatable she was.
Hightown Starring Monica Raymund Ordered to Series at Starz!
As for the script, what attracted me to the project was on the breakdown it was clear that it was Latina's leading a show. I just thought, "wow that's happening? I want to be a part of this."
I knew Tanya as a playwright from before and had read some of her plays. I knew this was going to be good. As soon as I read the pilot I was like "yeah I want this."
Mishel: Getting to see what it's like to be a Latin American is an interesting space to fill. We don't see that very often. Even with the shows that are "Latin" shows, they tend to be related to "gangs" or "drugs."
Something along those lines, and not to say that stuff doesn't exist, but we are so much more than that (laughs). It's no wonder why people might be inclined to feel scared if all you see represented are these stereotypes.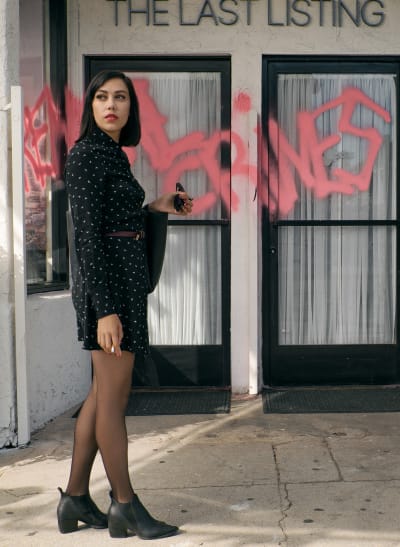 Describe this season in a few words. What's going to be "juicy" about this season?
Melissa: Sexy.
Mishel: We see Emma having a lot more sex (laughs). We definitely see a little bit more of her world behind closed doors.
Melissa: I also think what's great about this season is that a lot happens. I feel like Season 1 was "establishing" of the world but now we get to see them in action. There is a lot of drama. There are going to be more secrets revealed.
Mishel: As you dig into the building there is a lot more wrong with it in Season 2 (laughs). You also get to see more relationships…
What is the dynamic like with the cast on set?
Mishel: I feel like we mess with each other at least once a day.
Melissa: The whole cast and crew -- t's a special show in that sense. If we were on set and let's say I was done at a certain time, I would still stay and hang out.
Mishel: We did get in trouble for trying to escape the lot once (laughs).
Melissa: We got locked in the CBS lot, and Mishel thought it was a good idea to jump the fence. Obviously, the CBS cop pulled up and arrested us. He took us in the back of the cop car (laughs).
Mishel: We were like no "we're the leads of the show" (laughs). It was really funny.
-------------------------------------------------------------------------------------------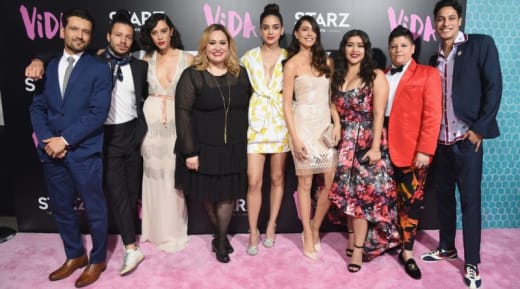 Tanya Saracho (Series Creator) also shared that there is a strong group of women both in front of the camera and behind the scenes working on the series and it has been an empowering experience.
Vida is Tanya's first show to be picked up and she wants to give other women who are starting in the industry an opportunity to succeed. Saracho also thought it was important to portray LGBTQ characters on the show in a very realistic way. T
Tanya says that we will see some "underground parties" and a gay wedding this season.
You touch on the subject of LGBTQ. Why did you think it was important to add that subject matter to this show?
Tanya: I needed anchors for myself as a creator and writer. I'm queer as well. It's an opportunity because we never see Brown queers. We don't see fem tops, masculine central butches, and we see this gorgeous stud (Nico). You haven't met Nico yet. I love that color of queerness too.
In the second season, you'll see it a lot more. In the third episode, you'll see a gay Mexican cowboy wedding. They're getting married by a queer officiant. Then you see the guests which include drag queens, transgender people, etc., and all brown.
I feel like a lot of the time Latina queers in a storyline are on a show for comic relief, but they are portrayed as two dimensional. That has not helped us. I'm glad to be able to do this. Episode 208 is just Latinax underground queerness.
I can't wait to show L.A. this way because now that I am living in L.A. I'm "in." There are all these performance artists, and they do these underground parties. We have them on the show and it's exciting to put that world in there.
What was the inspiration behind the story of Vida? How long was this in development? What was the process like when it came to the show getting picked up?
Tanya: I came into a meeting at Starz, and Marta Fernandez was commissioning other Latina creators. She said "we are looking for a show about female millennials on the east side of L.A. with the topic of gentrification."
We had a conversation about it and that's sort of how it happened. Big Beach (production company) had been talking about it, and they were looking for a showrunner. They had a document, an article, and the main focus was female millennials and gentrification.
Get Starz via Prime Video Channels for Captivating Original Series & Hit Movies!
I thought "I can do this." I'm not from the east side of Los Angeles -- I do wish that it was taking place in Chicago because that area is going through the same thing, but then I dug right in (laughs).
I realized how specific it is to this area (East L.A.) and how historic this area has been especially the Chicano movement. It was the right place for it.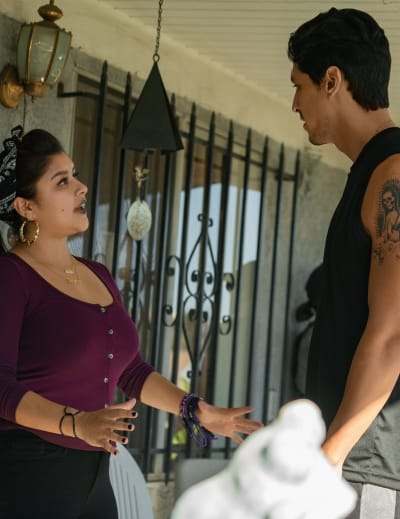 I was working on it for a year and a half, and then we shot a pilot presentation. No one ever saw that. They could tell from the script that it was going to look a certain way but they couldn't be inside my brain.
I got the right director and the right team that I thought that would help me with that vision. Then, we pitched it and said yes right away. By the time we started shooting, it was November 2nd, 2017. February 2016 is when I got the contract and started writing.
I remember it was early 2016 and when I wrote this scene -- it was so emotional. I had two bad surgeries, and I wrote the whole pilot in my bed because I couldn't move. Then when we were shooting it, I had to take a moment because it hit me, and I just couldn't believe it.
I was learning too and the fact that Marta Fernandez gave me a shot as a showrunner when I had never done it. I had only been here three years and they didn't give me a babysitter.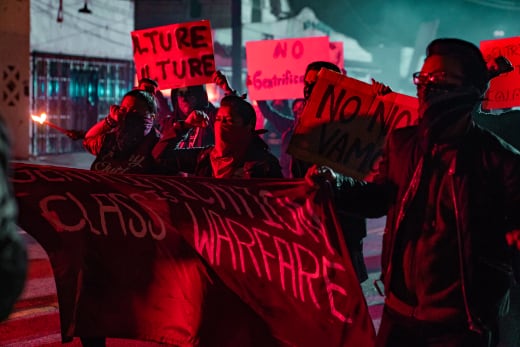 I'm never going to forget that and I carry it through -- with my cinematographer who is Latina, but she had only been a second unit. She had never run a unit by herself before. It's not just the camera stuff but you're running a 36-person department. I got a shot, so you get a shot.
There's a lot of first-time writers too because Marta gave me a shot. I hope I continue making this. All the directors that we worked with this season were Latina females. That requires a lot of first-time opportunities including me. I'm a first-time director. Right now, I'm recommending a lot of people and people want to hire them and that's fantastic.
Vida Season 2 will return on Sunday, May 26th on Starz at 8/7c and is currently streaming on the Starz app.
Shruti Sadana is a guest contributor for TV Fanatic based in New York. Follow her on Twitter.