Creator and Showrunner Jamey Giddens Dishes on OWN's Ambitions

Carissa Pavlica at .
Having just one job as a writer, executive producer, and showrunner on OWN's Ambitions has been life-changing.
As co-owner and editorial director of Confidential Media's flagship blog, Daytime Confidential, Giddens was still burning the candle at both ends to earn a living. Now, he has one end of the candle to burn and wears a multitude of hats while finally earning a living with the job of his dreams.
He's been told that once production on the first season wraps, he'll get some time to sit back and smell the roses of his success.
For now, it's the release of news about Ambitions, the trailer drop, meeting with the press, and of course, awaiting the premiere that tickles the toes of this grateful and generous man.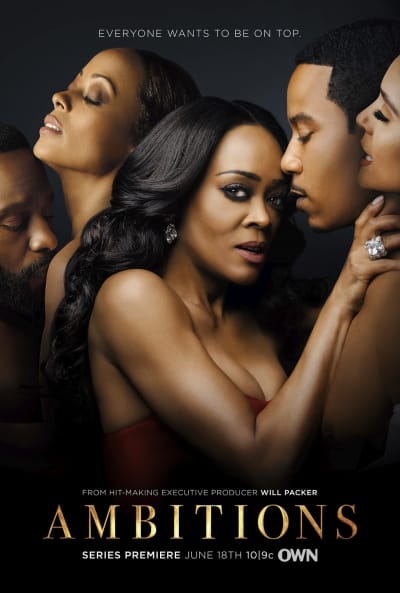 The driving relationship on Ambitions is between Stephanie Carlisle and Amara Hughes (Robin Givens and Essence Atkins, respectively), two women who met in college when Amara pledged a sorority and Stephanie became her big sister.
At the time, Amara noticed how Stephanie took advantage of her college boyfriend, Titus, always trying to mold him into someone more like her father. During one hiatus during that tumultuous on-again/off-again relationship, Titus turned to Amara, and that severed the women's relationship.
While Texas-born Amara is now rising to prominence in the U.S. Attorney's office, esteemed attorney Stephanie works for her family's prestigious law firm. The wife of Atlanta's Mayor, Stephanie still holds a grudge against Amara for stealing her man 25 years earlier.
Let the battles begin, people!
Tipping his hat to Shonda Rhimes and Lee Daniels for paving the way for dramas with predominately black casts, Giddens notes that what sets Ambitions apart from other dramas on TV is its opulence. Like fellow glamorous entry Empire, the Carlisle family is "obscenely rich" but a "legal dynasty."
Growing up with a love for Dallas and Dynasty, Giddens wanted the opportunity to see wealthy black people misbehaving outside of the world of hip hop or drugs. The Carlisles "made their money the legit way, but they're still sneaky and treacherous and will do some unspeakable things."
Stephanie was once an ice queen, filled with dark malaise, but upon hiring Robin Givens for the role, Stephanie got infused with Givens' signature flair for comedy.
Giddens knows that he may be the Stephanie's creator, but listening to his actors is important to see what they bring out in each of his characters.
From Gidden's original image of Stephanie as a "black Cersei from Game of Thrones," with Givens' performance, she's morphed into "a black Blair Waldorf from Gossip Girl."
Stephanie can take care of business, but she does it with a sense of humor.
Queen Sugar Season 4 Episode 1 Review: Pleasure is Black
"Essence [Atkins] brings so much heart and soul with the Amara Hughes character," Giddens shares, and he's right. There is a perfect symbiosis between Amara and Stephanie that you can really feel their pull toward each other as much as their tugs to grow apart. "A villain is only as good as the hero," Giddens says, and the two leads play their parts to perfection.
Effortlessly naming the members of his Ambitions writing team, Giddens knows full well their history and what unique gifts each of them brings to the table.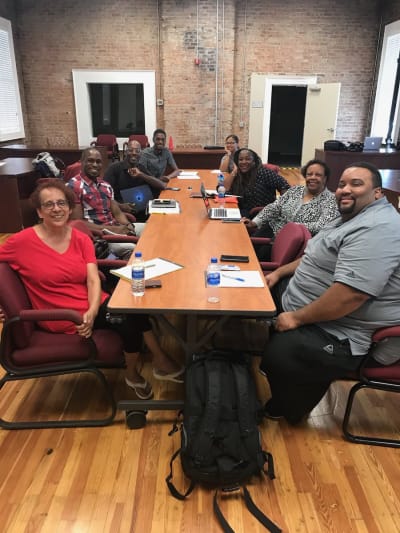 Working with an all-black writers' room is a bonus because his team understands the perspective of his characters, and he doesn't have to coach or explain their frame of reference.
While the cultural aspect of his writing room wasn't to intentionally leave out other races, it is a source of pride for Giddens in what it represents in today's marketplace and to the authenticity of the Ambitions' characters.
Once on this side of the table as a reporter and (self-proclaimed harsh) critic, Giddens now gets to experience the other side of the table, an experience he calls eye-opening.
Gidden's beat was covering daytime television, and he's learned a new respect for the venue's five-episodes per week arrangement with Ambitions Season 1's generous allotment of 18 episodes.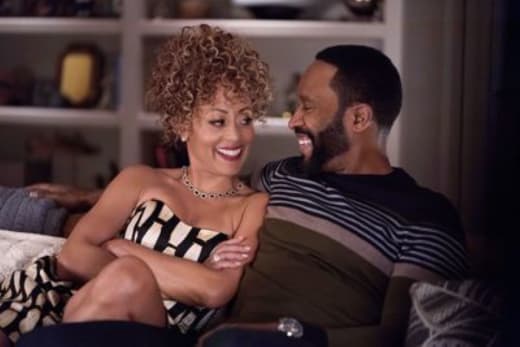 "I don't think, if I started again," Giddens says he told a fellow writer and friend, "I don't think that I could critique even my least favorite writer the same way because now that I've been in the trenches and see the process of writing an hour-long show and getting it where it pleases the production company and the network and the studio, and then revising and rewriting and working with this actor's schedule and all the different variables that go into it as opposed to just sitting at home saying, 'I don't like this.'  Wow. It really is eyeopening."
OWN Turns Up the Heat With Drama Ambitions
But as a result of his previous line of work at Daytime Confidential, he's incorporating into his show a lot of what once irked him. "We try to really be character driven. There is a lot of pressure because there are so many shows on TV to be very shocking and provocative, but we try to root that in character."
Giddens knows that anytime a fan says "Oh, Stephanie Carlisle woudn't do that," they lose a little credibility with the audience. So while there will be plenty of shocking, wild, and crazy things done at the hands of his characters, they try to make sure they're character based and character driven.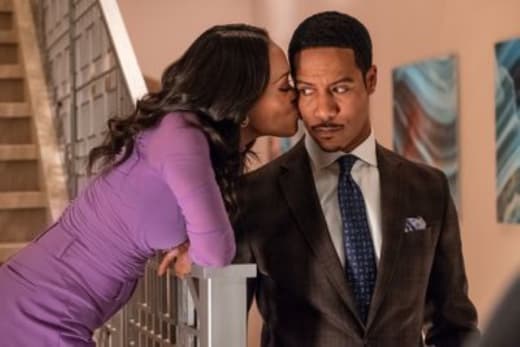 Especially with Robin's character, Stephanie, Giddens wanted her to be the "witch you love to hate." He's creating his own " glamorous, conniving Erica Kane/Joan Collins type character" that, other than Diahann Carroll, he never got the opportunity to see.
Ambitions sticks with a distinctive daytime feel by sidestepping the primetime vibe of one-show, one-family like Empire and the Lyons.
"With this show, we have four different families with four very different walks of life. We have the wealthy African American Carlisles, that's Robin Givens' family on the show. She married into the working class Lancasters that own a restaurant on the poor side of town." 
The Lancasters are from The Banks, which is a stand-in for some of the less well-to-do areas of Atlanta. "Their son, Evan (Brian White), grew up poor but went Harvard and is now the Mayor.
There is also a Mexican American family, the Trejeos, who also come from the Banks. "Bella (Erica Page), the daughter from that family, pulled herself up to become a fashion designer and Instagram influencer, so she's really scrappy. You know, that Erica Kane type, never looking back. She's not going back to the ghetto by hook or crook."
The Purefoys are a wealthy, conservative pharmaceutical dynasty ripped from the headlines. Inspired by multiple different big pharma dynasties, they're aren't based on any one family who may be going through some litigation at present.
13 Cool Couples From Hot Summer TV
Giddens is continually texting executive producer Will Packer (Girls Trip, Roots) articles from the Wall Street Journal to keep their over-the-top stories grounded in reality.
Ambitions is going with the "old Agnes Nixon model of "make 'em laugh, make 'em cry, make 'em wait," Giddens says, with all the escapist fun, debauchery, and bitchery that entails while also weaving in some social relevance and current events.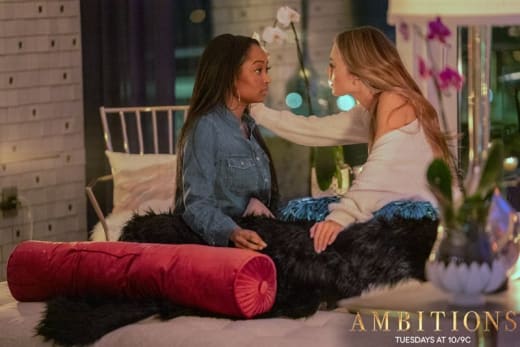 In addition to Givens, Atkins, White, Page, and Cross, Brely Evans stars as Evan's sister, Rondell, who runs the quaint restaurant, Thelma's Place, and Donna Biscoe stars as Stephanie's mother, Irene Perkins Carlisle.
Matt Cedeño will join Ambitions second chapter as Ignacio DeSantos, a billionaire tech mogul to interact with Bella. He most recently starred on Power and Z Nation but is well-recognized for his roles on Devious Maids and Days of Our Lives, too.
Rick Hearst, known for his roles on General Hospital, The Bold and the Beautiful, Guiding Light, and Days of Our Lives, will be playing what Giddens called a "white Johnny Cochran" named Jerry Lannigan in a role created with the actor in mind.
Jerry attended law school with Stephanie and Evan, and he's a fun character who Giddens hopes gets more play during Ambitions Season 2.
While Giddens doesn't have any other actors he'd like to get specifically for any given role, he reveals he and Packer joke that they'd love for Susan Lucci to become a part of the cast. "I mean come on," Giddens says, "Susan Lucci vs. Robin Givens? Gimme a break!"
There are all kinds of surprises on Ambitions, some that were even a surprise to Giddens after received and implemented some suggestions despite having his heart set on certain storylines.
Ambitions has been Giddens' baby that he saw from inception through development, and he's ready to release it to the world. After his ten years at Daytime Confidential, he has a thick skin, so he's excited for the critical and fan reception.
Keep an eye out for more on Ambitions in the coming days from series stars Robin Givens, Essence Atkins, Brian White, Kendrick Cross, Brely Evans, and Erica Page.
Ambitions premieres on OWN Tuesday, June 18 at 10/9c only on OWN (Oprah Winfrey Network).
Carissa Pavlica is the managing editor and a staff writer and critic for TV Fanatic. She's a member of the Critic's Choice Association, enjoys mentoring writers, conversing with cats, and passionately discussing the nuances of television and film with anyone who will listen. Follow her on Twitter and email her here at TV Fanatic.