Euphoria Season 1 Episode 2 Review: Stuntin' Like My Daddy
Paul Dailly at . Updated at .
If you thought Euphoria Season 1 Episode 1 was out there, then I shudder to think what you thought of Euphoria Season 1 Episode 2. 
"Stuntin' Like My Daddy" featured the teens picking up the pieces from everything that happened in the first installment. 
Let's start with Rue. Despite her flaws, it's easy to feel sorry for her. She's being handed all the support in the world but is of the mindset that she can't cope without drugs. 
It stems back to when she was looking after her father as a 13-year-old while her mother was taking on a second job just to pay for the medication. 
Related: Get HBO via Prime Video Channels for Addictive Dramas, Hilarious Comedies & Hit Movies!
It's harrowing for anyone to have to watch someone they know and love gradually fade away, never mind a teenager who doesn't fully understand the true extent of what life is like.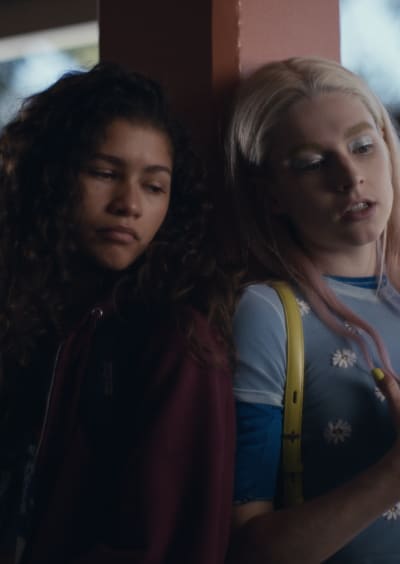 But it also sheds light on the hurdles people go through just to make ends meet. If Rue's mother was not in a position to take on a second job, it's likely her husband would not have had the best medication to keep him as pain-free as possible during his final months. 
Zendaya was endearing as this curious 13-year-old girl, who took it upon herself to try oxy to find out what all the fuss was about. 
Maybe that's a sign that she should not have been the one administering the medication, but Rue did claim that the state-ordered nurse spent the two hours she was in the house playing Candy Crush on her phone. 
Rue struggles with self-worth, and that's evident. The only time she feels remotely okay is when she's in the company of Jules. The two became fast friends, and there's likely something more there. 
Related: Euphoria Review: HBO's Answer to 13 Reasons Why is a Resounding Success
The most convincing moment of that was when Rue got all awkward while trying to get Jules to come over for dinner. The moment Jules cycled off, she took the sun with her, and it left nothing but dark clouds above Rue.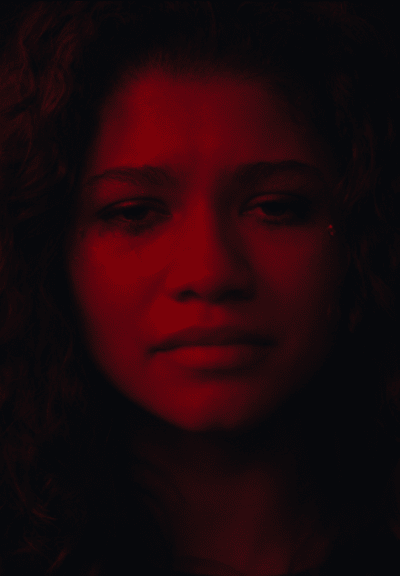 It was an effective way to illustrate how Rue feels about her new BFF. Rue wasn't exactly having the best day. Returning to school when everyone knows you overdosed earlier in the summer is not the best. 
But my jaw dropped to the floor when the teacher thought it would be a good idea to put Rue on the stage to talk about her summer. The teacher was in a position of power, and it was more triggering than constructive. 
Thanks to the rise of social media, more people than ever are talking about things, and Rue's overdose spread like wildfire among her peers. The school would have been made well aware of it in advance of her return. 
In a sense, it was good that Lexi showed up in the bathroom because it prevented Rue from taking drugs,  even made her get rid of her stash.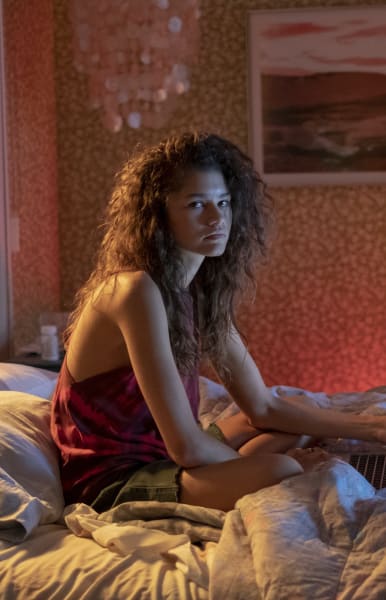 Rue is all over the place, and she's been using Lexi, despite them not being close friends for years. The true kicker here is that Lexi was the only one standing up for Rue when the others were commenting on her overdose. 
Related: Euphoria Season 1 Episode 1 Review: Pilot
It pains Lexi to see her former friend in such a state, but she's struggling to connect with Rue because she feels like Rue is using her whenever she needs urine to pass a drugs test. 
Lexi made some excellent points when she noted that Rue had a split personality. It's not uncommon for people with addictions to experience mood swings if they don't get their fix when they need it. 
It would be great if Rue's experience with the local drug dealer helped her see the light. Fezco was right to try and get Rue well and truly out of the house before the man showed up with his goons.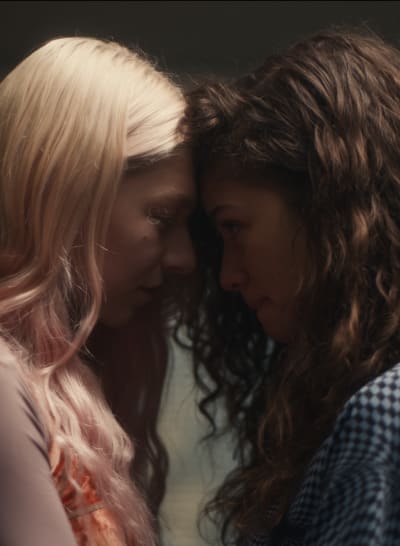 Rue wanted to have some semblance of control, and that's likely why she declined the offer of the harder than usual drugs. But she knew she was in no position to decline the offer, especially when the man offering it was doing so in such a menacing manner. 
Related:  Euphoria: Zendaya Joins HBO Drama
Rue could have very easily overdosed all over again, or worse, died.
But with six episodes remaining in Euphoria Season 1, it's hard to imagine Rue making a clean break. If anything, this will have affected her, but it will hopefully make her think when people tell her something is wrong.  
In this instance, Jules was her saving grace. I don't think Rue's mother could have handled her daughter returning home in that state, and then there's Gia. Poor Gia was the one to find Rue after her initial overdose. 
That young girl is seeing things she shouldn't be seeing, much like Rue did all those years ago. Jules needs to stage some sort of intervention, but at the same time, she probably won't because she values her friendship with Rue so much. 
It's just a shame that Jules herself is being played. She was grinning from ear-to-ear for much of the installment, and that came from the mysterious dude she was messaging. 
The messages she received were charming and made her feel important, and they fed her thirst to learn more about who the mystery man was. 
The camera pulling out to reveal Nate there was more shocking than it should have been. Nate had an increased presence during the explosive installment, but I'm struggling to understand why he's so intrigued by Jules. 
Related: HBO Drama Euphoria Gets Premiere Date - Watch Teaser
We know he's been in at his father's collection of homemade pornography since a young age, so are we to assume that Nate knew all about Jules having sex with his father from the get-go?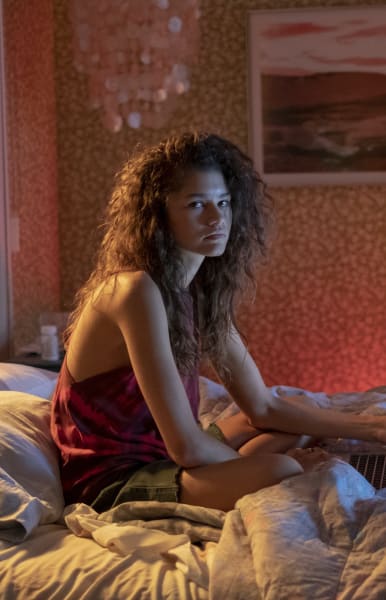 It's hard to imagine that someone like Cal would let one of his encounters stray away from the prying eyes of a lens. 
Any way we look at it, Nate is exhibiting signs of a sociopath and his father has to take some of the blame for that. No child should be anywhere near pornography. 
Additionally, Cal has put his son through the wringer to become a perfectionist. That's why Nate strives to be the one talked about after football matches.
It's like Nate cannot be happy unless his father is watching his success, despite them not having much of a relationship. 
It wasn't predictable that Nate gave Maddy the easy way out of her tryst in the pool with Tyler. Maddy rolling with the "I blacked out" narrative was not surprising. 
She was driven to have sex in the pool by her passion for making Nate jealous and immediately regretted it.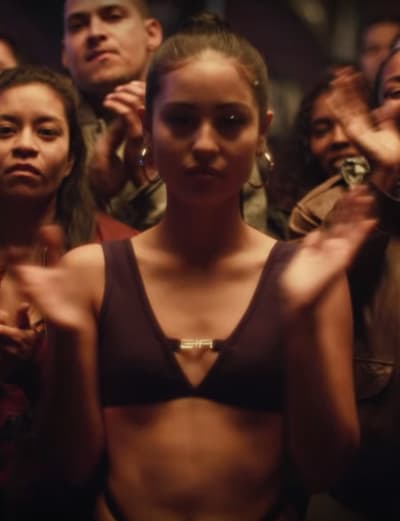 Tyler clearly knew there were plenty of underage teenagers at the party, so he should have been more mindful of his surroundings. It makes me think that he wanted to have sex and didn't care enough to check whether the other party was over the legal age limit. 
Nate showing up at Tyler's house felt very similar to something Norman Bates would do on Bates Motel. What I took from those scenes is that Nate wants to be in a position of power, and if anyone gets in his way, he wouldn't care about taking them out of the equation. 
Tyler laying on the ground, battered and bruised while Nate showered, before stealing some of his clothes was simply terrifying. 
More concerning is the fact that Nate is using Tyler's name while catfishing Jules. Does he plan on doing something to Jules and pitting all of the blame on Tyler? 
It sure seems that way. 
The fallout from Kat losing her virginity on Euphoria Season 1 Episode 1 was significant. She was filmed from behind having sex, without her knowledge. 
At the top of the hour, she was positively glowing that she could tell her friends she had broken her virginity and that they could stop pressuring her into having sex. 
But the video doing the rounds before ultimately making its way to porn sites was not surprising. Kat handled it all very well, and she had her signature sass as she addressed the principal of the school shone through. 
Playing the body-shaming card worked in her favor because this could have easily paved the way for her parents to be involved. 
Amongst her group of much slimmer friends, Kat feels out of place and more easily manipulated. 
I liked the nod that when something is posted online, there's really no way of removing it. Just when the boy removed the video, it started popping up by other users. 
The new video accumulated over 80k hits. That's a huge number in this social-media-crazed world, and the compliments were flowing in by way of the comments section. 
Kat thinks there's money to be made, and she's most definitely on to something based on the way the site states that users upload videos and make some money. 
There are going to be some significant caveats to her new way of making money, but this feels out there ... even for Euphoria. 
That's all I got, Euphoria Fanatics. 
What did you think of the episode?
Hit the comments below. 
Euphoria airs Sundays on HBO.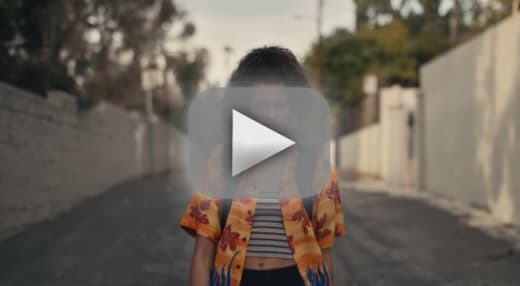 Paul Dailly is the Associate Editor for TV Fanatic. Follow him on Twitter.